Refugee Crisis: Hundreds Of Migrants Try To Crash Greek-Macedonian Border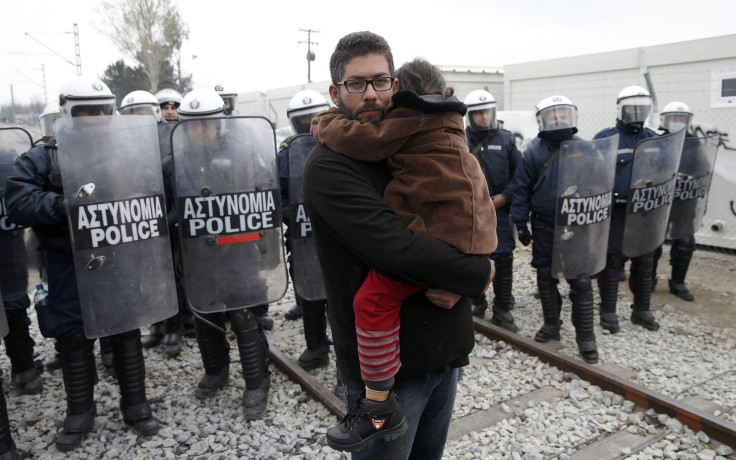 Hundreds of migrants stranded at a makeshift Greek camp near the border with Macedonia protested Sunday, demanding that the border be opened as they clung to hopes of making it into Europe despite new EU moves to send some refugees back, Reuters reported.
Around 50,000 migrants and refugees remain trapped in Greece after a domino of border closures by countries along the Balkan route has prevented them from continuing their journey into wealthier European countries. Many live in squalid conditions in tents near the town of Idomeni at the border with Macedonia.
A false rumor that the Macedonian border would be opened spurred the demonstration, Agence France-Presse reported. Some 400 protesters gathered at the camp on Sunday, waving white napkins and holding signs that read "open the border." A man with a megaphone led them singing folk songs in Arabic.
Some elderly handicapped refugees were sitting in wheelchairs sobbing while many other people who had dismantled their tents in order to move quickly were waving white handkerchiefs.
"No violence, we just want to cross," read one banner, while another said: "Freedom of movement is everybody's right," AFP reported.
Greek police formed a line to prevent the protesters from moving to the fence that separates the camp from Macedonia.
"We're here today, and every day, because we won't give up. We protest here every day for the sake of women and children," a Syrian woman named Hana told Reuters. "We are humans and we have rights; this is why we are here today and we will keep protesting until the borders open."
The commotion appeared to be triggered by a rumor that journalists and Red Cross officials would help migrants force their way across the fence into Macedonia, a young Syrian refugee told the Athens News Agency.
"They told us the Red Cross and 500 journalists from all over the world will be with us," he said, without specifying the source.
Another young Syrian said his sister, who is living in Germany, had seen the same claim on the internet and alerted him.
Using loudspeakers, Greek officials told those gathering that the crossing would remain closed, repeating the message in both Arabic and Farsi, ANA said.
"We are trying to step up our information campaign to the refugees. Some people, for reasons we don't understand, are creating false hope," said Giorgos Kyritsis, spokesman for the SOMP agency, which is coordinating Athens' response to the refugee crisis.
Greece has made it a priority to clear migrants from the Idomeni camp and has stepped up efforts to convince them to move to nearby shelters. It is also speeding up the creation of reception centers for up to 30,000 migrants to help cope with a sharp rise in numbers because of border closures.
The European Union and Turkey have agreed to stop the migrant flow to Europe in return for political and financial concessions for Ankara, in a bid to seal off the main route by which people have poured across the Aegean islands.
Under the EU-Turkey deal, hundreds of new arrivals have been detained since March 20, while refugees or migrants whose applications fail will be sent back to Turkey.
About 1 million people arrived in Greece last year, fleeing conflict in Syria, Iraq and other countries in the Middle East and Africa. Most of them moved northward into Europe.
© Copyright IBTimes 2023. All rights reserved.