Republicans Take Aim At Biden With 'Fact Check' Website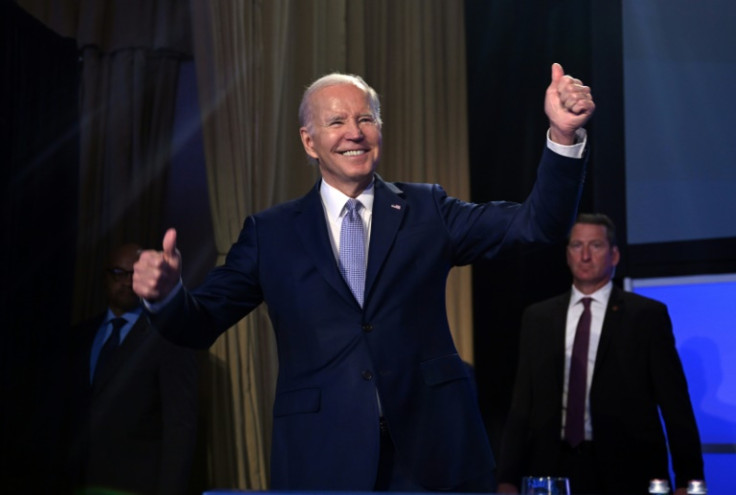 Just before Joe Biden announced his much-anticipated 2024 re-election bid Tuesday, his Republican opponents took aim at the US president in an unexpected way - they rolled out a website to "fact check" him.
The move underlines efforts on both sides of the political aisle to lob salvos at rivals using the fact-checking format, a move analysts say risks undermining trust in non-partisan debunkers of misinformation.
The Republican National Committee unveiled factcheckbiden.com, a website dedicated solely to exposing in real time what the party called the president's "lies."
"The RNC will continue to hold Biden accountable for his lies, and in November 2024, the American people will too," RNC chairwoman Ronna McDaniel said in a statement.
The website was launched just a day before Biden, a Democrat, threw his hat in the ring for a second presidential term, setting the stage for a possible rematch against Donald Trump.
Trump's Republican supporters promoted the website on social media as the "Biden White House's new least favorite website."
The site appeared to push Republican talking points, with a blizzard of posts mixing factual links with personal opinions -- something professional fact-checkers typically steer clear of.
Remarks made by Biden were flagged as "personal lies," "made up stories" and, in one instance, a "really, really weird lie."
"This sounds like a fairly standard campaign tactic, to set up a website to 'fact check' statements by your opponent," Joshua Tucker, co-director of the NYU Center for Social Media and Politics, told AFP.
"I doubt that mainstream media sources are going to confuse an RNC site fact-checking Biden for a non-partisan or professional fact checking site," Tucker added.
The Republican move mirrors similar efforts by the Democrats.
The Democratic National Committee has established a "war room" that routinely sends out email newsletters with "fact-checks" or statements blasting Republican politicians.
During a presidential debate in 2016, in which Hillary Clinton was pitted against Trump, the Democrat's personal website ran a live "fact-check" of her opponent.
Clinton urged viewers of the debate to visit the segment called "Literally Trump" to witness the facts - a call that attracted millions of hits in a short span, according to US media.
Fact-checking by professional media organizations was a perpetually frenetic exercise during Trump's 2017 to 2021 presidency, when his every word and tweet - often riddled with inaccuracies - were heavily scrutinized.
Republicans appear to have "serious concerns" about the fairness of professional fact-checking organizations, according to a 2019 survey by the Pew Research Center. Seven in ten Republicans say fact-checkers tend to favor one side, compared with roughly three in ten Democrats, the survey said.
That likely explains the Republican push into debunking.
"The incorporation of 'fact-checking' language into clearly partisan activity could have the effect of muddying the waters on the trustworthiness -- and objectivity -- of non-partisan fact checking organizations," said Tucker.
"If 'fact checking' in some cases means 'this is our partisan opinion,' then it may become increasingly difficult to know when fact-checking really is a (neutral) activity."
© Copyright AFP 2023. All rights reserved.