Retired Legislator Snaps Photos Of Rare Three-Antlered Deer
Retired legislator Steven Lindberg developed a habit of bringing his camera with him on his walks with his dog Max near his Michigan home. On a recent walk, Lindberg snapped dozens of photographs of a live deer he saw but did not think much of it since he thought he did not get the perfect photo.
However, it was only when he got home and uploaded the photos to his computer that he realized something incredible about the stag: it had three antlers. Sure enough, the photographs show that the stag appears to have two antlers on one side of its head and one on the other.
Lindberg, then, posted the images on his Facebook account as part of his 2013 New Year 's resolution to post one photo every day, and it was immediately shared many times. In fact, as of the writing of this article, the post has since received over 600 reactions and over a thousand shares.
Three-Antlered Deer
Lindberg evidently made a "one-in-a-million" find with the three-antlered stag, and professor of wildlife biology at Northern Michigan University John Bruggink told the Washington Post that it could even be rarer but it is difficult to really know exactly how many others there are.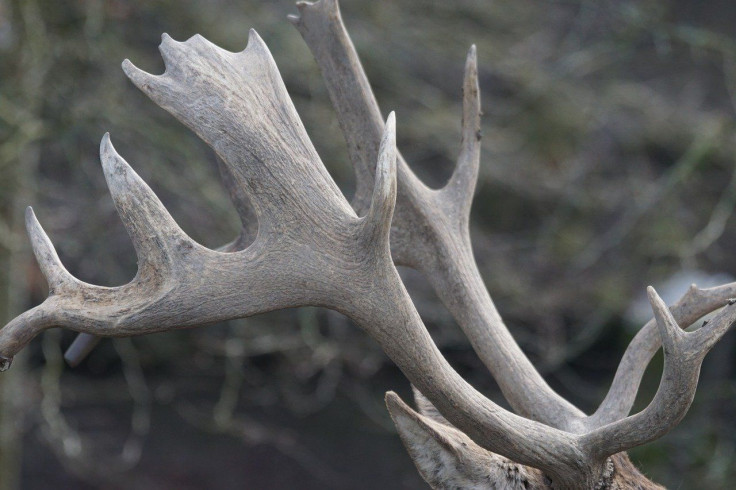 Evidently, there have been reports of three-antlered deer since 1965 when researchers discovered a deer with an extra antler growing out of its cheek. The phenomenon could be a result of damage to pedicells during early development, the restricted blood supply to the growing antlers, or even if previous antlers are not shed fully or properly.
Antlers
Members of the deer family develop antlers, which are different from horns that develop in the bovine family. Compared to horns that grow throughout an animal's lifetime, antlers can grow an inch per day, making it the fastest-growing animal tissue on the planet, and they have to be shed every year.
Antlers serve various purposes such as to knock down fruit from trees. However, biologists believe that they are mostly used for competition among males for females as well as to assert dominance and defend against predators.
Deer antlers typically weight about three to nine pounds, so the rate three-antlered deer is carrying extra weight on its head. That said, professor Bruggink believes the third antler is unlikely to be causing any harm to the creature.
© Copyright IBTimes 2023. All rights reserved.