Richard Glossip Execution: Oklahoma Death Row Inmate's Lawyers Make Final Plea To US Supreme Court To Halt Execution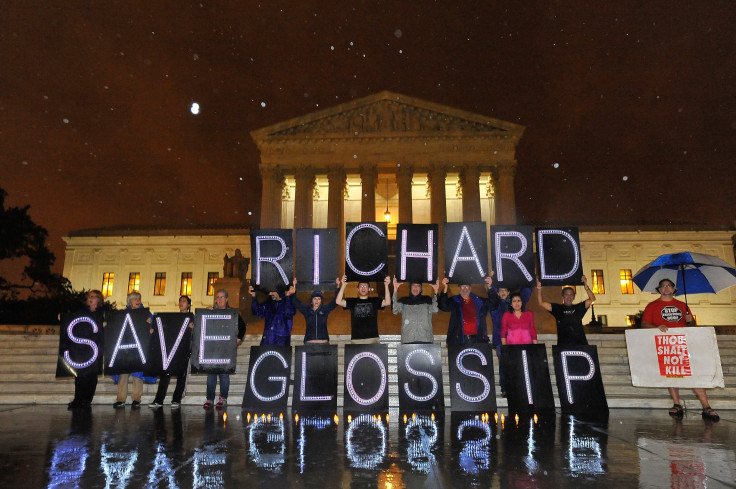 Oklahoma death row inmate Richard Glossip's lawyers made a final plea Tuesday to the U.S. Supreme Court asking for a stay on his execution -- a day after the state's highest criminal court rejected new hearing. Glossip is scheduled to be put to death Wednesday afternoon.
The lawyers filed two petitions on Glossip's behalf requesting the court to halt the execution and weigh their arguments. The first petition was addressed to Justice Sonia Sotomayor, who oversees emergency requests from Oklahoma. Sotomayor can take act herself on the matter or refer the case to the full court of at least five justices to agree upon the stay of the death sentence -- a process that the Oklahoma Court of Criminal Appeals followed Monday and ordered to proceed with Glossip's execution with 3-2 decision. The second petition would require only four justices to vote for Supreme Court review, according to the Huffington Post.
Glossip was convicted of orchestrating the fatal beating of his boss, motel owner Barry Van Treese, in 1997. He was found guilty of paying his colleague Justin Sneed to kill Van Treese. But, Glossip maintained that the actual killer, Sneed, framed him. Sneed received life term in jail in exchange for his testimony against Glossip.
Glossip's attorneys argued that there was no physical evidence to incriminate the 52-year-old. They said he was mostly convicted on Sneed's testimony. The lawyers also reportedly produced statements from jail informants who alleged that Sneed boasted of setting up Glossip.
In an interview to Sky News Tuesday, Glossip said that Sneed's statements showed discrepancies. He also said that his attorneys can convince the Supreme Court to intervene in the case.
"He [Sneed] testified at my second trial. He was asked that by the DA [District Attorney]: 'Was Richard wearing gloves?' He said no. He said 'Does Richard own a pair of gloves?' He said no. And now he's on TV saying that I did. It continues to show the discrepancies in anything that Justin Sneed has to say," Glossip told Sky News.
If executed, Glossip would be the first inmate to be executed in Oklahoma since the Supreme Court in June ruled in favor of midazolam, a sedative used in lethal injection. The court said that the drug did not violate the U.S. Constitution's ban on cruel and unusual punishment.
© Copyright IBTimes 2023. All rights reserved.