Rick Santorum Campaign: The Gaffes That Helped Doom Him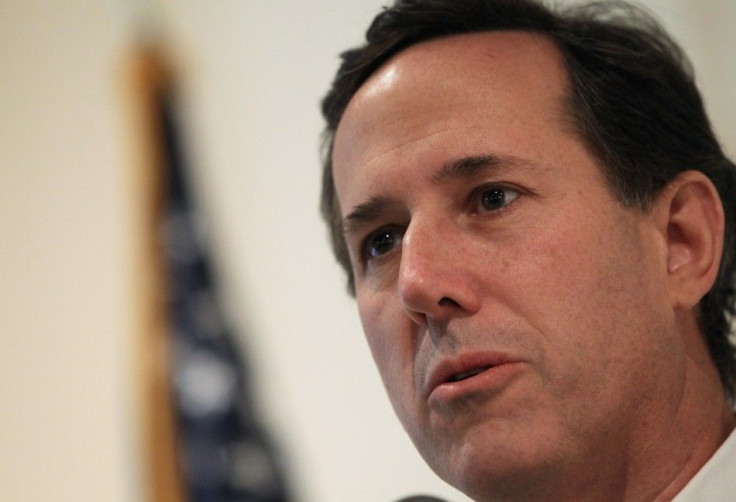 Rick Santorum has exited the Republican presidential race, declaring his desire to care for his ailing daughter and implicitly conceding that Mitt Romney's rising delegate count has become too great a hurdle.
For months, the Republican race resembled a game of not-Romney whack-a-mole: a new challenger would emerge from the pack, bask briefly in the glow of media attention, and then crumble amidst a series of gaffes, personal revelations or insufficiently conservative positions.
In one sense, Santorum's ascendancy was a matter of timing: he was the last beneficiary of the ceaseless search for a Romney alternative, getting a look after voters had examined and discarded their other options. But his virtual tie in the Iowa caucus, which election officials later converted into a win, hinted at his staying power; a three-state sweep of Minnesota, Missouri and Colorado confirmed it.
The former Pennsylvania senator offered a socially conservative message that resonated with voters Romney had struggled to win over: the most conservative voters, the fervent Tea Party supporters, and low-income and less-educated Americans. Santorum won over voter blocs that allowed him to continue staking his claim to be the true conservative; while Romney consistently captured the voters who prioritized beating President Obama, Santorum soared among those who wanted a candidate to be a true conservative, or to be morally upright.
But Santorum also had a propensity for controversial comments that got him in trouble, a longtime tendency that Huffington Post reporters Sam Stein and Jason Cherkis thoroughly documented in a story detailing the disastrous, 17-point loss that cost Santorum his Senate seat in 2006.
As you have seen in this campaign, Rick has a tendency to get off-message and say things that he believes, but things that better wisdom would have left unsaid, former Pennsylvania Gov. Ed Rendell (D) told The Huffington Post. The parallels [between the two races] are shockingly similar, shockingly similar.
Here is a list, in no particular order, of the statements and gaffes that undercut Santorum's presidential aspirations.
1. Separation of church and state makes him want to throw up: More than half a century ago, the newly elected President John F. Kennedy gave a speech intended to dispel fears that, as the first Catholic president, he would govern according to dictates from Rome. Kennedy called for an America where the separation of church and state is absolute and championed religious freedom. To Santorum, Kennedy's speech was abhorrent, and he said that upon reading it he almost threw up.
2. Obama's phony theology: When Santorum said in an Ohio speech that President Obama adheres to some phony theology. Not a theology based on the Bible. A different theology, the knee-jerk reaction among some critics was that Santorum was crediting the seemingly ineradicable rumors that Obama is Muslim. But a look at the context shows that Santorum, a devout Catholic, was in fact espousing his particular Christian brand of environmentalism: namely, that humans are God-appointed rulers of the earth and that environmentalism, including attempts to tame climate change, is radical, a worldview that elevates the Earth above man.
3. Not trying to help black (blah) people: Speaking about entitlement reform in Sioux City, Iowa, Santorum said that I don't want to make black people's lives better by giving them somebody else's money; I want to give them the opportunity to go out and earn the money. The underlying premise was boilerplate Republican rhetoric about government assistance breeding dependence, but the I don't want to make black people's lives better fragment ceated a cacophony in the media echo chamber. Santorum made things worse when he tried to backtrack by saying he had stumbled over a word and actually said blah people.
4. Female soldiers endangered by emotions: In response to a Pentagon decision allowing women to serve in more serious combat roles, Santorum voiced concerns about women in front line combat, and the fact that women may do things that may not be in the interests of the mission because of other types of emotions that are involved. The comment did not allay concerns that Santorum had embraced a retrograde view of a woman's place in society (during his 1994 Senate campaign, Santorum suggested that single moms were breeding criminals and contributing to the fabric of this country fall[ing] apart).
5. The evils of contraception: Republicans have rallied against a provision in the new health care law mandating that all employers, including religious institutions like Catholic hospitals and universities, provide coverage for birth control. Santorum jumped readily into the fray, saying religious liberty was at stake, but he had abdundant experience denouncing birth control: in October of 2011 he vowed to talk about the dangers of contraception in this country, calling birth control a license to do things in a sexual realm that is counter to how things are supposed to be.
6. Criminal abortion doctors: This happened in the nascent days of the campaign, but it still reflected Santorum's staunch religiously-informed social conservative views. After seeming to affirm that he opposed abortion in cases of rape or incest, Santorum went on to say that I would advocate that any doctor who performs an abortion should be criminally charged for doing so, although he added that he would not charge the women seeking abortions.
7. Satan versus the United States: In February, the organization Right Wing Watch uncovered a 2008 speech in which Santorum warned that Satan has his sights set on the United States of America and that Satan is attacking the great institutions of America. Santorum gave this speech long before the 2012 Republican primary got underway, but he was forced to address the comments after they emerged and were heavily promoted by the widely-read Drudge Report website. Santorum dismissed the criticisms as absurd, saying that I think if somehow or another because you're a person of faith you believe in good and evil is a disqualifier for president, we're going to have a very small pool of candidates who can run for president.
© Copyright IBTimes 2023. All rights reserved.