Rio Olympics Problems: 14 Things That Have Gone Wrong At the 2016 Summer Games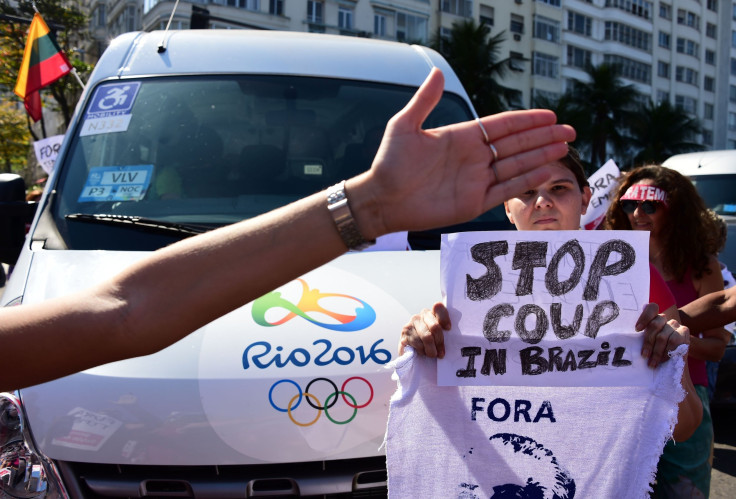 Even before the start of the 2016 Rio Olympics, the Games appeared to be fraught with problems. As the Games have progressed, the complaints have piled up or worsened.
Following in the unfortunate footsteps of the 2014 Winter Games' host and earning the similar troll nickname and trending topic ("Sochi Problems"), Rio's been subject to myriad criticism surrounding not only its preparations and execution as an Olympic host city, but has also become a bastion of what is wrong across Brazil.
"Rio probably has the biggest array of problems or potential problems of any Olympics venue," veteran NBC broadcaster Bob Costas said on Tuesday.
While it could be viewed as an unfair blanket statement, even from someone as fully enriched in Olympics history and lore as Costas, Rio's infrastructure has proven to be shoddy and even combustible. On Sunday, the Olympic Park's massive super store loaded with souvenirs and merchandise for spectators was forced to shut down due to high winds. The store was reportedly built with large vinyl walls, which were subject to punishment from the wind, and several other temporary structures were battered around the park.
High winds may be the least of the problems for the Games. Security for spectators and athletes was and continues to be a topic of great concern. Roughly 500,000 foreign visitors are expected to converge on Rio de Janeiro throughout the 19 days, and there are about 85,000 police and soldiers on hand, more than double the security for London.
While the Rio Games may have their share of difficulties, problems surrounding the Olympics are often exaggerated and some issues are clearly outside of the organizers' control. Such grandiose and ambitious events can't help but be subjected to some troubles along the way and many complaints can be rather petty.
Here is a list of some of the problems that have cast a shadow over the Olympics:
Budget Costs: Brazil is in a steep recession, and the Olympics aren't exactly helping. Sport-related costs of the Games will have a $1.6 billion overrun, according to a report by The University of Oxford's Said Business School.
Corruption: With the global attention on Brazil comes scrutiny about a high-level officials. Specifically, an investigation into state-run oil firm Petrobras, known as Operation Car Wash, has revealed questionable activity by top government officials. Just one day before the opening ceremony, Brazil president Dilma Rousseff was found guilty of budget fraud by a senate committee. Furthermore, a federal judge also ruled last week that Rousseff's predecessor, Luis Inacio Lula di Silva, must stand trial for his alleged role in the Petrobas scheme.
Government Upheaval: Again on Sunday, ticket holders were thrown out of Olympic sites because they protested Brazil interim president Michel Temer and that has called the treatment of Brazilians' civil rights into question. And before the Opening Ceremony on Friday, thousands reportedly protested the billions in government spending to host the Games rather than allocating the necessary funds for schools and basic infrastructure like hospitals.
Housing Issues: Numerous athletes from all over the globe have been subject to haphazard or outright incomplete housing since they arrived in Rio. The Olympic Village has become a gold mine of tweets from Olympians attempting to fix up their lodgings. Bathrooms have proven leaky and some athletes even hung their own shower curtains.
Long Queues: The first full day of competition had longer-than-expected waits for spectators, with Rio 2016 Organizing Committee spokesman Mario Andrada saying officials were having trouble coordinating with federal police and military officers. There have been delays of up to 90 minutes at events at the Olympic Park.
NBC Coverage: Social media blew up over the tape delay and the many commercials for the opening ceremony. The result? NBC drew a 17.2 overnight rating Friday night, which would be a very high number during a summer night when most people are out, except it's the lowest rating for an opening ceremony since 1992's Barcelona Games.
No Food At The Main Press Center: A lack of eating options in the media work room led the president of the International Sports Press Association, Gianni Merlo, to issue a statement which included: "More than 5,000 accredited journalists are expected in Rio and if there's one thing that journalists don't like it's being hungry." Perhaps as a result, the McDonald's based inside the athletes' village was bombarded and forced to close down a few days ago. However, it has since reopened.
Russians Doping: Russian athletes have been booed at events following widespread reports of state-sponsored doping in Russia leading up to the Games. Just before the games, the International Olympic Committee opted to clear 217 of Russia's 389 athletes to take part in Rio's festivities, which still left 118 competitors out for allegedly doping. And now even Russian athletes eligible for the 2016 Paralympics have been completely barred from participation.
Security Scares: In June, two members of the Australian Paralympic sailing squad were robbed at gunpoint, and just this Saturday Portugal's education minister was robbed at knifepoint. Also on Saturday, a stray bullet tore through the roof of the press room at the equestrian center. Three days earlier, three Swedish tourists were briefly abducted by armed men after taking pictures near a dangerous favela.
Ticket Sales: Despite less expensive tickets than the London Games, only 82 percent of tickets have been sold. "We still have 1.1 million tickets to sell," said Andrada. At the opening ceremony, volunteers were used as seat fillers.
Traffic: A taxi driver told The Washington Post that a 22-mile trip from Rio's center to the Olympic Village took 2 1/2 hours, a sharp increase from the typical 70-minute trip.
Water Pollution: Reports surfaced in May of "dangerously high levels of sewage" in Guanabara Bay and other Olympic aquatic sport venues. And conditions have stayed the same. Rowers took to the polluted Rodrigo de Freitas lagoon on Saturday and used bleach on their oars, anti-bacterial mouthwash, and isolated their water bottles in plastics bags, according to The Chicago Tribune, in order to avoid any potential bacterial infections from the water.
Strong Winds: Not only did the strong Sunday winds close down a souvenir store, it also meant a postponement for rowing events. Serbian rowers Milos Vasic and Nenad Bedik even capsized during their semifinal. Play was also delayed for tennis.
Zika: The virus that caused several high-profile professional athletes to sidestep Rio altogether, hasn't truly reared its potentially dangerous head. But athletes are hearing boos and jeers from spectators hoping to get into their heads. American beach volleyball players Lauren Fendrick and Brooke Sweat heard fans scream "Zika!" during their serves in an attempt to psyche them out.
© Copyright IBTimes 2023. All rights reserved.