Rio Olympics Water Problems: Athletes, Tourists Warned About Pollution, Bacteria, Viruses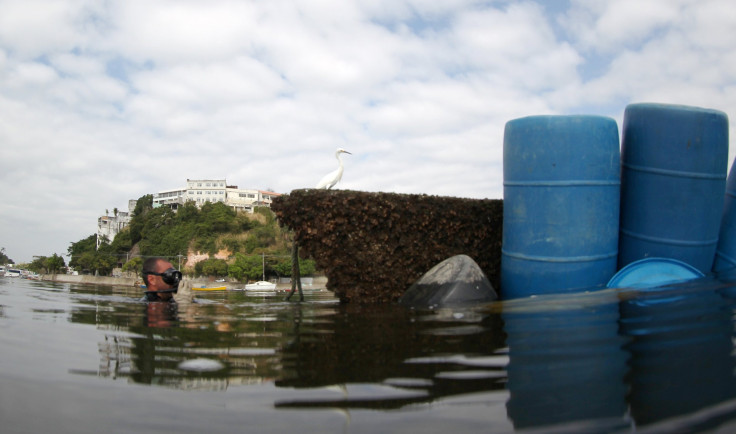 Olympic athletes and tourists heading to Rio de Janeiro are being told to keep their mouths shut and their heads above water. The results of a 16-month study conducted for the Associated Press released Monday found that Rio's waterways are still full of human sewage with bacteria and viruses that could cause serious illness.
The study showed "consistent and dangerously high levels of viruses from the pollution" that has worried athletes including sailors, rowers and swimmers who will take to the open waters.
"Seeing that level of human pathogenic virus is pretty much unheard of in surface waters in the U.S. You would never, ever see these levels because we treat our waste water. You just would not see this," Dr. Valerie Harwood, Chair of the Department of Integrative Biology at the University of South Florida told the AP.
Daniel Becker, a local pediatrician, told the New York Times last week that foreign athletes will "literally be swimming in human crap" and that they are at risk of becoming ill. With the opening ceremony only four days away, rowers and sailors will compete on the most contaminated waters at the Rodrigo de Freitas Lagoon and the Gloria Marina.
While athletes are at risk during competition, the 300,000 to 500,000 foreigners who are expected to visit Rio de Janeiro during the Olympic Games also face the possibility of similarly falling ill. The study commissioned by the AP found that samples of sand from the famous beaches at Copacabana and Ipanema had high levels of infectious adenovirus.
Brazilian officials and Olympic organizers promised to stem the flow of trash and sewage from the area's 12 million residents into Rio's waters. Virologist Dr. Fernando Spilki from Feevale University in southern Brazil was commissioned by the AP conduct the recent study. Despite promises for a cleanup ahead of the games, Spilki said there was no noticeable improvement.
"Unfortunately, what we've seen throughout all this time is that there is a variation in the levels of contamination, but it fluctuates much more as a result of climactic conditions than due to any measures that may have been taken to try to remove this contamination," he said.
The polluted waters are one of several problems plaguing the Olympic Games, including the spread of the Zika Virus and incomplete construction and theft at the Olympic Village.
© Copyright IBTimes 2023. All rights reserved.