Road To ONE X Part 2: Sustaining Growth, Overcoming Obstacles
KEY POINTS
ONE Championship will be celebrating its 10th anniversary with a stacked ONE X card on March 26
A new set of stars have emerged in recent years featuring Xiong Jing Nan, Reinier de Ridder and John Lineker
ONE X features three title fights and the special rules MMA-Muay Thai bout between Demetrious Johnson and Rodtang Jitmuangnon
After spending nearly seven years proving itself as one of the combat sports juggernauts in the world today, ONE Championship faced its biggest opponent yet: sustaining its growth from 2019 to the present time.
January 19, 2019: New Strawweight King
At ONE: Eternal Glory, Yosuke Saruta was able to snatch the strawweight title from Joshua Pacio via split decision after a grueling five-round fight.
January 25, 2019: ONE Championship Partners With Shooto
ONE Championship continues to expand its influence in the global market by partnering with Japanese mixed martial arts (MMA) organization Shooto.
January 25, 2019: Team Lakay Loses ONE Flyweight Title
In the main event of ONE: Hero's Ascent, Adriano Moraes successfully defeated Geje Eustaquio to complete their trilogy of fights, with the former claiming the ONE flyweight title.
Meanwhile, the latter's Team Lakay stablemate Honorio Banario also fell in the quarterfinals of the ONE Lightweight World Grand Prix against Lowen Tynanes.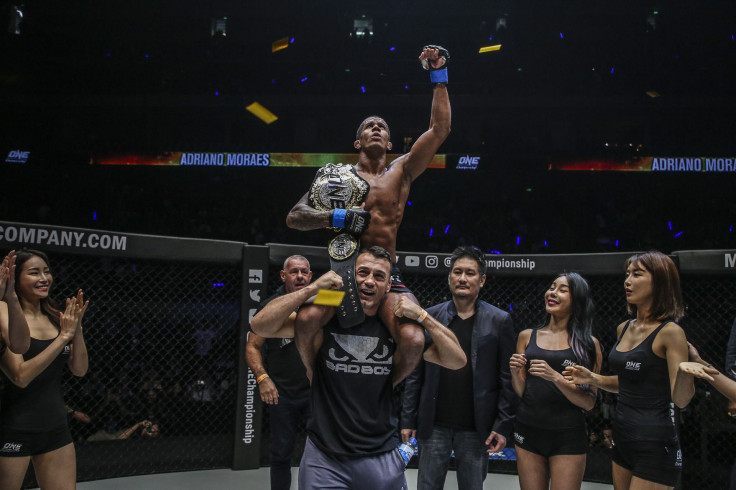 January 28, 2019: ONE: Hero Series' First Event
ONE Championship recognized the growing talent in China, and its response to this was by holding the first-ever ONE: Hero Series which the organization had intended to be a developmental league in the country.
February 16, 2019: The Inaugural ONE Muay Thai Bantamweight Champion
At ONE: Clash of Legends, Thailand's Nong-O Gaiyanghadao etched his name in the promotion's record books by becoming the very first ONE Muay Thai bantamweight champion after defeating Han Zi Hao.
February 22, 2019: Stamp Fairtex Enshrined As Two-Sport Champion
ONE: Call To Greatness marked the rise of Stamp Fairtex as she defeated Janet Todd for the inaugural ONE Muay Thai women's atomweight championship, while both Ariel Sexton and Saygid Gusyn Arslanaliev both won their respective Lightweight World Grand Prix quarterfinal matches.
February 29, 2019: UFC Icon Signs With ONE Championship
The Singapore-based outfit made waves in the international MMA community when former UFC light heavyweight champion Vitor Belfort signed with ONE Championship.
March 14, 2019: ONE Championship Partners With Pancrase
Almost two months since it announced its partnership with Shooto, ONE Championship revealed that it had also entered an exclusive deal with another legendary Japanese MMA organization in Pancrase.
March 31, 2019: ONE Goes To Tokyo, Japan
ONE: A New Era was a stacked card that featured the following moments: Demetrious Johnson winning his promotional debut as part of the quarterfinals of the ONE Flyweight World Grand Prix, Team Lakay's Eduard Folayang losing the lightweight title to Shinya Aoki in their rematch, and Timofey Nastyukhin upsetting Eddie Alvarez in the other ONE Lightweight World Grand Prix quarterfinal matchup.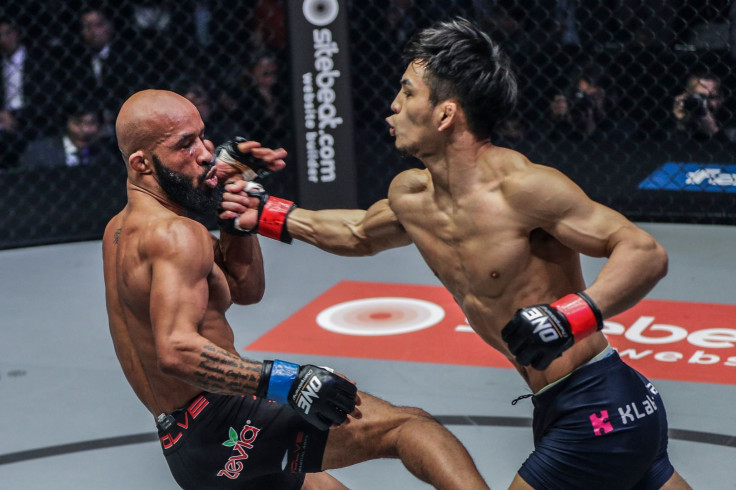 Also on the card were Danny Kingad and Kairat Akhmetov making it through the semi-finals of the ONE Flyweight World Grand Prix as well as Xiong Jing Nan defending her women's strawweight title against Angela Lee by knocking the atomweight queen out in the fifth round.
Moreover, Bibiano Fernandes also won the ONE bantamweight title via disqualification versus Kevin Belingon in their own rubber match.
April 12, 2019: Joshua Pacio Regains Strawweight Title
At ONE: Roots of Honor, Joshua Pacio proved that he was worthy of holding the strawweight title as he knocked out Yosuke Saruta in the rematch.
On the other hand, featherweight king Martin Nguyen caught Narantungalag Jadambaa with a flying knee to defend his crown.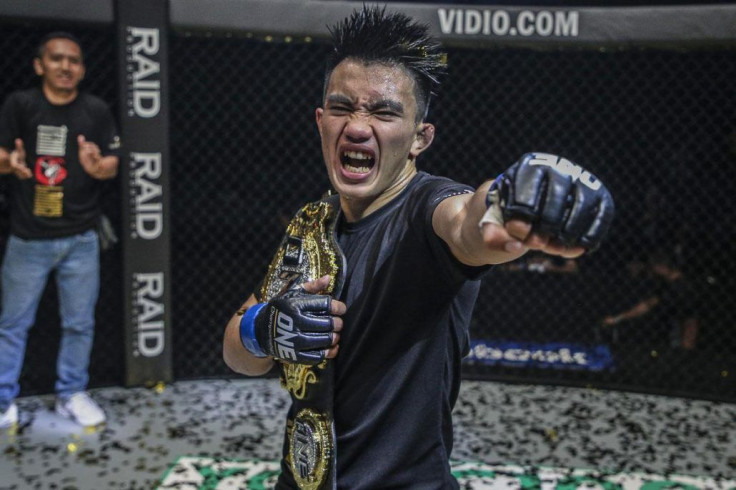 April 15, 2019: Featherweight Kickboxing Grand Prix Announced
With the promotion having a ton of talented strikers, ONE Championship revealed that it would have its top-tier featherweights participate in the upcoming ONE Featherweight Kickboxing World Grand Prix with the winner taking home $1 million.
May 3, 2019: Jonathan Haggerty Dethrones Muay Thai Legend
Highly-touted Muay Thai flyweight Jonathan Haggerty successfully dethroned Sam-A Gaiyanghadao for the latter's flyweight title at ONE: For Honor.
May 10, 2019: First ONE Kickboxing Flyweight King
Petchdam Petchyindee Academy won the inaugural ONE kickboxing flyweight championship over Elias Mahmoudi in the co-main event of ONE: Warriors of Light, while Muay Thai bantamweight king Nong-O Gaiyanghadao kept the title around his waist with a unanimous decision victory over Hiroaki Suzuki in the headliner.
May 17, 2019: Christian Lee's Crowning Achievement
ONE: Enter the Dragon was an apt title for this event as Christian Lee put on his best Bruce Lee impersonation by unseating Shinya Aoki for the lightweight title, while Saygid Guseyn Arslanaliev booked his spot in the Lightweight World Grand Prix finals by defeating Amir Khan who replaced Ariel Sexton.
The event also featured three Kickboxing Featherweight World Grand Prix matches, with Phetmorakot Petchyindee Academy's win over Giorgio Petrosyan being overturned to a no contest.
June 15, 2019: Yoshihiro Akiyama's Spoiled Debut
Malaysian welterweight Agilan Thani took the unanimous decision victory over debuting Japanese icon Yoshihiro Akiyama, while Stamp Fairtex escaped ONE: Legendary Quest with her Muay Thai women's atomweight title following a unanimous decision win over Alma Juniku.
July 8, 2019: John Lineker Joins ONE Championship
Former UFC standout John Lineker directed his career path to ONE Championship in the hopes of competing for an MMA world title in the near future.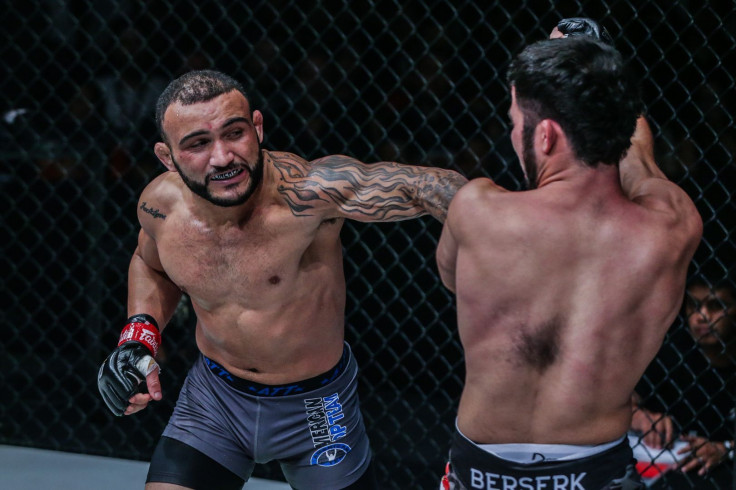 July 12, 2019: Giorgio Petrosyan Gets Redemption
In a rematch of their Kickboxing Featherweight World Grand Prix quarterfinals matchup, Giorgio Petrosyan defeated Phetmorakot Petchyindee Academy at ONE: Masters of Destiny
Meanwhile, Michelle Nicolini pulled off a unanimous decision upset against atomweight champion Angela Lee in a strawweight bout.
August 2, 2019: Eddie Alvarez Rallies To Beat Eduard Folayang
ONE: Dawn Of Heroes saw both Danny Kingad and Demetrious Johnson win their semi-finals matchup to advance to the finals of the Flyweight World Grand Prix.
On the other hand, late entrant Eduard Folayang fell to Eddie Alvarez in the ONE Lightweight World Grand Prix semi-finals.
Both Folayang and Alvarez were tourney replacements, stepping in for the injured Timofey Nastyukhin and Lowen Tynanes respectively.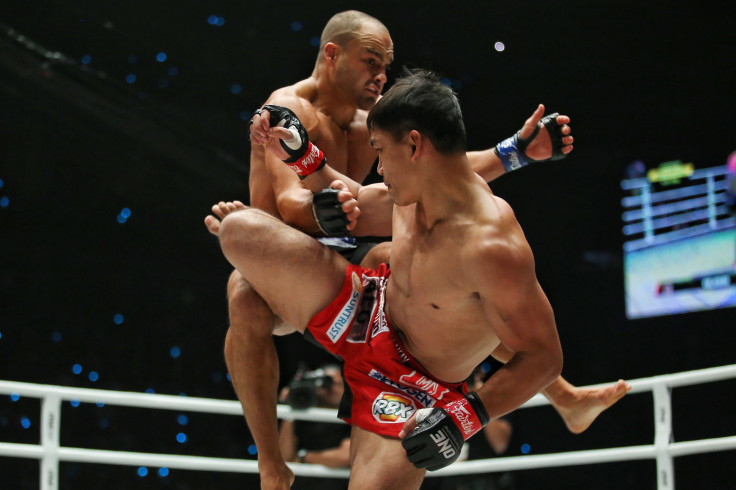 August 16, 2019: Petrosyan, Sana Reach Kickboxing Flyweight Grand Prix Finals
Both Giorgio Petrosyan and Samy Sana booked their spots by knocking out Smokin' Jo Nattawut and Stefer Rahardian in the semi-finals respectively, while Petchdam Petchyindee Academy dropped his kickboxing flyweight title to Illias Ennahachi in the main event of ONE: Dreams of Gold.
September 6, 2019: First Event In Vietnam
An all-kickboxing and Muay Thai event was set for the organization's first foray into Vietnam with ONE: Immortal Triumph because MMA is banned in the country, with Nong-O Gaiyanghadao successfully defending his Muay Thai bantamweight title against Brice Deval as the headliner.
October 13, 2019: Second Venture In Japan
ONE: Century celebrated the promotion's 100th major event and was such a grand spectacle that the promotion split it into two cards: the first aired exclusively on TNT in the United States and the second via the ONE Super App worldwide.
Part One featured Angela Lee successfully defending her women's atomweight title against Xiong Jing Nan in their rematch, Demetrious Johnson taking the Flyweight World Grand Prix crown over Danny Kingad, and lightweight king Christian Lee (replacing the injured Eddie Alvarez) coming out victorious against Saygid Guseyn Arslanaliev in the Lightweight World Grand Prix finals.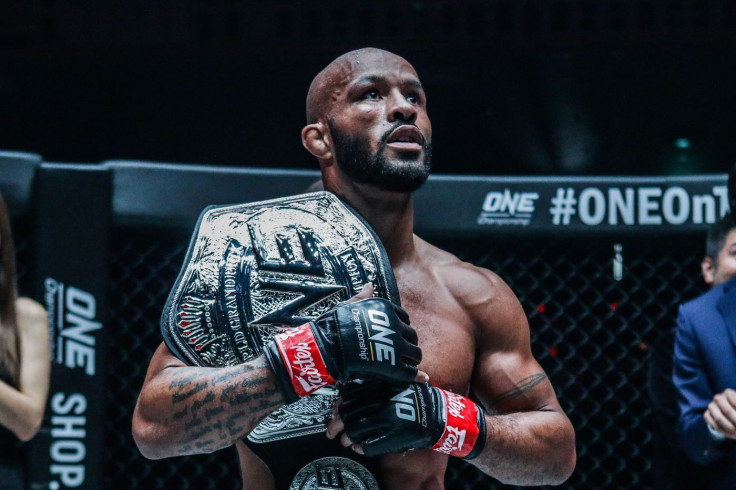 Part Two saw Aung La N Sang fend off Brandon Vera's bid for his light heavyweight title, Bibiano Fernandes keep the bantamweight title against Kevin Belingon in their fourth fight, and Giorgio Petrosyan being crowned the winner of the Kickboxing Featherweight World Grand Prix.
October 25, 2019: Kiamrian Abbasov Achieves Dream
ONE: Dawn of Valor saw Kiamrian Abbasov dethroning Zebaztian Kadestam for the right to call himself as the welterweight champion.
November 8, 2019: Second Filipino-Versus-Filipino ONE Title Fight
ONE: Masters of Fate saw Joshua Pacio successfully defend his strawweight belt against Rene Catalan--the second Filipino-against-Filipino title fight after Honorio Banario went up against Eric Kelly in 2013.
November 16, 2019: Roman Kryklia Enters ONE's Record Books
Fearsome kickboxing light heavyweight Roman Kryklia became the king of the division after defeating Tarik Khbabez by knockout in the second round, with Illias Ennahachi defending his kickboxing flyweight title against Wang Wenfeng in the main event of ONE: Age of Dragons.
December 6, 2019: Sam-A Gaiyanghadao Becomes Two-Sport Champion
Sam-A Gaiyanghadao's inaugural kickboxing strawweight title win at ONE: Mark Of Greatness allowed him to achieve two things at the same time: becoming the first two-division world champion in ONE Super Series and the second two-sport champion in the promotion.
January 31, 2020: Last Philippine Event Due To COVID-19
Before the COVID-19 pandemic struck the country, Joshua Pacio successfully kept his grip on the strawweight title as he defeated Alex Silva by split decision at ONE: Fire & Fury in front of his hometown crowd.
February 7, 2020: Coronation Of Inaugural ONE Muay Thai Featherweight King
ONE: Warrior's Code was the last event the company had where fans were able to be in attendance, and Phetmorakot Petchyindee Academy succeeded in his bid to become the first-ever Muay Thai featherweight champion.
February 28, 2020: First Event Behind Closed Doors
Like many other sporting organizations, ONE Championship was forced to improvise once the COVID-19 pandemic hit, and ONE: King of the Jungle was held without fans in attendance.
At the event, Janet Todd overthrew Stamp Fairtex in their rematch for the ONE kickboxing women's atomweight title, while Sam-A Gaiyanghadao added the inaugural ONE Muay Thai strawweight title to his belt collection.
March 6, 2020: Event Cancellations Due To COVID-19
As the spread of COVID-19 became felt across the region, ONE Championship announced that it had canceled several events between March to May, including ONE: Heart of Heroes in Vietnam, the ONE Infinity Series, ONE: Hope, ONE: Strength, ONE: Dreams and ONE: Inspiration.
May 18, 2020: BJJ Legend Signs With ONE Championship
Another Brazilian Jiu-jitsu icon was acquired by the promotion in the form of decorated American Tom DeBlass to further bolster its growing stable of grapplers.
June 15, 2020: ONE Championship Layoffs
The COVID-19 pandemic took its toll on the promotion as ONE Championship was forced to lay off 20% of its workforce in the middle of the year.
June 20-21, 2020: First event post-pandemic
ONE Championship returned to hosting events since the pandemic struck with ONE Hero Series 13 and 14 in Shanghai, China, where all the fighters on the card were from the country with no fans in attendance.
July 31, 2020: First Thailand Card Since COVID-19 Outbreak
ONE: No Surrender saw the promotion's first major event since the pandemic began by venturing back to Bangkok, Thailand with the successful title defenses of Rodtang Jitmuangnon and Phetmorakot Petchyindee Academy headlining the event.
This day also marked the signing of Marcus "Buchecha" Almeida with the promotion and the taping of ONE: No Surrender 2 and 3 which aired on August 14 and 21 respectively.
August 28, 2020: Return To Thailand
ONE Championship opted to return to Thailand with ONE: A New Breed because of the country's lax restrictions, with Allycia Hellen Rodrigues taking Stamp Fairtex's Muay Thai women's atomweight title in the main event.
The organization also taped ONE: A New Breed 2 and 3 on this day that were aired on September 11 and 18 respectively.
October 9, 2020: Return to Singapore Events
ONE: Reign of Dynasties marked ONE Championship's return to hosting events in its home base of Singapore, featuring Sam-A Gaiyanghadao's Muay Thai strawweight title defense as well as the taping of ONE: Reign of Dynasties 2 that aired on October 16, 2020.
October 30, 2020: First Grand Fight Card In The Pandemic Era
ONE: Inside The Matrix saw a whopping four titles being put on the line, with two champions retaining and two others achieving their championship dreams.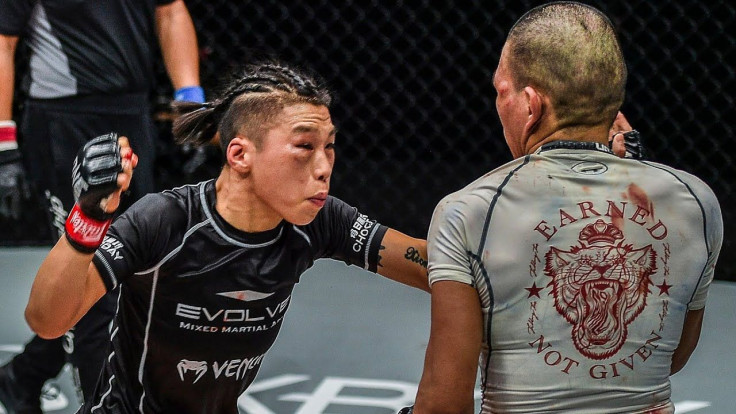 Christian Lee knocked out Iuri Lapicus in the first round to keep his lightweight title, Xiong Jing Nan rebuffed Tiffany Teo in their rematch, Thanh Le put Martin Nguyen to sleep to take his featherweight title, and Reinier de Ridder became the middleweight champion by catching Aung La N Sang with a rear-naked choke.
The promotion also taped ONE: Inside The Matrix 2, 3, and 4 on this date that was broadcasted on November 6, 13, and 20 respectively.
December 18, 2020: Closing Out With Hope For The Future
A tumultuous year for the outfit saw ONE: Collision Course that was headlined by Roman Kryklia defend his kickboxing light heavyweight title against Andrei Stoica, while the promotion also held the tapings for ONE: Collision Course 2 that aired on Christmas Day.
January 22, 2021: New Kickboxing Bantamweight Champion
ONE Championship kicked off 2021 with ONE: Unbreakable, where Capitan Petchyinedee Academy's massive combo caught kickboxing bantamweight champion Alaverdi Ramazanov by surprise.
Meanwhile, Shinya Aoki only needed half a round to put away James Nakashima.
ONE: Unbreakable 2 and 3 were also taped on this day, with the former airing on January 29 and the latter on February 5.
February 11, 2021: Former BRAVE CF Champ Moves To ONE
ONE Championship continued to stack its already massive deck of bantamweights when it was announced that former BRAVE CF bantamweight king Stephen Loman of Team Lakay joined the promotion.
February 26, 2021: Third Lee Sibling's Debut
Victoria Lee, the sibling of Angela and Christian Lee, made her triumphant debut at ONE: Fists Of Fury--which also saw Muay Thai strawweight Jackie Buntan spoil the hype of young prodigy Wondergirl Fairtex.
The promotion also pre-taped ONE: Fists of Fury 2 and 3 on this date, which aired on March 5 and March 19 respectively.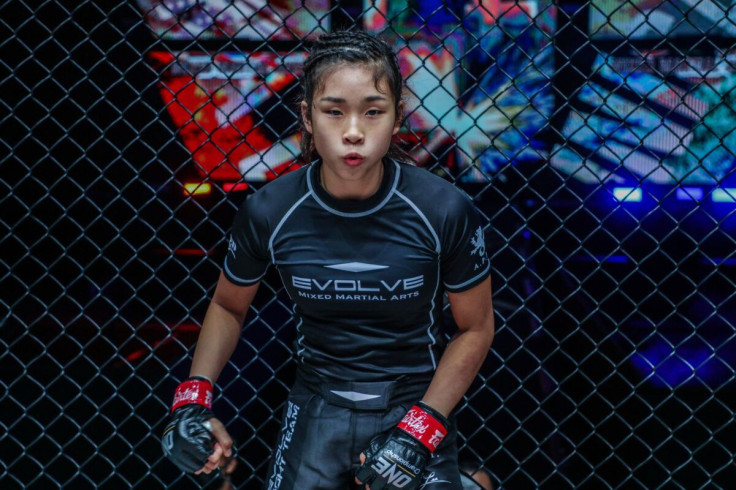 March 12, 2022: Kickboxing Legend Signs With ONE Championship
It was announced on this date that the promotion had signed kickboxing icon John Wayne Parr to an exclusive deal and made his promotional debut at ONE on TNT 3 a month later.
March 21, 2022: ONE Championship Grows BJJ Roster
American submission grappler and first-degree Brazilian Jiu-jitsu black belt Gordon Ryan signed with ONE Championship.
April 7, 2021: ONE Championship's USA Primetime Debut
The Singapore-based promotion had its breakthrough in the American market with ONE on TNT 1, where Adriano Moraes pulled off a shocking knockout victory over Demetrious Johnson to retain his flyweight title.
April 14, 2021: Christian Lee Defends Lightweight Title With Ease
Taped on the same day as ONE on TNT 1 aired, ONE lightweight champion Christian Lee put away Timofey Nastyukhin in the very first round of their main event matchup at ONE on TNT 2.
April 21, 2021: John Lineker Secures Bantamweight Title Shot
Originally taped on April 7, 2021, ONE on TNT 3 saw John Lineker cement his shot at Bibiano Fernandes' bantamweight strap after knocking out Troy Worthen in the main event.
April 28, 2021: Start Of Reinier De Ridder's Two-Division Reign
The last of the ONE on TNT series saw Reinier de Ridder knock off Aung La N Sang in their rematch to become the king of both the light heavyweight and middleweight divisions, while Ok Rae Yoon defeated Eddie Alvarez to book his lightweight title shot.
Moreover, Shinya Aoki closed the book of his rivalry with Eduard Folayang in their third encounter.
May 15, 2021: Indian Fighters Get Spotlight
Taped on April 28, 2021, ONE: Dangal aired on this date and featured a ton of fighters from India with Arjan Bhullar getting the second-round TKO victory on Brandon Vera for the ONE heavyweight title in the main event.
May 28, 2021: Event Cancellation Due To COVID-19
COVID-19 continued to batter the island city-state of Singapore, which forced the cancellation of ONE: Empower to September 3 later in the year.
July 30, 2021: A Top Prospect's Debut
ONE: Battleground was home to three key events: Prajanchai P.K. Saenchaimuathaigym's victory over Sam-A Gaiyanghadao for the ONE Muay Thai strawweight title, the sensational debut of top prospect Jeremy Pacatiw, and Aung La N Sang's incredible bounce-back win over Leandro Ataides.
September 3, 2021: An All-Female Card
The all-women ONE: Empower card featured all four quarterfinal fights of the Women's Atomweight World Grand Prix, with Xiong Jing Nan's masterful defense of her strawweight title against Michelle Nicolini headlining the card.
September 15, 2021: Hybrid Fight Announced For ONE X
ONE Championship made an announcement for the ages on this date as the company revealed that Demetrious Johnson will be facing Rodtang Jitmuangnon in a hybrid MMA-Muay Thai bout at ONE X.
September 24, 2021: Ok Rae Yoon Shocks The World
ONE: Revolution will forever be remembered by fans of the promotion as the event where Ok Rae Yoon shockingly took the lightweight title from Christian Lee by unanimous decision, while Joshua Pacio's sensational knockout of Yosuke Saruta in their rubber match ensured that the strawweight title would stay in the Philippines.
Marcus "Buchecha" Almeida also made his long-awaited debut at the event.
October 15, 2021: Superbon's Stunning Knockout Of Kickboxing Legend
At ONE: First Strike, Superbon Banchamek did what many deemed impossible as he knocked out Giorgio Petrosyan for the inaugural ONE kickboxing featherweight championship.
On the same card, the opening round of the Kickboxing Featherweight Grand Prix kicked off.
October 27, 2021: ONE X Postponed
Due to a spike in COVID-19 cases, head honcho Chatri Sityodtong announced that they will be postponing ONE X to a later date in 2022.
October 29, 2021: Women's Atomweight Grand Prix Finals Set
ONE: NextGen played an important role in the Women's Atomweight World Grand Prix as semi-finalists Ritu Phogat and Stamp Fairtex faced replacement fighters Jenelyn Olsim and Julie Mezabarba respectively as their original opponents tsuki Hirata and Seo Hee Ham respectively had to pull out of the event.
Due to the COVID-19 situation, the promotion also taped the other two ONE: NextGen installments on the same day.
November 9, 2021: ONE Championship Nets Decorated BJJ Black Belt
The promotion announced the signing of a highly-touted Brazilian jiu-jitsu legend and Gordon Ryan's rival in Andre Galvao.
December 3, 2021: Stamp Fairtex Win Women's Grand Prix
ONE: Winter Warriors saw Stamp Fairtex pull off a surprising armbar finish of renowned wrestler Ritu Phogat in the finals of the ONE Women's Atomweight World Grand Prix to get her shot at Angela Lee's atomweight title at ONE X.
The event also saw the taping of ONE: Winter Warriors II that aired on December 17, which featured the successful debut of Team Lakay bantamweight Stephen Loman.
January 12, 2022: Massive news for ONE's future
On this day, ONE Championship announced that it will be bringing back the ONE Warrior Bonus and the new date for the long-anticipated ONE X.
January 14, 2022: Xiong Jing Nan Continues Title Defense Streak
Xiong Jing Nan's reign over the women's strawweight division remained unchecked after defeating Ayaka Miura in the main event of ONE: Heavy Hitters, which also had fighters Eikaterina Vandaryeva, Senzo Ikeda and Saygid Izagakhmaev receiving $50,000 performance bonuses.
February 11, 2022: Anatoliy Malykhin Books Title Shot
At ONE: Bad Blood, Anatoliy Malykhin proved that he deserved a shot at reigning heavyweight king Arjan Bhullar after a brutal knockout of Kirill Grishenko in the main event.
February 15, 2022: Inaugural ONE Strawweight King Retires
After a long and illustrious career, the very first ONE strawweight champion--Dejdamrong Sor Amnuaysirichoke--called it a career following his KO loss to Danial Williams at ONE: Bad Blood.
February 21, 2022: Former Two-Sport Champion Announces Retirement
Sam-A Gaiyanghadao revealed that he was retiring from combat sports with two Muay Thai division titles (flyweight and strawweight) and one kickboxing belt (strawweight) under his name in ONE Championship.
February 25, 2022: Vitaly Bigdash Gets Last Laugh Over Rival
While Reinier de Ridder coasted his way to a submission victory over welterweight champion Kiamrian Abbasov to retain his middleweight title, Vitaly Bigdash ended up on top of his storied rivalry with Aung La N Sang at ONE: Full Circle.
March 11, 2022: John Lineker takes ONE bantamweight title by KO
ONE: Lights Out lived up to its name as the event was filled with finishes from the likes of Adrian Mattheis and ONE featherweight king Thanh Le, but none bigger than John Lineker's stunning knockout of the previously-untouchable ONE bantamweight champion Bibiano Fernandes.
March 26, 2022: ONE Championship's Biggest Event Thus Far
A full decade has passed since ONE Championship was first established, and the organization is now set to have its three-part ONE X card set to happen on March 26 featuring a 19-fight lineup:
ONE X: Part I (1 PM SGT, 1 AM ET)
Chingiz Allazov vs. Sitthichai Sitsongpeenong (ONE Featherweight Kickboxing World Grand Prix Championship finals)
Reinier de Ridder vs. Andre Galvao (submission0grappling – middleweight)
Lito Adiwang vs. Jeremy Miado (mixed martial arts – strawweight)
Amir Khan vs. Ryogo Takahashi (mixed martial arts – featherweight)
Kang Ji Won vs. Paul Elliott (mixed martial arts – heavyweight)
Danielle Kelly vs. Mei Yamaguchi (submission-grappling – atomweight)
Ryuto Sawada vs. Senzo Ikeda (mixed martial arts – strawweight)
Asha Roka vs. Alyse Anderson (mixed martial arts – atomweight)
ONE X: Part II (5 PM SGT, 6 PM ET)
(c) Nong-O Gaiyanghadao vs. Felipe Lobo (ONE Muay Thai bantamweight championship)
(c) Capitan Petchyindee vs. Hiroki Akimoto (ONE kickboxing bantamweight championship)
Ham Seo Hee vs. Denice Zamboanga (mixed martial arts – atomweight)
Itsuki Hirata vs. Jihin Radzuan (mixed martial arts – atomweight)
Kim Jae Woong vs. Tang Kai (mixed martial arts – featherweight)
ONE X: Grand Finale (8 PM SGT, 9 PM ET)
(c) Angela Lee vs. Stamp Fairtex (ONE women's atomweight championship)
Rodtang Jitmuangnon vs. Demetrious Johnson (hybrid MMA-Muay Thai fight)
(c) Adriano Moraes vs. Yuya Wakamatsu (ONE flyweight championship)
Shinya Aoki vs. Yoshihiro Akiyama (mixed martial arts – lightweight)
Eduard Folayang vs. John Wayne Parr (Muay Thai – lightweight)
Superbon Banchamek vs. Marat Grigorian (ONE kickboxing featherweight championship)
Data used in this article were gathered by International Business Times sports editor and combat sports analyst Nissi Icasiano.
© Copyright IBTimes 2023. All rights reserved.