Road To UFC Season 2 Semifinalists Revealed Following Action-Packed Opening Round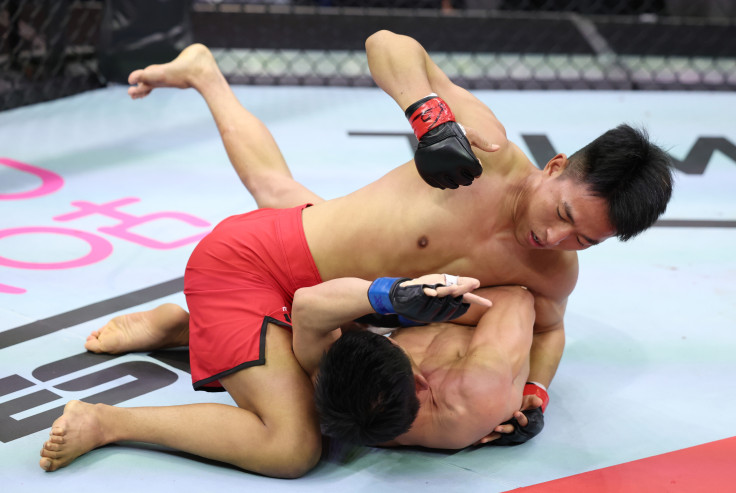 KEY POINTS
Road To UFC Season 2 kicked off with a ton of finishes from talents across Asia
The lightweight bracket featured no decision wins, only finishes
16 competitors remain in the chase for a future UFC contract
The UFC is continuously pushing to shine the spotlight on talent from the Asian region, and there are a couple of standouts from the quarterfinals of Road to UFC Season 2 that took place over this past weekend.
The UFC Performance Institute in Shanghai, China played host to the event as 32 participants from all over the region competed in the flyweight, bantamweight, featherweight, and lightweight divisions.
On the first day, the flyweight division competitors had their numbers called up first and a couple of fighters made sure to make the most of their potential.
Japan's Rei Tsuruya established himself as one of the potential breakout stars of the tournament as he locked in a monstrous kimura in the second round on Ronal Siahaan to get the submission win.
The third bout of the day saw the terrifying power that China's Ji Niushiyue possessed in his hands, claiming a TKO victory over flyweight Indonesian bet Billy Pasulatan with ease.
As for the featherweights, three names stand out from the entire pack–Yi Zha (China), Sang Won Kim (South Korea), Li Kai Wen (China).
All three men had spectacular finishes of their opponents: Yi taking home the victory due to an armbar in Round 1, Sang dispatching his opponent in Keisuke Sasu with a stunning right-hand knockout in Round 2, Li only spending 71 seconds to emerge victorious via TKO against Lu Kai.
Moving on to day two on Sunday, May 28, the bantamweight division saw skillful finishes from Daermisi Zhawubpasi and Chang Ho Lee who had a rear-naked choke win over Eperaim Ginting and a TKO triumph against Rana Rudra Pratap Singh respectively–both happening in the first round.
However, the lightweights showed out as all of their bouts ended with either a knockout or submission.
Sang Wook Kim showcased his submission skills with a D'arce choke of Japan's Kazuma Maruyama, Rong Zhu made short work of Seong Chan Hong, and Shin Haraguchi forced a stoppage win over Windri Patilima.
Save for the Haraguchi and Patilima encounter, all lightweight bouts did not go past the first round.
Other results from the quarterfinals are as follows:
Flyweight (>56.7kg)
Mark Climaco defeats Jung Hyun Lee (unanimous decision)
Seung Guk Choi defeats Sumit Kumar (unanimous deicison)
Bantamweight (>61.2kg)
Xiao Long outlasts Shohei Nose (split decision)
Shuya Kamikubo edges Baergeng Jieleyisi (split decision)
Featherweight (>65.8kg)
Koya Kanda defeated Yibugele (unanimous decision)
Lightweight (>70.3kg)
Bahatebole Batebolati advances due to Won Bin Ki's disqualification (illegal strikes)
Additionally, there were four non-tournament bouts that took place.
Non-Tournament Bouts:
Flyweights Top Noi Kiwram and Nyamjargal Tumendemberel served as the first bout of the entire event with the latter leaving the cage with a narrow split decision victory
Taiyilake Nueraji and San Heul Kim threw heavy shots throughout their welterweight bout, but a massive left elbow from the former allowed him come away with the knockout win
Welterweights Chris Hofmann and Sang Hoon Yoo also produced fireworks of their own, with Yoo claiming the TKO victory in the third round
Peter Danesoe stole the spotlight with a first-round flying knee knockout of Kai Xiong in an exciting flyweight encounter
With a UFC contract up for grabs for the winners of their respective weight divisions, the semifinal matchups of Road to UFC Season 2 are expected to produce even more fireworks as young talents hope to fulfill their dreams.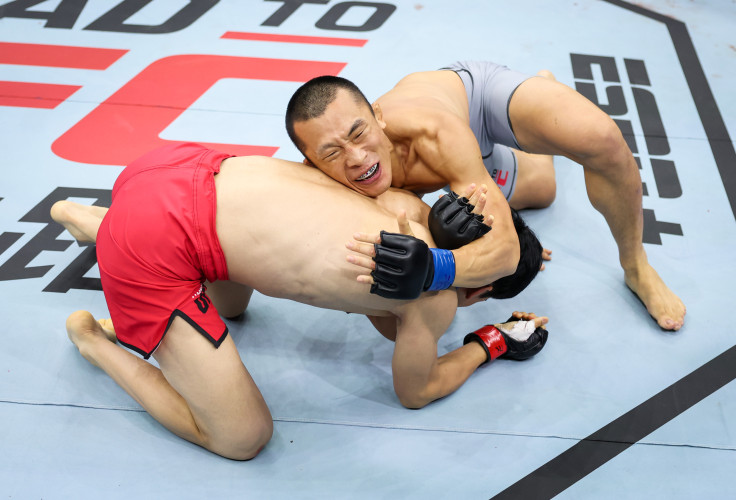 © Copyright IBTimes 2023. All rights reserved.