Rock City Club opens doors on Web for aspiring bands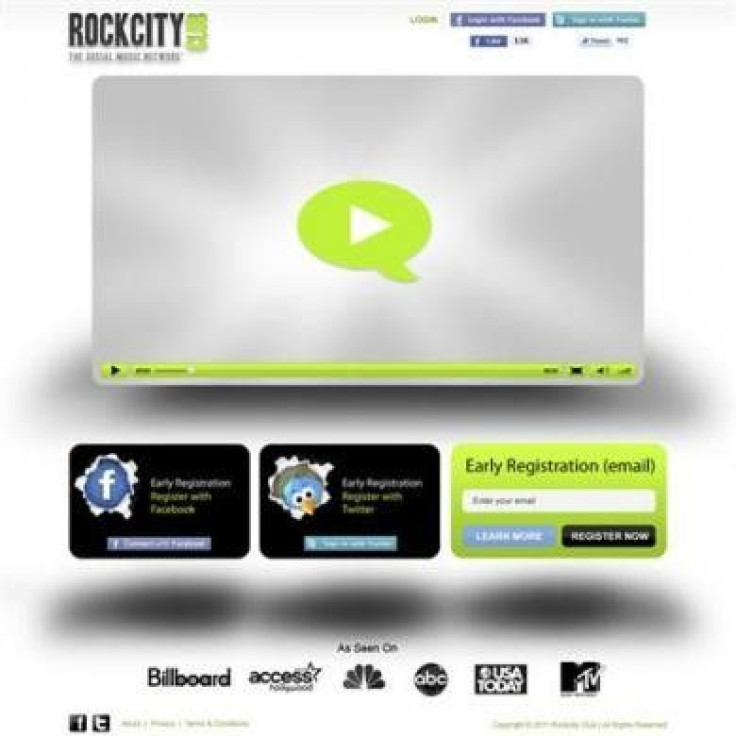 Attention musicians looking for a big break outside landing on American Idol or The X-Factor: Rock City Club is open for business.
Rockcityclub.com launches October 14, dubbing itself a social music network with aggressive plans to consolidate services such as artist development, promotion and distribution into a one-stop shop integrated with Facebook, Twitter and other social media.
Jack Wishna, who has previously brokered Las Vegas concert deals for the likes of Michael Jackson and Britney Spears and is chief executive of Rock City Club parent company Rockrena, told Reuters the site is designed to create tomorrow's music stars rather than simply identify them.
Everyone looks at discovering talent these days from what they see, said Wishna. They see 'American Idol.' They see 'The X-Factor.' They see 'The Voice' and MySpace and YouTube. It's a crowded field, and all they do is look for the needle in the haystack. What we do, in essence, is take care of the haystack.
Rock City Club's ambitious platform takes a broad approach to developing artists online. Performers register via Facebook or Twitter and gain access to applications that help organize and distribute music, raise their profile among potential fans and allow them to interact with listeners.
As artists gain a following, Rock City plans to offer the most popular performers a chance to stream live shows and compete for a performance contract at the Palms Resort and Casino in Las Vegas. Selected artists also get coached by the Producer's Circle, a group of on-staff advisors whose credits include songs for Madonna and Aerosmith.
OLD SCHOOL, ONLINE
Wishna initially formed the idea with the late Don Kirshner, the famed music promoter and producer who helped launch the careers of Carole King and Neil Diamond. Rock City Club wants to merge new Web technology with Kirshner's old-school approach to developing potential stars by working with talent that might not fit the reality TV mold.
American Idol rates popularity, he said. We are going to focus on core values like stage presence, talent and marketability that have made big names in the past, he said.
Fans can make money, too. If invited, a widget is placed on their Facebook page allowing friends to hear music from bands they support. When people purchase individual tracks online, the fan will receive 25 percent of the profits from each sale.
Rock City Club, which charges a $12.95 monthly user fee, already has significant competition. ReverbNation, established in 2006, includes many of the same social media components at no charge, although it also has a premium package with more features at an additional cost.
Additionally, MySpace recently recruited Justin Timberlake to help their rebranding as a music-based social network, and simply posting homemade videos on YouTube remains the easiest and cheapest way to gain exposure. Just ask Justin Beiber.
Yet Wishna remains confident Rock City Club will offer more value and real results than its rivals.
There are a lot of firms who do a little of what we do, but there's not one firm that does everything we do. We took a broken model, found ways to fix it and enhance the experience for the artists and the fans, said Wishna.
© Copyright Thomson Reuters 2023. All rights reserved.