Rock Star Charged In Russia Over Anti-Putin Speech During Concert: Report
KEY POINTS
Yury Shevchuk delivered a speech regarding Russia's invasion of Ukraine during a concert Wednesday
The 65-year-old frontman of the Russian rock band DDT was later accused of "discrediting" his country's military
Shevchuk, who got interrogated over his statement, may be fined up to $805 if found guilty
Russian rock legend Yury Shevchuk delivered an anti-war speech at an event in central Russia earlier this week, resulting in him getting charged with an administrative misdemeanor.
The 65-year-old founder and lead singer of the popular Russian rock band DDT made a statement about his country's ongoing invasion of Ukraine during a concert in the city of Ufa Wednesday, the United States government-funded media outlet Radio Free Europe/Radio Liberty (RFE/RL) reported.
"People are being killed in Ukraine today. Why? Our young men are dying there. Why? Why are we and Ukrainian youth dying there?" Shevchuk was quoted as saying at the event, according to RFE/RL's Tatar- and Bashkir-language service.
The musician, who described his "motherland" as an "impoverished babushka at a train station selling potatoes," also told the venue's 8,000-strong crowd that the country was not the "a-s" of Russian President Vladimir Putin "that has to be slobbered and kissed all the time," a report by The Moscow Times said.
Law enforcement authorities later arrived after the show to interrogate Shevchuk for more than an hour.
"They isolated Yury from the group and the band director... and [they] talked for an hour about the concert and Shevchuk's statements about the war and the motherland," Ufa-based producer Radmir Usayev claimed in an Instagram post.
Authorities wanted to detain Shevchuk, but they suggested for the artist sign a police statement instead at the last moment, according to Usayev.
Shevchuk has since been charged with "discrediting" the Russian military, and he may be fined up to 50,000 rubles ($805) should he be found guilty.
Russian authorities have reportedly launched more than 2,000 such cases since the start of the invasion of Ukraine on Feb. 24.
Shevchuk was already known for his opposition to Russia's annexation of Ukraine's Crimean Peninsula before delivering his statement at Ufa.
Authorities canceled a DDT concert in the Siberian city of Tyumen last month, which Shevchuk publicly linked to the venue's decision to display a banner of the letter "Z." The symbol was seen painted on some Russian military vehicles in the invasion of Ukraine. It has since been used to show support for the ongoing war.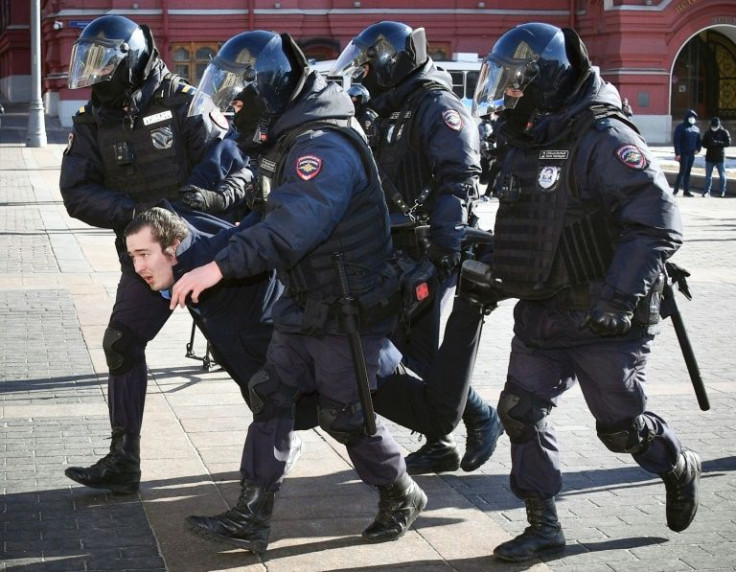 © Copyright IBTimes 2023. All rights reserved.
FOLLOW MORE IBT NEWS ON THE BELOW CHANNELS