Ronda Rousey Throws WWE Return In Doubt, Talks Future Plans
Ronda Rousey has admitted that there is a possibility she may never return to World Wrestling Entertainment despite holding a contract until 2021. The former UFC women's bantamweight champion also revealed that her stint with the pro-wrestling promotion was longer than initially expected.
The Ultimate Fighting Championship (UFC) Hall of Famer officially made her WWE in-ring debut at WrestleMania 34 when she teamed up with Kurt Angle to take on Triple H and Stephanie McMahon in a mixed tag team match. Rousey then went on to pick up the Raw women's title at SummerSlam in August 2018.
Rousey revealed recently that her stint in WWE was expected to be a brief one before she started a family with husband Travis Browne. But it ended up becoming a full one-year stint with the former UFC champion revealing that she fell in love with WWE.
The 32-year-old admitted that she chose to stick around for this year's WrestleMania after it became clear that there was a possibility for the women's division to headline the flagship pay-per-view event for the first time in its history. Rousey lost her Raw women's title to Becky Lynch in a triple-threat match and is now set to take a hiatus from the company.
"Originally we approached them, or I approached them, I thought I'd only be able to wrestle from WrestleMania until November because we already wanted to start a family," Rousey said on her official YouTube channel. "We came to the WWE as, 'Hey, before we have a baby, I just want to come do this for a couple of months because it's something I always wanted to do'."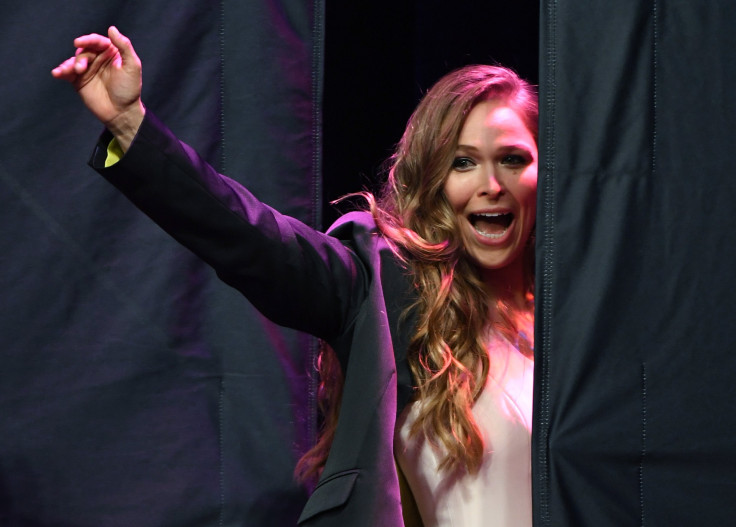 "It just kind of snowballed. Instead of being like a small detour in my life, it became my whole life for an entire year and I completely fell in love with it. As time went on, we were kind of playing it by ear, I loved it so much and I ended up getting the title," she added. "When it became a real possibility that women could be the main event of WrestleMania if I stuck around, I decided to stick around. We decided that after WrestleMania, me and my amazing husband would go off and start trying to start our family."
There is plenty of speculation about her potential return to the squared circle to renew her rivalry with Lynch, but she admitted that it all depends on how she feels after starting a family. Rousey spoke about her mother, a gold medal winning judoka, who trained even during her pregnancy.
However, she remains doubtful if she can aspire to the same levels as her mother and admitted that WrestleMania 35 could have been the last time anyone saw Rousey inside a pro-wrestling ring.
"As for WWE plans in the future, we want to have a baby first," Rousey said. "I don't know what it's like to have a baby. I could look down at this beautiful child and be like, 'f--- everything, I don't care about anything else other than this baby' and you'll never see me again. Or I could be like my mom, she trained while she was eight months pregnant and then won the US Open six weeks after giving birth, which was unbelievable. I don't think I'm going to try and aspire to her level. But I'm just saying, you never know. I don't want to make any promises about the future when I don't know how I'm gonna feel in the future."
© Copyright IBTimes 2023. All rights reserved.