Ronda Rousey vs. Holly Holm 2016: Dana White Comments On Rematch, Rousey's Ability To Recover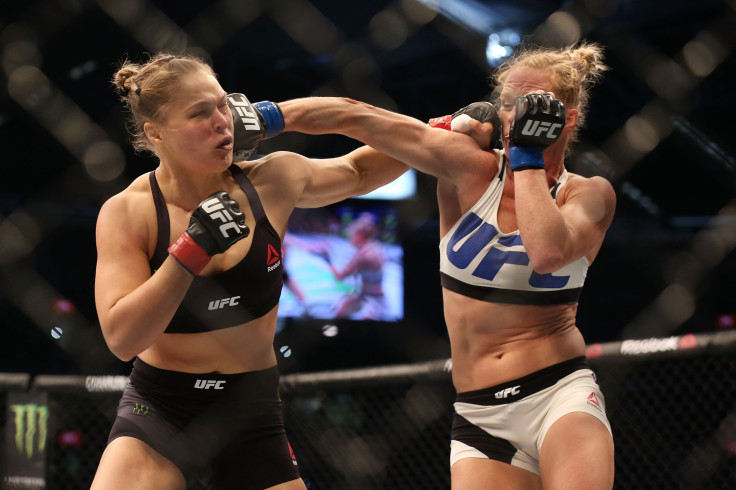 Despite a devastating knockout loss to bantamweight champion Holly Holm (10-0), Ronda Rousey (12-1) is still respected and admired by UFC president Dana White as a much-anticipated rematch looms in 2016.
While interviewing White on a New York street, TMZ questioned whether Rousey's rise to fame and all the hype surrounding her first bout with Holm affected her in the octagon. White disagreed and even praised Rousey for her comedic chops during her "Saturday Night Live" hosting gig on Jan. 23.
"I don't think so. She's one of the mentally strongest people that I've ever met in my life," White said. "It just wasn't her night, she'll bounce back, she'll be back."
"She killed it on SNL though," White added.
A Holm-Rousey rematch remains on hold. With Rousey recovering from the Nov. 15 fight, Holm sought to return to the octagon as soon as possible, and she'll defend her title for the first time against Meisha Tate at UFC 197 on March 5.
Should Holm prove successful, a summer rematch with Rousey is expected to take place in July.
Rousey's presently working on the remake of the 1989 Patrick Swayze action flick "Road House," and her coach, Edmond Tarverdyan, recently told ESPN that he hasn't gone over film of the loss to Holm yet with Rousey.
"It's not about wanting to watch, it's about whether or not the timing is right or if it's even necessary," Tarverdyan said. "I know how to speak to Ronda. I know Ronda very well. She doesn't need to watch that fight. The fight is over. It's about what we're doing now. It's my job to watch the footage and I'm dedicating everything I have to Ronda's rematch with Holly."
Following Holm's stunning second-round knockout kick to Rousey's temple, their rematch is expected to be one of the biggest events in UFC's history. Rousey suffered a split lip and required surgery following the bout, and UFC even issued her a six-month medical suspension that would stand unless she passed a head CT scan. And even if Rousey passed she wasn't allowed to fight for 60 days, at minimum, or to have contact for 45 days.
According to ESPN, Rousey is still expected to work with Tarverdyan, even though he accepted the blame for the loss. During and following the fight, many questioned the Rousey's team strategy to box with a former boxing champion. Rousey also failed to deploy the ground game and submissions that made her one of the fight game's newest stars.
"When you're up there, somebody needs to be blamed for it," Tarverdyan said. "I'm taking the blame. I'm O.K. with that. I know what reality is. I accept reality. Reality is people will talk all kinds of unnecessary stuff. As long as my fighter believes in me, I believe in my fighter and we'll move on from there."
© Copyright IBTimes 2023. All rights reserved.