Russell Westbrook Stats: First NBA Player To Average Triple-Double In Multiple Seasons
Oklahoma City Thunder guard Russell Westbrook became the first NBA player to record historic multiple triple-double seasons in the win over the Memphis Grizzlies on Wednesday night.
Before the 115-93 win over the Miami Heat on Monday night, Westbrook needed 34 rebounds from the final two regular season games to average another triple-double season as he went into the contest with 25.6 points, 10.1 assists and 9.8 rebounds per game.
With a tally of 18 rebounds, the 29-year-old then required just 16 rebounds against the Grizzlies to accomplish the feat and he did just that even before the third quarter was done with as the Thunder emerged 137-123 winners.
Westbrook finished the game with six points, 19 assists and 20 rebounds and ended his regular season campaign with an average of 25.6 points, 10.1 assists and 10 rebounds.
Before the game, Westbrook rubbished critics who claimed he was simply "stat-padding" his way to the record books.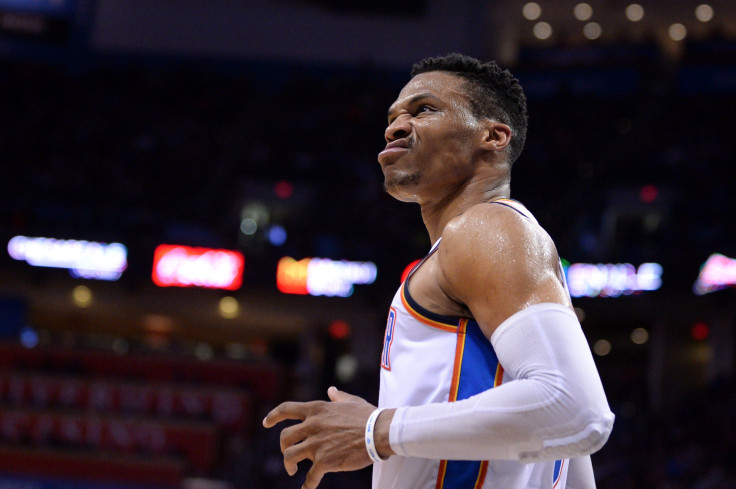 "A lot people make jokes about whatever, stat-padding or going to get rebounds," Westbrook said, as per ESPN. "If people could get 20 rebounds every night, they would. If people could get 15 rebounds, they would. People that's talking or saying whatever they need to say, they should try doing it and see how hard it is."
"Since everybody wants to be talking, I'm tired of hearing the same old rebound this, stealing rebounds, all this s--t. I take pride in what I do. I come out and play, and I get the ball faster than someone else gets to it. That's what it is. If you don't want it, I'm gonna get it. Simple as that," he said.
The reigning most valuable player (MVP) notably became the first player to average a triple-double last season since Oscar Robertson accomplished the feat in the 1961-1962 season, as he averaged 31.6 points, 10.7 rebounds and 10.1 assists per game.
However, a claim for a second straight MVP season seems more unlikely this year as along with Westbrook averaging less points this year, the Thunder have also underwhelmed, finishing as the No. 6 seed once again despite the additions of Carmelo Anthony and Paul George.
Houston Rockets guard James Harden seems to be the leading candidate for the award with his side finishing the season as the No. 1 seed in the Western Conference while Cleveland Warriors star LeBron James is also in the running. But despite praising his former teammate Harden, Westbrook did not have a pick for the MVP award this season.
"I'm not sure [if Harden should win MVP]," Westbrook said Saturday. "Obviously, he's having a good year, a great year. Their team has the best record in the NBA. I'm not sure."
"Nah, I don't have a pick," he added. "There's a lot of guys doing a lot of great things in the league. Honestly, I don't know kind of what you go off of, because MVP's kind of been picked differently every year. So it depends what criteria, what it is that you guys vote for. But obviously he's [Harden] leading the charge at the moment."
© Copyright IBTimes 2023. All rights reserved.
FOLLOW MORE IBT NEWS ON THE BELOW CHANNELS