Russia Claims It Foiled Ukrainian-NATO Plot To Hijack Its Warplanes; Pilots Offered EU Citizenship
KEY POINTS
Kyiv officials wanted the pilots to fly and land aircraft at Ukraine-controlled airfields
The pilots were allegedly told that their families could move into an EU country
A video was released wherein an Ukranian official was heard offering money to a pilot
The Federal Security Service (FSB) of Russia has claimed that it foiled a massive bid by Ukraine intelligence and NATO to hijack Russian combat planes. The Russian intelligence said the alleged operation was supervised by the secret services of the NATO countries, including the British special services.
"Ukrainian military intelligence officers, acting on behalf of the political leadership of their country, tried to recruit Russian military pilots for a monetary reward and guarantees of obtaining citizenship of one of the European Union (EU) countries. To persuade them to fly and land aircraft at airfields controlled by the Armed Forces of Ukraine," a statement from FSB was carried by Russia's state-owned newspaper RIA Novosti.
It added that the Russian security forces have identified the Ukrainian intelligence officers and their accomplices involved in the mission.
The International Business Times could not independently verify the news.
According to the FSB, this helped counterintelligence officers get information that allowed Russia to strike at some Ukrainian military facilities. A video wherein an employee of the Main Intelligence Directorate of the Ministry of Defense of Ukraine was purportedly heard offering money to a Russian pilot was also released by the FSB. The plan was to hijack the Russian Su-24, Su-34 or Tu-22MZ.
"Our goal is an airplane. And you understand this very well. We are ready to pay for it. It is written on the website of the Verkhovna Rada that we officially pay a million dollars for such things. We can agree with you - separately, another million on top, I guarantee you," the Ukrainian security official was heard in the video.
The Kyiv official also promised the pilots that their wives would be sent to an EU country in advance with citizenship.
The RIA Novosti report said the Ukrainian NATO plan was to poison the navigator of the combat aircraft with clonidine before the flight. The drug would act in 30-40 minutes, and the aircraft would then be intercepted by Ukrainian fighters and forced to land on the territory of Ukraine.
"As soon as the family of a pilot leaves Russia, they become hostages in the hands of the Main Intelligence Directorate of Ukraine. Blackmail, threats, and pressure on relatives have become an integral part of the activities of the Ukrainian special services. There are no morals," an FSB officer recently told the Rossiya 24 TV channel.
Meanwhile, Ukrainian police have reportedly opened more than 1,000 criminal cases of collaborating with Russians since the start of the invasion in late February. At least 1,530 people suspected of involvement in sabotage work have been detained, the head of the National Police, Igor Klymenko, said in a Facebook post.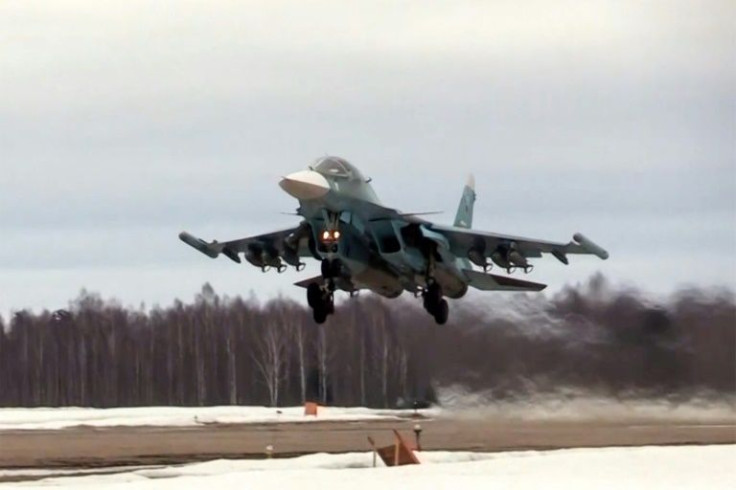 © Copyright IBTimes 2023. All rights reserved.