Russia Cracks Down On Smoking In Public Health Push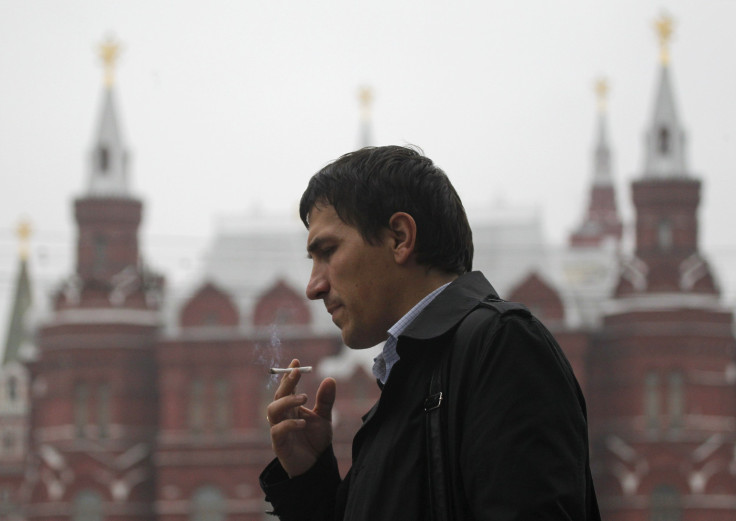 Russian President Vladimir Putin has signed into law a gradual ban on smoking in public places in an ongoing effort to improve public health in a country with one of the world's highest percentages of adult smokers.
The law, set to go into effect June 1, bans smoking in government buildings, workplaces, medical and educational facilities, cultural sites, sports stadiums, railway stations and near public transit stops.
In addition, the law also bans advertising of tobacco products and requires vendors not to display any tobacco products in their stores.
"Cigarettes will not be promoted even in shops as it is forbidden to openly display cigarette packs -- sellers can only show their customers the pricelists," Russia Today reported.
After a year, the ban will be extended to hotels, restaurants, bars and passenger trains. Also beginning in the summer of 2014, the depiction of smoking in television and movies will only be allowed if it is considered integral to a character's image.
The law is the latest in Moscow's push to make Russians healthier. Some 40 percent of adults in Russia smoke, consuming 390 billion cigarettes every year, a number only surpassed by China, according to the Wall Street Journal.
The Journal article adds that smoking causes over 400,000 deaths in Russia every year and costs the state $48.1 billion.
Putin has made public health a primary concern of his administration. Upon taking office last May, the Russian leader issued a decree demanding that his government raise average life expectancy to 74 years by 2018.
That number currently stands at 66.46 years, according to the CIA World Factbook, though there is a wide gap between men (60.11 years) and women (73.18 years).
Men also make up the greater majority of Russia's 44 million smokers with some 60 percent of the male population.
The Russian government has also aimed to curb alcohol consumption, which it views as another major threat to public health. Over 23,000 people die of alcohol poisoning in Russia every year, with an additional 75,000 deaths from alcohol-related diseases.
Last year, Putin banned all alcohol advertisements and restricted sales from street kiosks, while the parliament is currently looking at legislation to raise the drinking age from 18 to 21.
© Copyright IBTimes 2023. All rights reserved.