Russia Hacking French Election 2017? Moscow Behind 'High-Level Attacks,' Emmanuel Macron's Aide Claims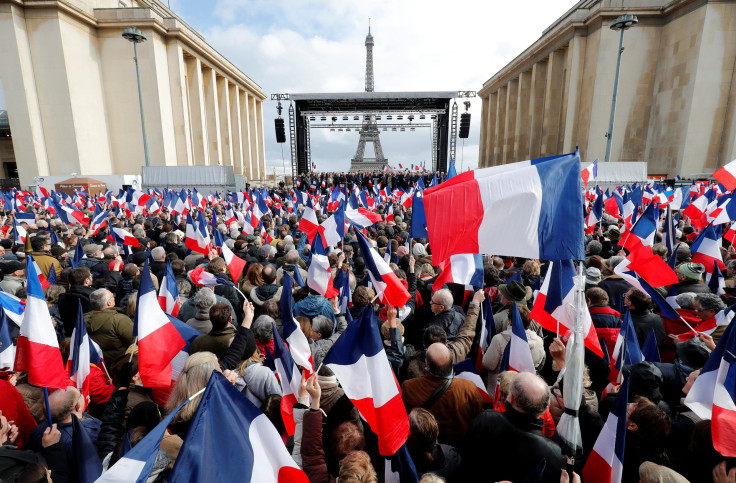 After allegedly targeting the U.S. election, Russia may hack into the French elections with continued "high-level attacks" and its state-sponsored media spreading fake news, presidential candidate Emmanuel Macron's digital campaign manager told Sky News on Sunday. French voters conduct the first round of balloting for president April 23, followed by a May 7 runoff between the top two candidates.
"We are accusing Russia Today (RT) and Sputnik News (of being) the first source of false information shared about our candidate and all the other symbiotic ways of working with all these fascist organizations or extreme right news organizations," Mounir Mahjoubi said. "At the same time, during the same period, with the same rhythm, we are the victim, the target of hackers on our servers. ... We have been the targets of multiple attempts of hacking but we succeeded to stop all of them."
Last month, the French government warned the Kremlin not to interfere in its presidential vote after signs of a hacking campaign against Macron, who is believed to be the favorite to win the French presidency. The 39-year-old is the former chief of staff and economy minister for incumbent French President Francois Hollande.
"We cannot be protected from the spread of a rumor. And when we saw what happened in the U.S. during the campaign about rumors, fake news and how they can propagate through the social media, we see this beginning a phenomenon to happen right now in France," Mahjoubi said in February, according to NPR.
However, far-right National Front leader Marine Le Pen, who has been a vocal supporter of both Russian President Vladimir Putin and U.S. President Donald Trump, rejected Moscow's involvement in the U.S. election, saying there wasn't "any serious proof."
Tensions between Paris and Moscow escalated after Russia's 2014 annexation of Crimea, still legally part of Ukraine, and its role in the Syrian crisis.
In January, France beefed up its cybersecurity after allegations that Russia had intervened in the Nov. 8 presidential elections to aid the victory of Trump and undermine the U.S. election system. Both Moscow and Trump have denied the allegations.
© Copyright IBTimes 2023. All rights reserved.