Russia In The Middle East: Libyan Military Leader Talks Major Moscow Arms Sale, Political Support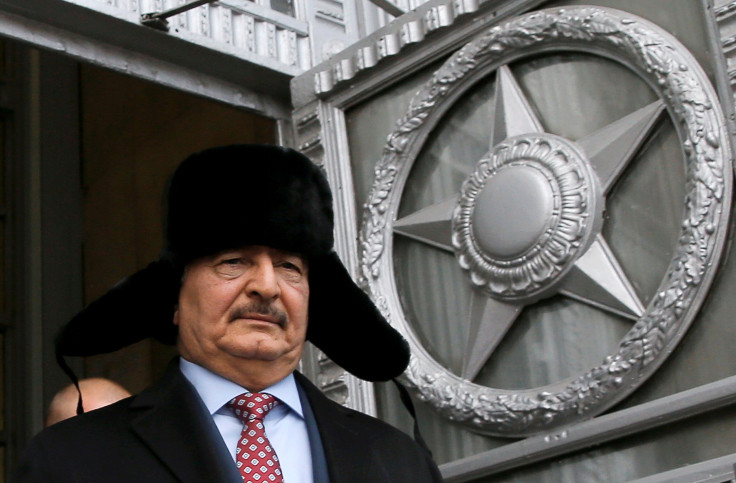 Libyan military leader Khalifa Haftar has reportedly begun negotiating billions worth of arms deals with Russia, intended to give the strongman a political and tactical advantage over other competing factions in his country's six-year civil war, Reuters reported Tuesday.
Haftar, an influential figure in the embattled country who rejects both Islamist forces and the U.N.-backed transition government in Western Libya, paid a visit last week to the Admiral Kuznetsov, a Russian aircraft carrier in the Mediterranean. While onboard, he reportedly discussed Russian support against "terrorist groups" in Libya with Russian defense minister Sergei Shoigu via video conference call. Similar language has been used by Moscow and Damascus in their joint campaign against opposition forces in Syria that turned the tides of war in favor of President Bashar Assad.
The contracts in question stem from Muammar Gaddafi-era military deals between Libya and Russia. These deals were suspended after the 2011 Western-backed uprising that overthrew and killed Gaddafi. Since the revolution, a number of political entities have risen including the Western-backed Government of National Accord in Tripoli, Haftar's Council of Deputies in Tobruk and various tribal groups such as the Tuareg and Islamists including the Islamic State group, also known as ISIS. Haftar, who once served under Gaddafi's military before turning on the leader, also enjoys a degree of support from Gaddafi loyalists.
A spokesperson for Hafter denied Wednesday that the leader had signed any new contracts on the aircraft carrier, but confirmed that Libya would receive an estimated $4.2 billion in modern weapons once a U.N.-imposed embargo on arms sales to the North African nation was lifted, according to Al Arabiya. The spokesperson confirmed, however, that deals were in place between Libya and Russia to supply spare parts and "technical expertise."
Haftar has drawn support from the United Arab Emirates and neighboring Egypt, but has been particularly ambitious in pursuing Russian backing, visiting Moscow twice last year in hopes of securing assistance for his military campaign against Islamist groups such as ISIS. Russia has since reportedly offered Haftar $2.9 billion to bolster his forces, which have expanded their territory to include most of the country's strategic oil reserves, according to CNN Arabic.
While Haftar has so far concentrated on battling Islamist armed groups in Eastern Libya, his campaign for international support and rejections of the beleaguered Tripoli government could foreshadow a future claim by Haftar to all of Libya.
© Copyright IBTimes 2023. All rights reserved.
FOLLOW MORE IBT NEWS ON THE BELOW CHANNELS