Russia Mobilizes Ukrainians To Fight Against Country In Occupied Regions: Army Intel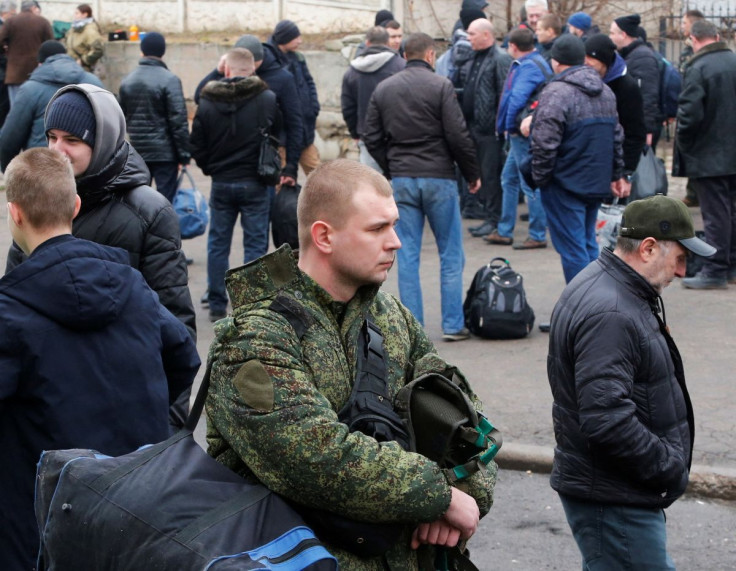 KEY POINTS
Russia has been mobilizing in the occupied Ukrainian city of Alchevsk since Monday
A total of 113,390 Russian military personnel have died since the war began last year
Russia hopes to increase its number of contract-enlisted personnel to 695,000
Russia is mobilizing residents of occupied parts of Ukraine to replenish losses in its invasion, the Ukrainian military claimed.
A new wave of mobilization was reported since Monday in the city of Alchevsk in Ukraine's eastern Luhansk province, the General Staff of the Armed Forces of Ukraine said in a Thursday situation report.
"To replenish its casualties, the enemy does not stop mobilizing the male population, including in the temporarily occupied territory of Luhansk oblast," its Facebook post read.
A total of 113,390 Russian military personnel have been killed since the war began in February last year, the Ukrainian military said in its most recent casualty report.
Russian losses also included 3,094 tanks, 6,159 armored fighting vehicles and 2,082 artillery systems.
Russia's spring draft, which is scheduled to begin on April 30, will call in men up to the age of 30, Russian lawmaker Andrey Kartapolov revealed Wednesday, according to a report by independent news outlet Meduza.
The announcement came as Russian President Vladimir Putin voiced his support for a proposal to increase the maximum conscription age in Russia from 27 to 30.
Russia's Defense Minister Sergei Shoigu believes the number of contract-enlisted personnel should be increased to 695,000, Russian state-owned news agency TASS reported.
There were 380,000 Russians serving on contract in the spring of 2021, according to Shoigu.
The Ukrainian military noted Russia's intensified mobilization efforts in Luhansk back in December.
At the time, Russian forces had already gone on the defensive following a series of successful Ukrainian counteroffensives in Ukraine's eastern and southern regions.
Russia also turned to carrying out missile and drone strikes across Ukraine, which targeted civilian and energy infrastructure.
Ukrainian President Volodymyr Zelensky accused Russia of trying "to achieve with terror and murder what it wasn't able to achieve" in months of fighting.
The "extensive destruction and appropriation of property, not justified by military necessity and carried out unlawfully and wantonly," is considered a war crime under the Rome Statute of the International Criminal Court.
Russia, which has denied allegations that its forces deliberately target civilians in the war, recently escalated its attacks in Ukraine's Donetsk province.
Russian forces, along with fighters from the Wagner Group paramilitary organization, have likely taken nearly full control of the city of Soledar following days of advances, the United Kingdom's Ministry of Defense said Tuesday.
Russian billionaire Yevgeny Prigozhin, the co-founder of the Wagner Group and an ally of Putin, claimed his forces have completely captured the settlement despite a statement from Ukraine's Defense Ministry Wednesday that fighting was still ongoing.
An intensified Russian assault was also launched on Bakhmut.
Satellite images of Soledar and Bakhmut showed that both cities have been devastated as a result of the fighting, the BBC reported.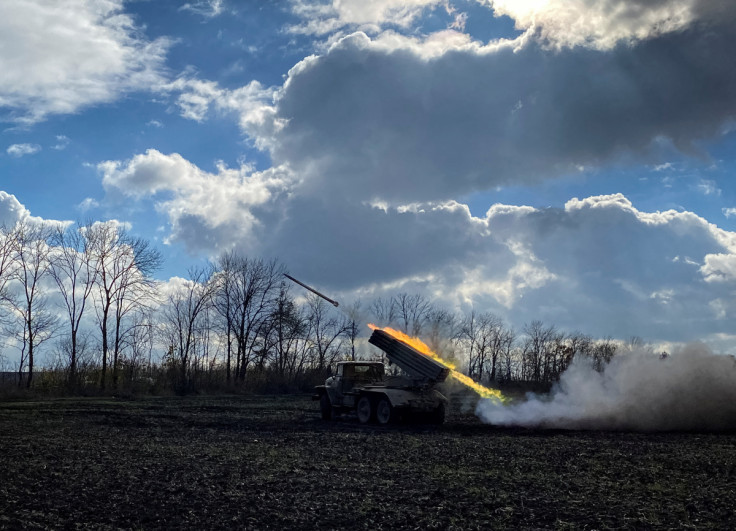 © Copyright IBTimes 2023. All rights reserved.