Russia Starts Issuing Russian Driver's Licenses, Vehicle Plates In Occupied Ukraine Regions
KEY POINTS
Russia's State Traffic Safety Inspectorate is now operating centers in the Ukrainian regions of Kherson and Zaporizhzhia
Residents in these occupied regions who are not Russian citizens can acquire temporary driver's licenses and vehicle plates
Russian-style plates started being issued in Kherson Saturday
Russian authorities have started issuing Russian driver's licenses and vehicle registration plates in occupied regions of Ukraine, according to reports.
The State Traffic Safety Inspectorate, an agency under Russia's Ministry of Internal Affairs (MVD), is now operating centers in Kherson and Zaporizhzhia, BBC News Russian reported, citing the independent Russian news agency Interfax.
Residents in these occupied regions who do not have Russian citizenship "will be able to obtain temporary driver's licenses and registration plates for vehicles," the MVD announced.
Drivers in Kherson reportedly started to receive Russian-style license plates with the region code 184 Saturday.
The opening of State Traffic Safety Inspectorate centers in Kherson and Zaporizhzhia comes after Russian forces started to issue Russian passports to the regions' residents.
Most areas of Kherson are currently under the control of Russian forces following the fall of the region's administrative center in the early stages of Russia's invasion.
Zaporizhzhia is in a similar situation, but its capital is still under Ukrainian control.
According to senior Russian officials and pro-government propagandists, Russia will never leave Kherson and Zaporizhzhia, which had a pre-war population of 2.5 million people, and the return of the territories will not be up for negotiation should peace talks between Russia and Ukraine resume.
The two regions, as well as the occupied eastern Ukrainian provinces of Donetsk and Luhansk, may be annexed via referendums as part of plans that are being orchestrated by Sergey Kiriyenko, the Russian presidential administration's first deputy chief of staff, Bloomberg reported.
The annexation of the occupied regions may occur as early as September, people familiar with the strategy told the outlet.
Previous referendums in Crimea, Donetsk and Luhansk were marked by election fraud, pre-marked ballots and intimidation.
While Russian President Vladimir Putin has not made the final call on the new referendums, growing pressure from Russia's "party of war" consisting of hard-line security chiefs and pro-war politicians should result in a decision to be made before the end of the year, according to Russian political analyst Tatiana Stanovaya, who is the founder of the R.Politik political analysis group.
"The so-called party of war believes that Russia should annex these territories, that it is part of Russia historically and so it must be returned. For them, it's inevitable," said Stanovaya, according to The Washington Post.
Russia's move to annex Ukrainian territories via "sham" referendums is "illegal and illegitimate," according to U.S. National Security Council spokesman John Kirby.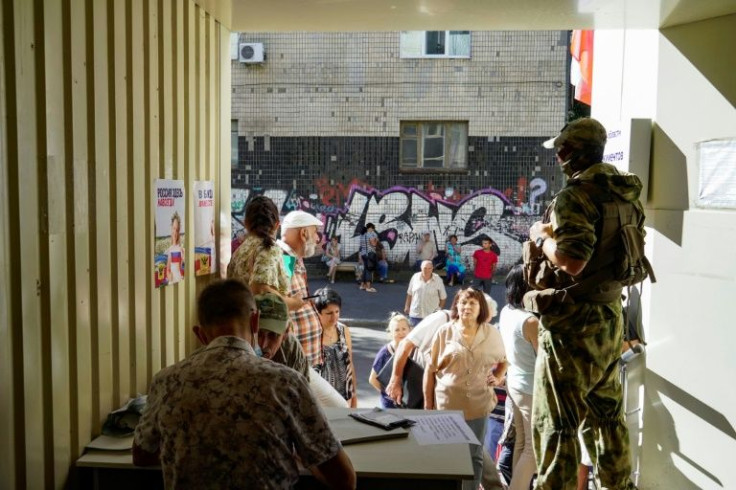 © Copyright IBTimes 2023. All rights reserved.