Russian Soldier Death Toll Nears 100,000 As 540 More Die In One Day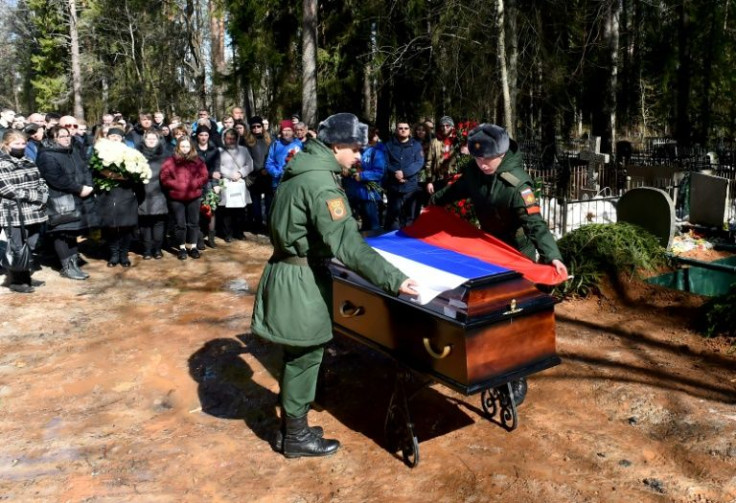 KEY POINTS
Russia suffered 540 combat losses among its personnel between Tuesday and Wednesday
The Ukrainian military has recorded a total of 92,740 Russian casualties since Russia invaded
Russian losses also included 2,935 tanks and 5,909 AFVs, among other military equipment
Russia lost another 540 personnel in its ongoing invasion of Ukraine, bringing the total number of Russian casualties closer to 100,000, data provided by the Ukrainian military showed.
Russia has suffered 92,740 combat losses among its personnel since it began the war on Feb. 24, according to a casualty report released Wednesday by the General Staff of the Armed Forces of Ukraine.
Losses also included 2,935 tanks, 5,909 armored fighting vehicles and 1,923 artillery systems, among other military equipment.
In a casualty report from Tuesday, the Ukrainian military claimed Russia had lost 92,200 personnel up to that point.
Russia last provided an official death toll from the war in September when Russian Defense Minister Sergei Shoigu revealed at least 5,937 Russian soldiers died in Ukraine.
Meanwhile, Ukraine has lost up to 13,000 of its troops, media reported last week, citing Mykhailo Podolyak, an adviser to Ukrainian President Volodymyr Zelensky.
Russia is currently experiencing problems with supplies, treatment of wounded soldiers and limited desertions, Russian President Vladimir Putin acknowledged in a meeting with members of his Human Rights Council that was televised Wednesday.
Putin also stated the invasion of Ukraine is taking longer than expected to finish, the Associated Press reported.
"Of course, it could be a lengthy process," said the Russian head of state, who still refers to the war as a "special military operation."
Western officials believe Putin initially planned for a rapid victory, the BBC reported.
Despite the setbacks on the field, such as Russia's retreat from the strategic southern Ukrainian city of Kherson, Russia is still seizing new territory, according to Putin.
Russia's nuclear arsenal is also deterring the conflict from escalating, he added.
Putin rejected Western criticism that his previous comments on nuclear weapons amounted to actual threats and instead claimed they were "not a factor provoking an escalation of conflicts, and a factor of deterrence."
"We haven't gone mad. We are fully aware of what nuclear weapons are. We have them, and they are more advanced and state-of-the-art than what any other nuclear power has," he said.
When a member of Putin's Human Rights Council asked him to pledge Russia would not be the first to use nuclear weapons, the Russian president took issue and claimed the country would not be able to use its nuclear weapons at all if it agreed not to use them first but later came under nuclear attack.
"If it doesn't use it first under any circumstances, it means that it won't be the second to use it either, because the possibility of using it in case of a nuclear strike on our territory will be sharply limited," Putin said.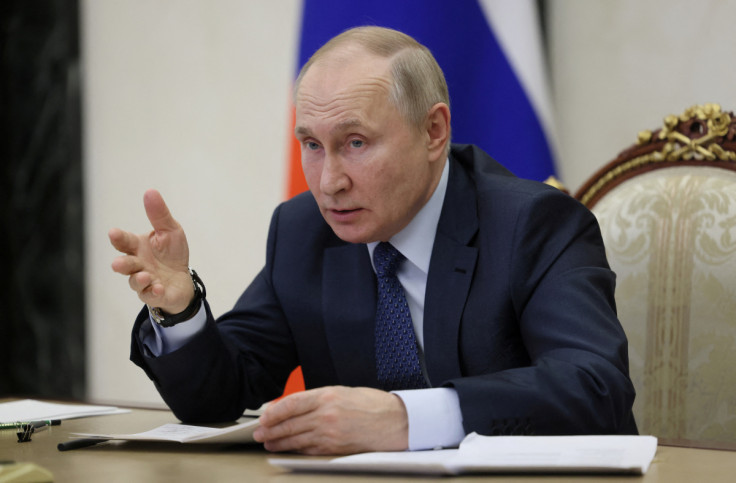 © Copyright IBTimes 2023. All rights reserved.
FOLLOW MORE IBT NEWS ON THE BELOW CHANNELS