Russian Soldiers Write 'Christ Is Risen' On Tank Bullets During Orthodox Easter Sunday Bombing
KEY POINTS
A Russian soldier said the tanker bullets were "Easter Egg" welcomings for the Ukrainians
Russian forces continued to attack Ukrainian towns and villages amid the holiday celebration
Ukraine imposed new curfews for Easter due to a potential increase in Russian military activity
Russian soldiers reportedly wrote "Christ Is Risen" on new shelling as part of the preparation for targeting more civilian population on Orthodox Easter Sunday.
Ukraine's Security Service on Saturday released an intercepted phone call where a Russian soldier was heard boasting about writing "Christ Is Risen" on tanker bullets, which he called "Easter Egg" welcomings for the Ukrainians.
"We have fun as we can," the Russian soldier added.
On Sunday, Ukrainians celebrated one of their most important holidays: Orthodox Easter. However, it also marked exactly two months since Russian forces invaded the country on Feb. 24.
"Today was Holy Saturday for Christians of the Eastern Rite. The day between the Crucifixion and the Resurrection. It seems that Russia is stuck on such a day," Ukrainian President Volodymyr Zelensky said in his nightly address. "On the day when death triumphs and God is supposedly gone. But there will be a Resurrection. Life will defeat death. The truth will defeat any lies. And evil will be punished."
Despite the Orthodox Easter holiday, Russian forces continued to bombard towns and villages across the country, rejecting calls from Ukrainians and humanitarian organizations for a cease-fire. At least 11 people were reported to have been killed by the Easter bombings, including two young girls ages 5 and 14 in the Donetsk region and a 48-year-old man in the city of Pavlograd, according to local authorities.
The Ukrainian government imposed new curfews for the Easter holidays, citing a potential for increased Russian military activity. Curfew hours ran between 7 p.m. local time Saturday until 5 a.m. local time Sunday in Donetsk, Luhansk, Kharkiv, Zaporizhzhia, Mykolaiv and Kherson. In other regions, including Kyiv, curfew hours ran from 11 p.m. local time Saturday until 5 a.m. Sunday.
The government also urged Ukrainians to attend virtual services, noting that many churches have been destroyed by shellings amid the invasion.
The Easter bombings come after Maj. Gen. Rustam Minnekaev, the acting commander of Russia's Central Military District, said they plan to take "full control" over regions in southern Ukraine as well as the eastern Donbas region.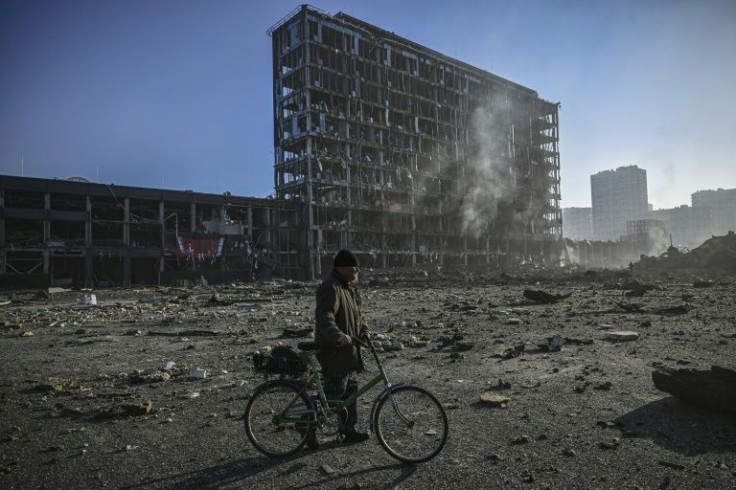 © Copyright IBTimes 2023. All rights reserved.