Russian Su-35 Jet Endangers US Warplane In Tense Syria Encounter; Concerns Grow Over Escalating Aggression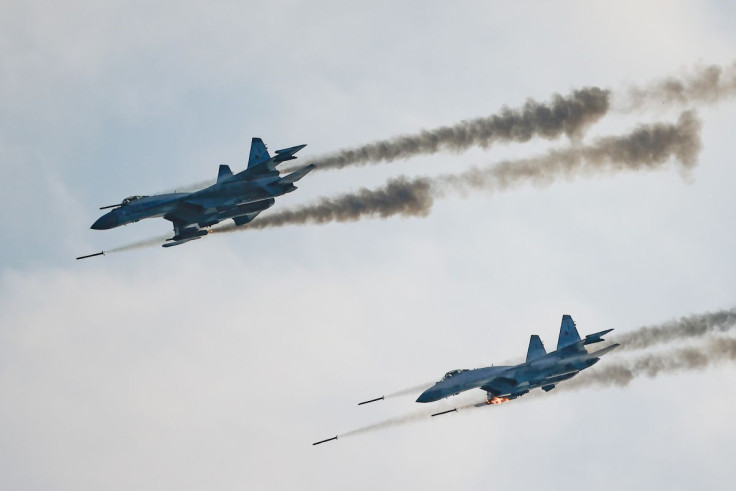 KEY POINTS
The Russian fighter jet dangerously approached a U.S. surveillance aircraft over Syria
The incident marks a notable escalation in recent encounters between the U.S. and Russian aircraft in Syria
There have been several instances of Russian fighter jets harassing U.S. unmanned MQ-9 drones over the past few weeks
A Russian fighter jet dangerously approached a U.S. surveillance aircraft over Syria, causing it to experience wake turbulence and endangering the lives of the four American crew members onboard, U.S. officials said Monday.
The incident that occurred Sunday, shortly before noon, represents a notable escalation in a series of encounters between U.S. and Russian aircraft in Syria over recent weeks. The intercept, performed by a Russian Su-35, posed a severe hindrance to the safe operation of the U.S. crew's MC-12 aircraft. Officials expressed concern over the unsafe behavior, warning that it could potentially lead to an accident or loss of life.
Over the past few weeks, there have been instances of Russian fighter jets persistently harassing U.S. unmanned MQ-9 drones, prompting the drones to take evasive maneuvers and deploy flares. The most recent incident has raised significant concerns as it directly endangered the lives of crew members aboard the U.S. aircraft.
The officials, who spoke on the condition of anonymity, did not disclose the exact proximity of the Russian jet to the U.S. warplane, the Associated Press reported. The MC-12, a twin-engine turboprop aircraft commonly employed by special operations forces, was conducting surveillance to support operations against Islamic State groups in Syria at the time of the incident.
Earlier this month, the U.S. military made public a dramatic video capturing a tense encounter over eastern Syria. In response to the incident, the U.S. Air Force general stationed in the Middle East issued a statement condemning the encounter as "unsafe and unprofessional behavior." He strongly urged Russia to cease what he referred to as "reckless behavior" exhibited by their pilots while flying over eastern Syria, an area where the U.S. has 900 troops assisting in anti-terrorism efforts.
In mid-June, the U.S. Central Command (CENTCOM) made an announcement about the deployment of F-22 Raptors to the Middle East. The purpose behind this move was to deter Russian flights over U.S. bases in eastern Syria.
"Russian Forces' unsafe and unprofessional behavior is not what we expect from a professional air force. Their regular violation of agreed upon airspace deconfliction measures increases the risk of escalation or miscalculation," Gen. Michael "Erik" Kurilla, head of CENTCOM, said at the time. "Alongside our partners and allies, we are committed to improving the security and stability in the region."
The escalation in Russian military activity, characterized by increased frequency and aggression since March, is reportedly due to the deepening cooperation and coordination between Moscow, Iran and the Syrian government. Their aim is to exert pressure on the U.S. to force its withdrawal from Syria.
© Copyright IBTimes 2023. All rights reserved.