Is Russia's Vladimir Putin The Second-Richest Person In The World?
KEY POINTS
Russian President Vladimir Putin earns an annual salary of $140,000, according to the Kremlin
Fund manager Bill Browder testified that the politician could be worth an estimated $200 billion
Putin has denied claims that his wealth is in the billions
While Russian President Vladimir Putin's net worth remains a mystery, some experts claimed he may be one of the wealthiest people in the world with assets totaling up to $200 billion.
As Russian attacks continue to pound cities in Ukraine, more questions have been raised about Putin and his wealth.
Official disclosures from the Kremlin claimed the Russian president currently earns an annual salary of $140,000 and owns three cars, a trailer and an 800-square-foot apartment in St. Petersburg, Fortune reported. Putin also uses a 1,600-square-foot apartment in Moscow.
Information publicly released by the Central Election Commission of the Russian Federation also showed that Putin earned 38.5 million rubles between 2011 and 2016, The Washington Post reported. This was roughly $673,000 back in 2018 when the article was published.
Putin said his income came from his official salary and a military pension, as well as income from saving accounts and shares.
However, Putin is rumored to own assets that seem well above what he can afford on his salary. He has been photographed sporting Patek Philippe's $60,000 Perpetual Calendar watch and is said to own a $500,000 A. Lange & Sohne Toubograph, Fortune noted.
Putin allegedly also owns 20 other houses, 700 cars, 58 aircraft and helicopters, including a $716 million plane, as well as a $100 million megayacht, the outlet reported.
Among the properties Putin allegedly owns is a 190,000-square-foot mansion that sits atop a cliff that overlooks the Black Sea. The estate allegedly cost $1.4 billion to construct and required $2 million each year to maintain its landscaping, according to the outlet.
The Kremlin has denied the claims that Putin owns the mansion, saying it belongs to a wealthy businessman. However, according to Russian analysts, the property is guarded by the FSB (Russia's federal security service) with a no-fly zone over it, and this privilege is not enjoyed by businessmen.
Over the years, experts tried to estimate how much Putin's actual net worth is. While their estimates differ, the figures they suggested would put the Russian leader among the world's richest.
Swedish economist Anders Aslund suggested that Putin has assets worth between $100 billion and $150 billion, based on the wealth of the politician's confidants, Forbes reported.
The "Russia's Crony Capitalism: The Path from Market Economy to Kleptocracy" author estimated that Putin's friends allegedly hold between $500 million and $2 billion each on behalf of the Russian president.
In 2017, fund manager Bill Browder, whose fund Hermitage Capital had as much as $4.5 billion invested in Russia at one point, testified to the Senate Judiciary Committee that Putin could be worth an estimated $200 billion, The Atlantic reported. The financier claimed Putin's wealth is ill-gotten.
If Browder's claim is true, Putin would be the second-richest man in the world today, behind Tesla and SpaceX CEO Elon Musk. As of this writing, Musk has a net worth of $239 billion, according to a Forbes estimate.
Musk is followed by Amazon founder Jeff Bezos, who has a net worth of $178 billion, while LVMH CEO Bernard Arnault is the third-richest person in the world with a net worth of $172 billion.
However, Putin has denied claims that his wealth is in the billions.
"It's just chitchat, nonsense, nothing to discuss. They picked it out of their noses and smeared it on their pieces of paper," he said, according to Bloomberg View columnist Leonid Bershidsky.
Putin was also quoted as saying by New York Times reporter Steven Lee Myers' book "The New Tsar": "I am the wealthiest man not just in Europe but in the whole world: I collect emotions. I am wealthy in that the people of Russia have twice entrusted me with the leadership of a great nation such as Russia. I believe that is my greatest wealth."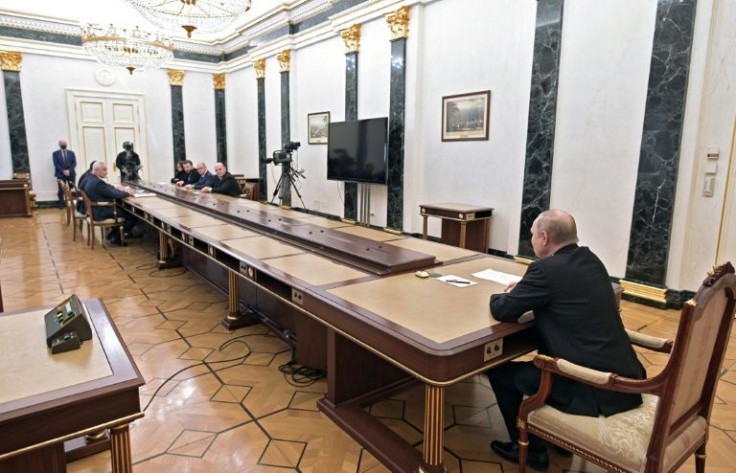 © Copyright IBTimes 2023. All rights reserved.