Ryan Gains Support Of Key Conservatives For House Speaker Job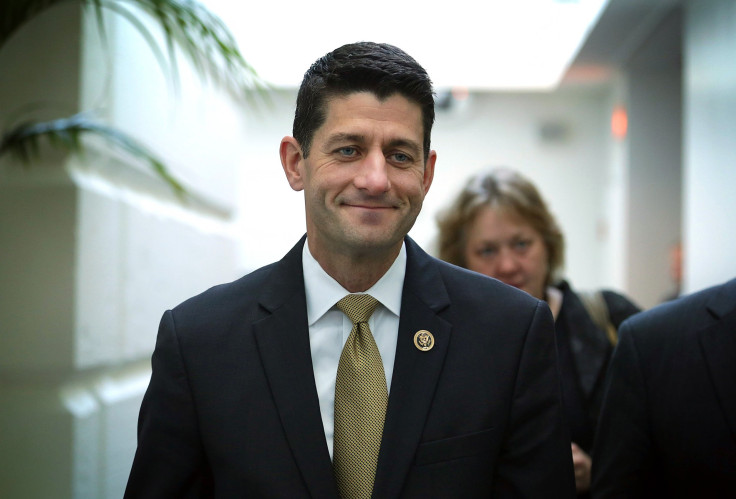 By Susan Cornwell and Richard Cowan
WASHINGTON (Reuters) -- A supermajority of the U.S. House of Representatives' firebrand conservative Republicans on Wednesday threw their support behind Paul Ryan to be the next speaker and said they have provided him enough votes to win the race.
About two-thirds of the approximately 40 House "Freedom Caucus" members voted to back Ryan for speaker if he formally enters the contest, according to the Republican lawmakers who emerged from a closed-door session to discuss Ryan's fate.
That was less than the 80 percent needed under Freedom Caucus rules to give Ryan a formal endorsement for speaker.
Nonetheless, Ryan may have secured just enough votes, when combined with other Republican lawmakers, to narrowly win the speakership, replacing retiring Speaker John Boehner, several of the conservative lawmakers said.
Ryan, in a statement, called the support from a supermajority of the conservative Freedom Caucus "a positive step toward a unified Republican team". He said he also looked forward to hearing from two other House Republican groups by the end of the week; both are expected to back him
Republicans are scheduled to vote on nominating a new speaker on Oct. 28, followed by a vote by the full House on Oct. 29.
"The bottom line is if he (Ryan) wants to be speaker, he's got the votes as of tonight," said Representative Mick Mulvaney, a member of the Freedom Caucus who voted for Ryan.
Spokesmen for Ryan were not immediately available to comment on whether the 2012 Republican vice presidential candidate and current chairman of the House's tax-writing Ways and Means Committee would actually seek the speakership.
Late on Tuesday, Ryan said he would pursue the top House job if his fellow Republicans united behind him.
The speaker has a major say on legislation that moves through the House and is next in line for the presidency behind the vice president if something were to happen to the president.
Ryan also laid down a series of conditions he wanted to extract from rank-and-file Republicans, including a rules change that would make it more difficult for individual House members to force a vote to oust the speaker.
He spent part of Wednesday meeting privately with the Freedom Caucus and other factions of the 247 Republicans who hold majority control of the House.
The Freedom Caucus issued a statement praising Ryan as a "policy entrepreneur who has developed conservative reforms dealing with a wide variety of subjects." It said he had promised to advance limited government principles and decentralize power to members.
"While no consensus exists among members of the House Freedom Caucus regarding Chairman Ryan's preconditions for serving, we believe that these issues can be resolved within our conference in due time," the statement said.
The Republican Party infighting, which has been on the boil even before Boehner's retirement announcement last month, has overshadowed a stark deadline Congress faces.
If Congress fails to increase the federal government's statutory debt limit by Nov. 3, the Treasury Department has warned of possible catastrophic consequences that could lead to a historic default.
A default, which Boehner wants to avoid before he leaves office, could shake financial markets and the economy, but the Republican-controlled Congress had no clear plan yet to prevent it.
For now, the House Republican leadership has not settled on when it would vote to raise the debt limit or what would be in a bill dealing with it. "We're talking a lot about it right now," House Majority Leader Kevin McCarthy told Reuters.
Earlier on Wednesday, the House, in a partisan vote, passed a Republican bill requiring the Treasury to keep borrowing to pay the principal and interest on certain obligations if the debt exceeds the statutory limit.
While the Freedom Caucus is relatively new, having organized early this year, hard line conservatives - many of them small-government Tea Party activists - have had an outsized influence on major fiscal decisions since 2011, when Republicans took control of the House from Democrats.
Since then, the House has repeatedly flirted with a default on Washington's financial obligations. Conservatives forced a 17-day government shutdown in 2013 as they tried to kill the landmark healthcare law known as Obamacare.
(Additional reporting by Andy Sullivan, Susan Heavey and Lindsay Dunsmuir; Editing byKevin Drawbaugh, James Dalgleish and Leslie Adler)
© Copyright Thomson Reuters 2023. All rights reserved.