Ryan Lochte Quotes: 15 Times USA Swimmer Has Said Some Confusing Things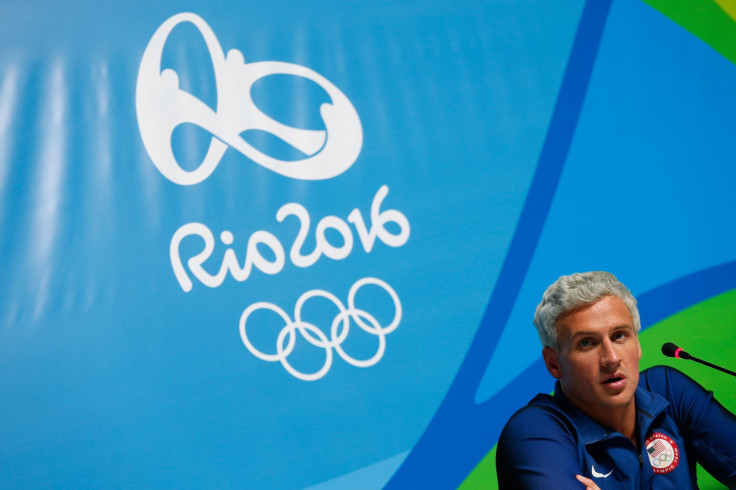 United States swimmer and gold medalist Ryan Lochte, along with three other teammates, are currently embroiled in a confusing and largely unconfirmed scandal that is still unfolding at the 2016 Rio Games in Brazil. Lochte, along with fellow swimmers Jimmy Feigen, Gunnar Bentz, and Jack Conger, alleged they were robbed at gunpoint when men waving police badges pulled over their taxi early Sunday morning after a night out. However, over the last four days, Brazilian police say they've found inconsistencies in Lochte's account, specifically when he refused to get on the ground after the alleged gunman ordered him to do so and pointed the gun at his forehead.
The matter was made more confusing when Lochte, who returned to the U.S. Tuesday morning according to an Associated Press interview with his father, spoke to NBC's Matt Lauer over the phone. The "Today" host told Bob Costas that Lochte "softened" or "stepped back" his original story, stating the taxi had actually pulled into a gas station so the swimmers could use the bathroom and when they came back to the car the driver wasn't responding and that's when the robbers stepped in.
Lochte also said the gun was "pointed in his direction," rather than at his head which raises questions about the veracity of his original story. Lauer said he pressed Lochte about the altered details, but he vehemently stated he and his teammates were victims and said the inconsistencies were a "traumatic mischaracterization."
While Lochte is stateside, Bentz and Conger were pulled from their homebound airplane Wednesday after a Brazilian judge ordered Lochte and Feigen's passports be confiscated. Feigen was reportedly supposed to be on Lochte's flight home but didn't go to the airport and he told USA Today he is cooperating with Brazilian officials.
On Thursday morning, ABC reported that a video allegedly shows a swimmer "fighting" with security at a gas station and that Lochte and his teammates were heavily intoxicated.
The investigation is ongoing, with Feigen, Bentz, and Conger reportedly still in Brazil, and no confirmation yet if any of the swimmers fabricated their stories. Lochte also took to Twitter Tuesday.
While more details come out, it's important to remember this isn't the first time Lochte's words have left fans and media members confused.
Here's a quick list of some of the quotes attributed to Lochte over the years.
1. "My philosophy is if you're a man at night, you gotta be a man in the morning."
2. "Abe Lincoln is my favorite president of all time - and he pulls off that top hat pretty well."
3. "We have a lot of stuff in common. She likes salt and vinegar chips, like the white gummy bears, she lives here in Miami."
4. "Don't duplicate just precipitate."
5. "Wake up and smell the gardens."
6. "These are my shoes that I designed from top to the very sole to the very top to the bottom. Laces."
7. "I mean the reason why I love swimming is because racing."
8. "The science of putting a phone in a bucket of rice? It's supposed to…help it."
9. "Too travel is sometimes better to arrive."
10. "Something will pop up in my head. It could be like the weirdest thing. Like all'a [sic] sudden like I have like a jumping banana in my head. And I stop and pause. I'm like that damn jumping banana is my head. Like, I don't know what's going on."
11. "For those who are understood, no need to explain."
12. "What I was always good at was letting things go through one ear and out the other."
13. "One thing I won't do: I won't give up on love."
14. "You can tell a great athlete by like not how he many times he wins unlike when he loses, because that's what's gonna make a swimmer."
15. "I never knew having a banana and drinking Sprite you automatically puke!"
© Copyright IBTimes 2023. All rights reserved.