Ryan Shazier's Future Includes Steelers Role In 2018, Art Rooney Says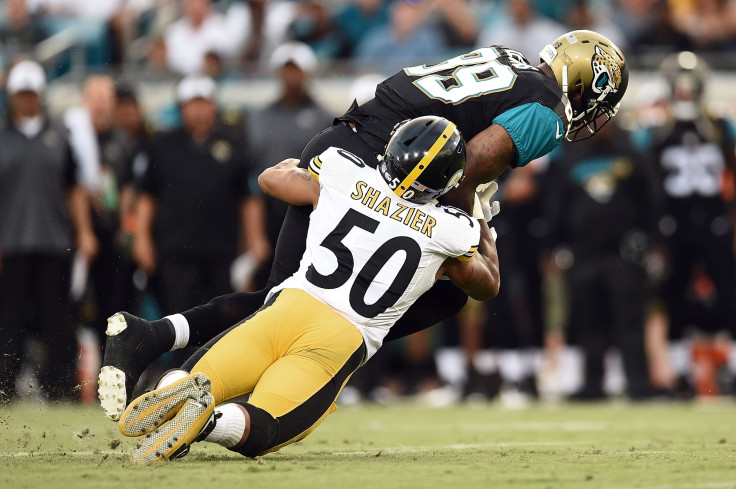 While it's uncertain whether injured linebacker Ryan Shazier will play football again, the Pittsburgh Steelers have confirmed his future with the organization, the team owner announced.
"I expect Ryan is going to be here one way or the other and have a role on the team one way or other in 2018," Steelers owner Art Rooney II said Thursday, according to Ed Bouchette of the Pittsburgh Post-Gazette.
The 25-year-old underwent spinal stabilization surgery Dec. 6 and was discharged from the University of Pittsburgh Medical Center Rehabilitation Institute (UPMC) on Thursday. According to a report, Shazier needed walking assistance and planned to transition to an outpatient therapy program.
Shazier suffered a season-ending spinal injury on a routine tackle during the Steelers Week 13's win over the Cincinnati Bengals Dec. 4.
"The next three to six months are crucial" to Shazier's recovery, a source familiar with the injury told ESPN's NFL insider Adam Schefter. "He's making incredible progress," the source added.
In an Instagram post that featured himself and veteran Steelers quarterback, Ben Roethlisberger, Shazier thanked family, friends and the medical staff at UMPC for helping him through his rehabilitation. This photo was the first time he shared an image of himself standing since he suffered the injury.
"I want to take a moment to thank the people who have helped me the past two months," Shazier wrote. "First and foremost, I want to thank God because at the end of the day I don't think I'd be making progress without His vision and hands protecting me and my family. I will continue to trust in Him and thank Him, because it all starts with Him."
Shazier's father Vernon had been mum regarding his son's progress until he spoke out during a December interview with WPXI's Lisa Sylvester in Pittsburgh.
"Yeah, he can feel them now," Vernon Shazier said regarding the feeling in his son's legs. "Um, no, no he could feel them a little bit before [the surgery] too. It's just initially ... but he can feel them now. "He's doing good. It's a struggle. It's an intense struggle. He's staying positive, his spirit is high. He's living and trusting in God."
© Copyright IBTimes 2023. All rights reserved.