Ryder Cup 2016: Dates, TV Schedule, Tee Times, Live Stream Info For USA vs. Europe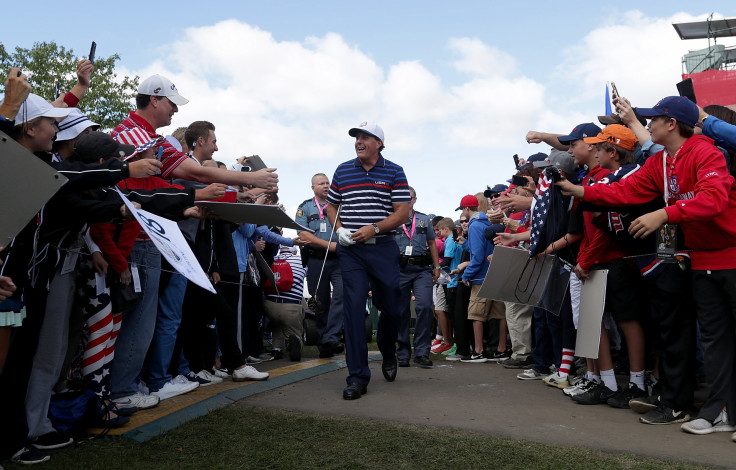 The Ryder Cup has been no stranger to controversy down the years, so it perhaps shouldn't be surprising that the 2016 edition at Hazeltine National in Minnesota has provided multiple such moments before a ball has even been struck. It is all part of what makes the biennial battle between the United States and Europe a golf event like no other.
First came an article from the brother of European rookie and current Masters champion Danny Willett in which he labeled American fans a "baying mob of imbeciles" and "pudgy, basement-dwelling irritants," among other insults. Danny Willett and captain Darren Clarke immediately distanced themselves from the comments and were left hoping that the reaction from the fans up and down Hazeltine over the next three days will not become even more intense.
With that controversy still brewing, Phil Mickelson, not for the first time during his long Ryder Cup career elected to air his grievances in the most public way. This time, the veteran opted to dig up some ill-feeling from 12 years earlier. The U.S. captain in 2004 Hal Sutton was his target and specifically his decision to pair Mickelson with Tiger Woods at short notice.
"That's an example of starting with the captain, that put us in a position to fail and we failed monumentally," he said at a press conference on Wednesday. "But to say: 'Well, you just need to play better,' that is so misinformed because you will play how you prepare."
He later apologized for calling out Sutton in such a way, but the comments reflect the eagerness of Mickelson, who painted Tom Watson in a similarly dim light after the last Ryder Cup, to overcome the mistakes of the past. Davis Love III is in charge of managing a U.S. team that, as always, is not short on talent but which could also be big on ego.
The U.S. struggles in the event are illustrated by the fact that Mickelson, who is preparing for his 11th appearance, has only come out on the winning side in the Ryder Cup twice. The 46-year-old has praised Love's democratic approach, but there is added intrigue surrounding the fact that Woods, who, along with Mickelson, has a poor Ryder Cup record and has seen his team ethic questioned, will be one of the vice-captains.
As for the team itself, four of the 12 are in the top-10 in the world rankings, while five are major champions. The U.S. also has just two rookies in the team, a figure which stands in sharp contrast to the six among the European contingent. While Europe came out on top with a team made up of 50 percent rookies in 2010, that was on home soil. Since the event became Europe, rather than just Great Britain and Ireland, against the U.S. in 1979 no team has won with six or more rookies on the road.
Tee Times (EDT)
Friday & Saturday
Foursomes
8:35 a.m.
8:50 a.m.
9:05 a.m.
9:20 a.m.
Fourball
1:30 p.m.
1:45 p.m.
2 p.m.
2:15 p.m.
Sunday
Singles: 12:04 p.m. to 2:05 p.m. at 11-minute intervals
TV Schedule
Friday: 8.30 a.m. to 7 p.m. on the Golf Channel
Saturday: 9 a.m. to 7 p.m. on NBC
Sunday: 12 p.m. to 6 p.m. on NBC
Live Stream Details: The Ryder Cup will be live streamed on NBC Sports Live Extra and RyderCup.com.
© Copyright IBTimes 2023. All rights reserved.