S.Africa stocks edge lower on euro zone jitters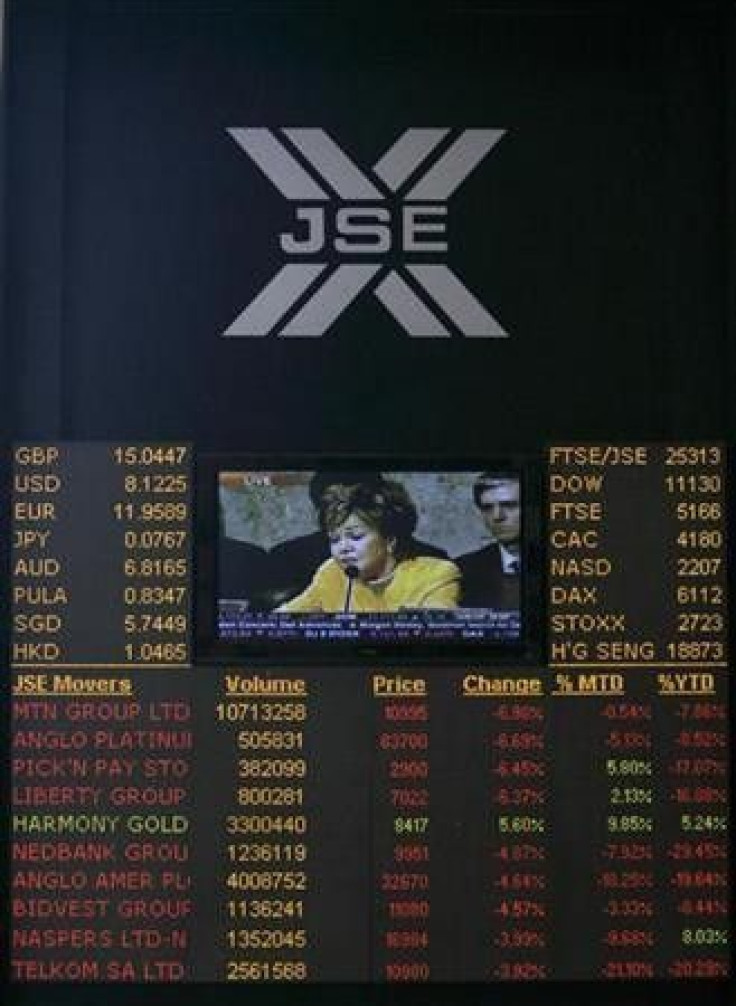 South African stocks inched lower on Tuesday, as skittish investors sold BHP Billiton and some other index heavyweights ahead of the final voting required to extend the euro zone rescue fund.
Losses were limited by gold miners such as Harmony Gold, which were buoyed by the weaker rand currency. A weaker rand is a boon for gold miners, as it boosts profits when overseas earnings are brought home.
Shares of Life Healthcare could be active on Wednesday. The private hospital company said after the close of trade it plans to pay around $108 million in cash for a quarter stake in India's Max Healthcare.
With investors waiting for the final vote from Europe, it was difficult to take short-term positions, traders said.
If you're a long-term buyer, I don't think there's any reason not to buy stuff now, said Mitchell Gannaway, a trader at Thebe Stockbroking. In the short term, we'll see a lot of volatility still.
The Top-40 index of blue chips fell 0.4 percent to 27,546.18, snapping a four-day winning streak.
The broader All-share index dropped 0.3 percent to 30,803.88.
Johannesburg-traded shares of global miner BHP Billiton retreated 0.8 percent to 234.50 rand, giving up some of their 3 percent rise from the previous session.
But some gold miners, such as Harmony, advanced on the weaker rand. Harmony, South Africa's third-largest gold miner, rose 0.9 percent to 97.40 rand.
The rand fell 2 percent against the dollar on Tuesday, a positive for exporters such as Harmony Gold.
Trade was thin, with just 174 million shares changing hands, according to the latest exchange data available at 1500 GMT, compared with 224 million in the previous session.
A total of 141 shares advanced, while 124 declined and 76 were unchanged.
© Copyright Thomson Reuters 2023. All rights reserved.