S.Africa's rand hits 30-mth low, bonds weaken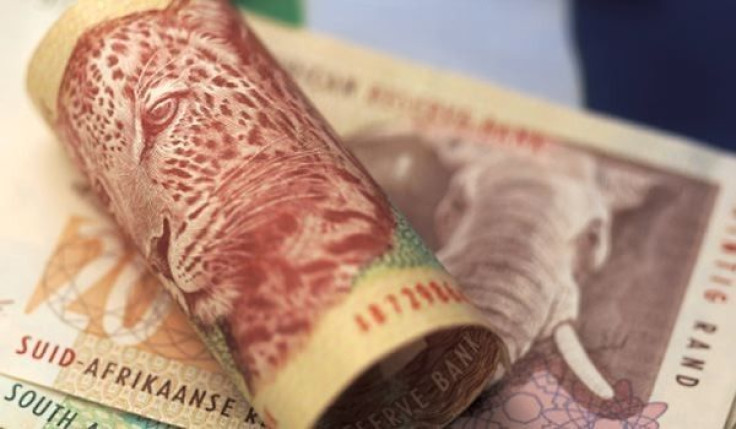 South Africa's rand tumbled to its weakest level since May 2009 against the dollar on Wednesday, with market players seeing further losses as investors dump risky assets on worries that euro zone leaders are not getting to grips with the debt crisis in their region.
A disastrous German bond sale on Wednesday sparked fears that Europe's debt crisis was even starting to threaten Berlin.
The rand fell two percent to a session low of 8.5570 against the dollar and was last trading at 8.5396, from Tuesday's New York close of 8.3880.
The pair will now be eyeing the psychological 9.00 level, which the technical charts suggest is on the cards, said Christopher Shiells, emerging market analyst at IGM.
Finance Minister Pravin Gordhan said the rand's sharp fall over the past few days were due to global concerns and had little to do with parliament passing a bill that is seen as an attempt to muzzle the media.
The rand has lost 29 percent against the dollar so far this year and the Reserve Bank has said its wide gyrations are out of its control as it is a highly liquid global currency that is a barometer of risk sentiment.
The Bank said the currency was an upside risk to inflation, which in October hit 6.0 percent year-on-year - the upper end of the bank's target band.
Government bonds followed the rand weaker and yields, that move inversely to the price, rose to their highest level in nearly two months.
Bonds have probably run fairly hard and that is not surprising given the fact that inflation is at the top end of its target range and the rand is at 2-1/2 yr lows, said Ashley Dickinson, bond dealer at Renaissance Capital.
The yield on the 2015 bond rose seven basis points to 7.07 percent and that on the 2026 yield was up 7.5 basis points to 8.755 percent.
Unless you believe the short end of the market is going to climb we will either get an extremely steep yield, which today's market move doesn't suggest, or the market has got to be looking like it is at levels that attract value.
The yield curve has climbed by between 30 and 60 basis points in the past two months.
Dickinson said a further deterioration in the euro zone situation could force South Africa to cut rates, offsetting the impact of the weak currency on bonds.
© Copyright Thomson Reuters 2023. All rights reserved.