Same-Sex Marriage Backlash In Texas: Clerks, Judges Refusing Gay Union Licenses To Have Legal Fees Paid By State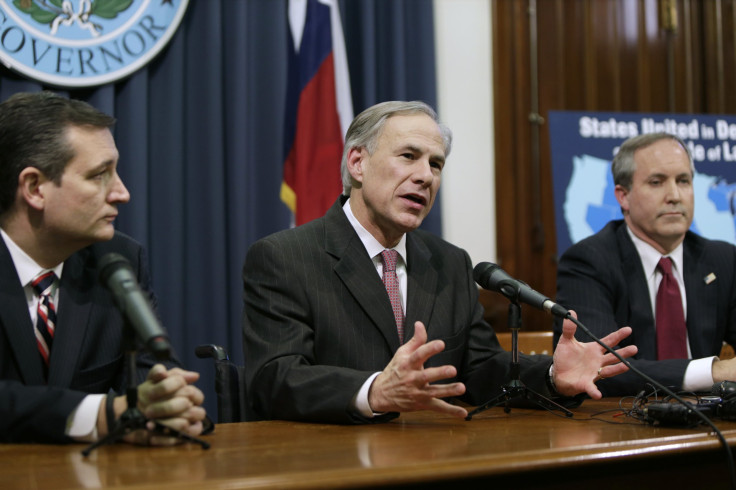 Texas' attorney general says local judges and county clerks should not fear the consequences of refusing marriage licenses to same-sex couples, following last week's U.S. Supreme Court decision legalizing gay marriage nationwide. Republican Attorney General Ken Paxton said the state will provide free legal representation for those claiming that their faith prohibits them from performing or welcoming weddings for same-sex couples, according to a Los Angeles Times report.
Paxton, who issued the statement Sunday in a nonbinding legal opinion, said religious freedoms granted by the First Amendment "may allow accommodation of [clerks'] religious objections to issuing same-sex marriage licenses."
The attorney general said lawyers across the state were ready to assist clerks, "in many cases, on a pro-bono basis," should they face lawsuits for refusing same-sex couples. "I will do everything I can from this office to be a public voice for those standing in defense of their rights," Paxton said.
His statement echoed a directive issued last Friday by Republican Gov. Greg Abbott, who asked every state agency to protect the religious liberties of county-level staff. "In the wake of the Supreme Court's decision, the law's promise of religious liberty will be tested by some who seek to silence and marginalize those whose conscience will not allow them to participate in or endorse marriages that are incompatible with their religious beliefs," Abbott said.
Texas has 254 counties where marriage licenses can be issued, and those offices are relatively autonomous, according to the LA Times. After the Supreme Court issued its decision Friday, some officials in the Austin, Houston, Dallas and San Antonio areas did marry gay and lesbian couples, while other refused.
The conservative Liberty Institute, based in Plano, Texas, said it was pleased with Paxton's directive on same-sex marriages and vowed to assist Texans with questions about their right to civilly disobey the high court's decision. "When there is a question of conscience, Liberty Institute stands ready, willing and able to come alongside government employees and defend their religious liberty," said Kelly Shackelford, the group's president and chief executive.
Dan Quinn, spokesman for the liberal Austin-based watchdog Texas Freedom Network, said Paxton's statement sets Texas on a dangerous path that could mostly impact religious minorities. "What's next? Will Christian judges be able to refuse to marry Hindus or Buddhists? Will a justice of the peace who is Muslim be able to deny services to Jews?"
© Copyright IBTimes 2023. All rights reserved.