Saquon Barkley Isn't Certain To Return For Opening Week Of 2021 NFL Season
It's no guarantee that the New York Giants will have their best player on the field to start the 2021 NFL season. As Saquon Barkley continues to work his way back from the torn ACL that ended his 2020 campaign, the running back won't put a timetable on his return.
Barkley doesn't know if he'll be ready for the start of training camp on July 27. His status for Week 1 also remains a question mark.
"I don't know. I guess we'll see," Barkley told reporters Monday when asked if he'll be able to play in New York's first regular-season game. "Just taking it day by day and listening to my body. Whenever I'm able to get out there, make sure that I'm 110% not just for the safety and health of myself and my well-being, but just so I can go out there and compete at a high level, and show the world who Saquon is again."
The Giants are scheduled to open up the season at home against the Denver Broncos on Sept. 12. The team's first preseason game is less than a month away against the New York Jets on Aug. 14.
Barkley last played on Sept. 20 when he suffered his knee injury in a Week 2 matchup against the Chicago Bears. The 24-year-old missed three games in 2019 with an ankle sprain, which continued to limit him after a quicker-than-expected return.
Even though Barkley said he's feeling "pretty good," the Giants will likely be cautious with the former No. 2 overall draft pick. According to ESPN, Barkley is not expected to be a full go when training camp begins, and the running back could be held out of games if he isn't completely recovered.
"Kind of have to play that by ear," Barkley said, in regard to his expectations. "When it comes to rehab, rehab is never a straight line. Just play that by ear. Listen to your body, and whatever your body is telling you, go with that."
Barkley was named the 2018 NFL Offensive Rookie of the Year with over 2,000 yards from scrimmage, 5.0 yards per carry and 91 receptions. Barkley ran for 1,003 yards on 4.6 yards per attempt in his second season.
The Giants have lost at least 10 games in every season since drafting Barkley. With Daniel Jones entering his third year as New York's quarterback, the team has aspirations of making the playoffs.
Barkley is signed through the 2022 season and eligible for a long-term contract extension.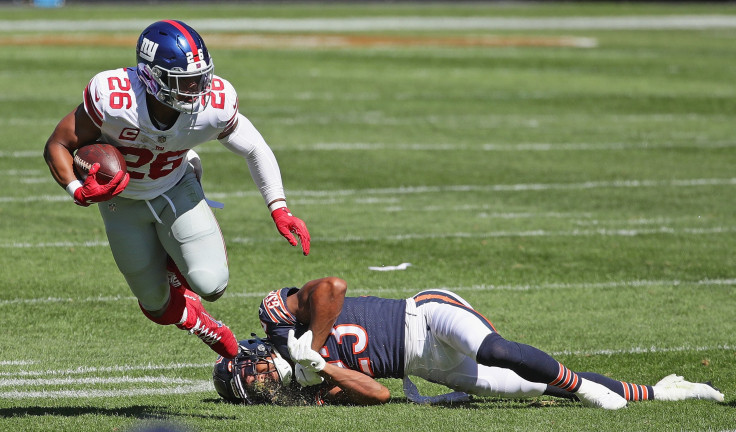 © Copyright IBTimes 2023. All rights reserved.