Saudi Arabia Navy To Buy US Sea Hawk Helicopters In $1.9 Billion Deal Approved By State Department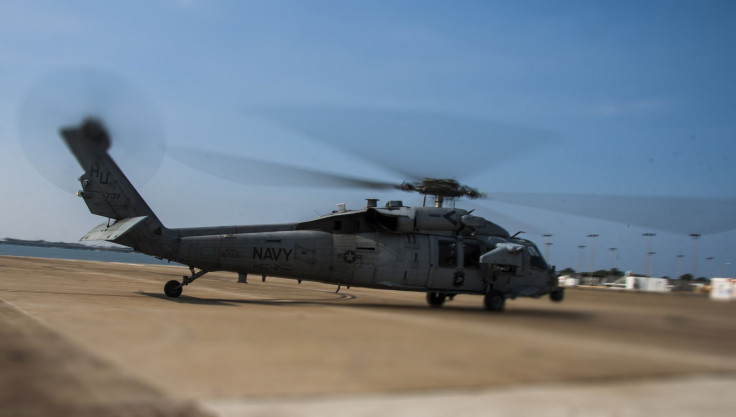 Saudi Arabia wants to purchase 10 Sikorsky MH-60R Sea Hawk helicopters from the United States in a proposed $1.9 billion deal that was approved by the U.S. State Department. The requested sale -- which was included in a notification to Congress on Wednesday -- would be major purchase as a part of the Royal Saudi Navy's expansion program, Defense News reported.
The request includes the 10 helicopters and related equipment, weapons and support, according to a press release from the Pentagon's Defense Services Cooperation Agency (DSCA), which handles major arms sales. The deal includes missiles, radar, navigation systems and targeting equipment. The deal also includes 380 Advanced Precision Kill Weapons System rockets, which will give the newly added helicopters strong firepower. The naval purchase is intended to boost Saudi Arabia's ability to defend itself and combat enemy threats, according to the DSCA.
"This proposed sale will contribute to the foreign policy and national security of the United States by helping to improve the security of a strategic regional partner, which has been, and continues to be, an important force for political stability and economic progress in the Middle East," the DSCA press release reads.
The Saudi expansion program was a response to an increased threat of maritime conflict in the Arabian Gulf region, Defense News reported in February. The Saudi Eastern Fleet was reportedly composed of aging American-made ships and was in need of an upgrade. The expansion could cost as much as $16 billion total and include numerous warship purchases, sources told Defense News in late February.
The modern helicopters would be a significant addition to the abilities of the Saudi Royal Navy. "Saudi Arabia will use the enhanced capability as a deterrent to regional threats and to strengthen its homeland defense," the DSCA press release reads.
© Copyright IBTimes 2023. All rights reserved.