Saudi Prince Warns Against Iran's Growing Influence On Arab, Muslim Nations, Slams Pakistan For Staying Neutral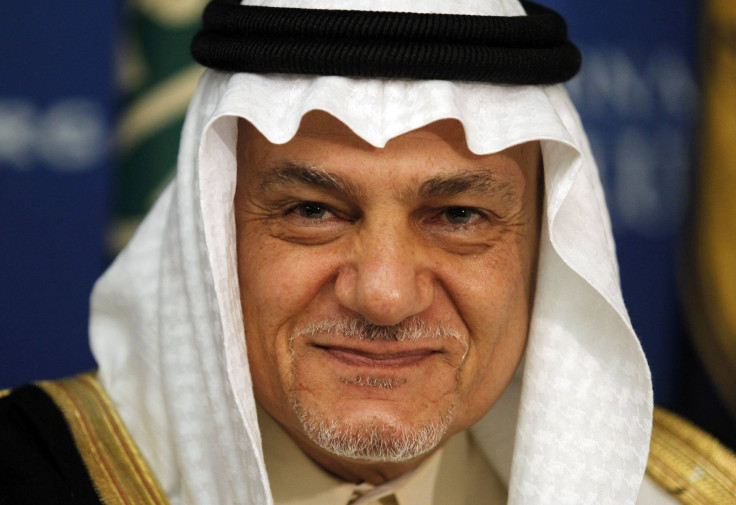 Prince Turki Faisal, a former Saudi intelligence chief, warned against Iran's encroachment on Arab and Muslim nations in the region this week as Iranian-backed rebels continue to fight the Saudi-backed government in Yemen. Faisal also urged Saudi Arabia's allies to curb Iranian influence.
The ongoing conflict in Yemen has pitted rivals Saudi Arabia against Iran in a battle for Middle East supremacy. "As we are dealing with Yemen, Iran's imperial ambitions will be checked in Lebanon, Syria and Iraq," Faisal said in a statement Monday, according to Arab News in Riyadh, Saudi Arabia. "Our nations and peoples are experiencing a period of chaotic and harmful interventions and changes."
Faisal, the former Saudi ambassador to the United States and United Kingdom, also called Pakistan's decision to stay neutral in the ongoing Yemen war "disappointing." A Saudi-led coalition has launched airstrikes against the Shiite Houthi rebels in Yemen since late March. Iran's Shiite government has supplied the Houthis with arms, money and training. The militia ousted Yemen's Sunni government and seized the capital Sanaa in September.
"Some mealy mouthed politicians have forgotten what the Kingdom has done for Pakistan since its birth," the Saudi prince said in the statement Monday.
Faisal also asked U.S. President Barack Obama to "find the way to make our area free of weapons of mass destruction," as Washington seeks to sign an agreement with Tehran that would curb Iran's nuclear capabilities, Arab News said. Tentative framework for a nuclear deal between six world powers and Tehran was drafted last month, in which Iran agreed to limit its nuclear activity in return for lifted sanctions. A final agreement could be reached by the end of June.
"The devil is in the details, which we will await," said Faisal, founder of the King Faisal Center for Research and Islamic Studies in Riyadh.
© Copyright IBTimes 2023. All rights reserved.
FOLLOW MORE IBT NEWS ON THE BELOW CHANNELS