Schumer, Boehner Hurl Partisan Barbs on Budget Stalemate (VIDEOS)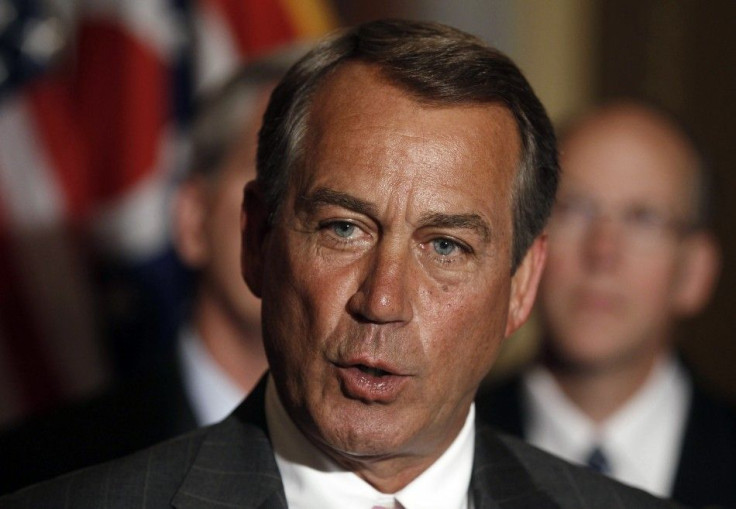 Sen. Charles Schumer D-NY took to the Senate floor on Tuesday to press Republicans to compromise on the size of budget cuts they are seeking, while House Speaker John Boehner faulted Democrats by not passing any legislation that funds the federal government until the end of the fiscal year.
"It was like they decided that even the appearance of a looming compromise was a political liability. It was surreal," Schumer said, referring to statements by House Majority Leader Eric Cantor who on Friday denied that Senate Democrats and House Republicans were near a deal.
House Speaker John Boehner said Democrats had not only failed to pass legislation, but also faulted them for taking "marching orders" that depict Republican budget cut attempts as being "extreme."
"I always use the word extreme," Schumer apparently inadvertently told colleagues on a conference call prior to delivering remarks to reporters, according to reports. "That is what the caucus instructed me to use this week."
"And today the Democrats got their marching orders about how to try to depict us. We've done our work. Instead of them issuing marching orders, maybe what they should do is get to work and actually pass a plan," Boehner said.
The House passed a continuing resolution over a month ago with $61 billion cuts to the federal budget for the remainder of the fiscal year, until 2030. The Senate rejected it, saying the cuts were too high.
That has set the stage for two stopgap budget bills which have extended the government shutdown for 1 week and 3 weeks. The latest deadline is April 8.
See the statements in videos below:
Sen. Charles Schumber on the Senate floor – March 29, 2011
House Speaker John Boehner at a press conference – March 29, 2011
© Copyright IBTimes 2023. All rights reserved.