Sea Shepherd: Australian Anti-Whaling Activists Detained by Japanese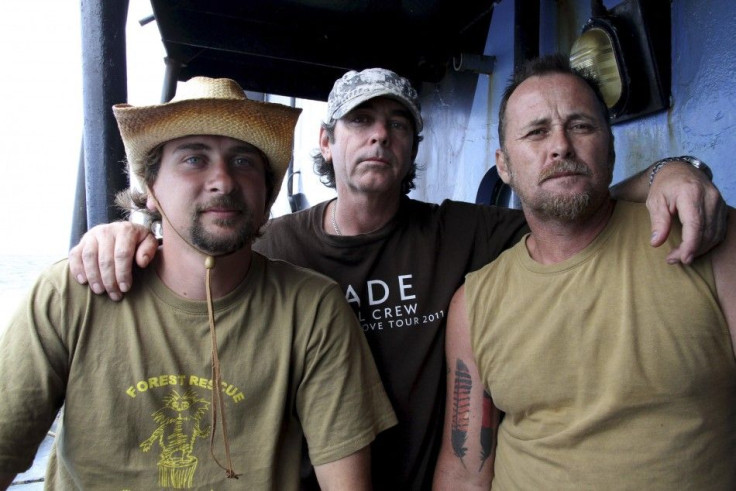 The Australian anti-whaling activists who illegally boarded a Japanese whaling ship are being detained by Japanese authorities, according to Australian media.
The so-called "Sea Shepherd" activists -- Geoffrey Tuxworth, Simon Peterffy and Glen Pendlebury -- boarded the Japanese whaling vessel Shonan Maru II early Sunday morning off the southwest coast of western Australia.
Australian media suggests that they may be taken to Japan where they would face piracy and trespassing charges because the incident took place outside of Australian territorial waters.
The three men are members of an Australian environmental organization called Forest Rescue Australia and their mission was designed to prevent the Japanese whaler from tailing an anti-whaling flagship belonging to the Sea Shepherd Conservation Society.
They are apparently on a hunger strike as well.
A spokesman for Forest Rescue Australia told AAP: That was the plan all along that they would go on board and be on a hunger strike. What is making it difficult is that Simon has high cholesterol and does not have his medication with him. Glen also has ADHD and didn't bring his medication with him either.
Glenn Inwood, spokesman for the Japanese whaling program at the Institute of Cetacean Research, told The Australian newspaper: They are unhurt and they are being well looked after."
He also told ABC radio, Not only are they facing [a long time on board the vessel], but they risk being taken to Japan to be tried for trespassing, or for other charges.
Geoffrey Tuxworth's father, Errol, is pleading with the Australian government to help free his son.
We've been trying to talk to the Government but we can't really do anything more for him, he told local media.
A group of about four dozen people have gathered outside the Japanese consulate in western Australia to express their support for the detained men.
However there appears to be very little Australian authorities can do to free the men.
Australia's Attorney-General Nicola Roxon has warned that since the three men willfully broke the law by boarding the ship they will have to face consequences of their actions.
If people do take action -- take the law into their own hands -- the rules that apply are sometimes ones that you can't as a government change. There will be consequences and in this case it is very unlikely that Australian law will apply, she told Australian television.
We are doing all we can diplomatically to ensure that these three Australian men can be released quickly and properly and to make sure that they are being held in conditions that are appropriate.
Roxon added that Australian government officials are in talks with their Japanese counterparts.
We have had a number of interactions with the Japanese government, particularly through our embassy in Tokyo, she told ABC radio.
Meanwhile, the leader of the Sea Shepherd organization, Paul Watson, told media that the men should be freed since the boarding took plane within Australia's 24-mile contiguous zone, where Australian laws could apply.
It disturbs me that the Attorney-General says it was outside Australian zone, Watson said. Both vessels have GPS and I expect that she will be very embarrassed when the truth comes out. I think [Roxon] is a coward, it is absolutely incredible she's not doing more to help these Australian citizens.
Watson also told Australian television: I think the Australian government would be very embarrassed if an armed Japanese vessel can just pick up Australian citizens in Australia and then take them away to Japan. I'd like the Australian Government to do its job and uphold international law. They have done nothing. The Australian Government should do everything in its power to get them off that ship. I think it's their obligation to protect the interests of their own citizens."
Watson added: Japanese vessels have no right to take prisoners in Australian waters.
However, Donald Rothwell, an international law expert from Australian National University, said the three activists could be in deep trouble.
If the Japanese authorities decide to investigate and bring charges on these grounds, the Australians will find themselves being sent to Japan to face court, he told media.
Second, Australian law may [even] have been broken by the unauthorized boarding.
Opposition Leader Tony Abbott has demanded that the government free the three men.
The Australian government helps Australians in trouble, including Australians that have got themselves into trouble,'' he said in a statement.
I think it's just the standard duty of government to do what it can for Australians in trouble overseas and obviously these guys fall into that category.''
Greg Hunt, the Opposition environment spokesman , similarly blasted the government's response.
They [the Australian government] should immediately dispatch a Customs vessel, he said. They should also seek the immediate transfer of the prisoners from the Japanese ship to Australian authorities.
Members of The Australian Greens demanded that Prime Minister Julia Gillard personality intercede to release the three men.
The protesters have acted as a direct result of our own government's failure to take the necessary steps to end illegal whaling in the Southern Ocean, Greens Senator Rachel Siewert said.
The issue of whaling presents a diplomatic stand-off between Japan and Australia.
In 1986, The International Whaling Commission banned commercial whaling but allowed Japan to catch a limited number of whales under the aegis of "scientific research."
Since that time Japanese whaling ships have frequently been followed and harassed by environmentalists from both Australian and New Zealand.
© Copyright IBTimes 2023. All rights reserved.
FOLLOW MORE IBT NEWS ON THE BELOW CHANNELS