SECOND HALF REVIEW and FINAL: Arsenal 2 - Barcelona 1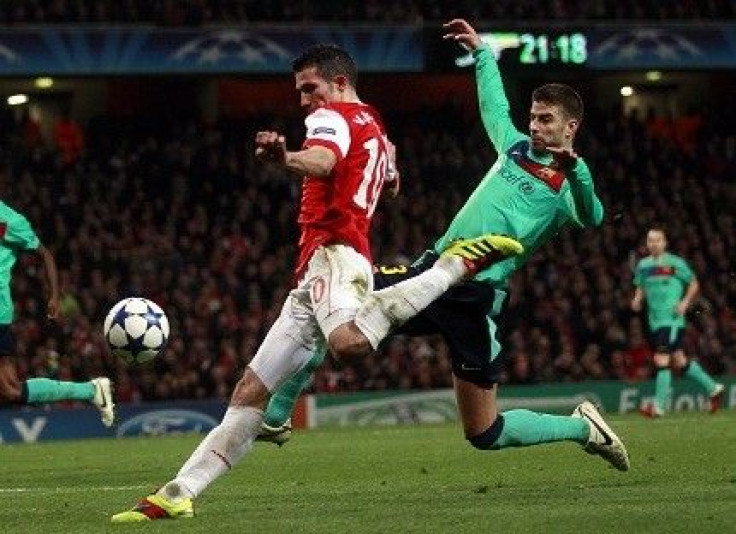 Down a goal at home, Arsene Wenger needed to find some scoring punch in the second half.
He got it.
For most of the match, Robin Van Persie had opportunities to score, but simply couldn't find the net.
That was, until the 78th minute, when the Dutch forward angled a shot from the left side that found the gap between Victor Valdes and the post. It was a poor position for Valdes to be in, and the back up to Iker Casillas on the World Cup Champion Spain team seemed stunned that Van Persie would choose that spot to deliver the equalizer.
But it was the midfielder who was questionable for the match, Samir Nasri, who put Arsenal ahead on a fast break five minutes later when he perfectly set up for Andrei Arshavin, who promptly ripped a shot past Valdes.
For a greater part of the match, Barcelona returned to what they do best: playing keep away with patient passing that drives opponents crazy. In typical fashion, Barcelona dominated the time of possession, holding the ball 66% of the time compared to Arsenal's 34%.
Lionel Messi had an opportunity in 66th minute, but this time was wide of the near post, a contrast to his chip shot from the left side that was wide of the far post.
Barcelona had other chances, but they were thwarted by a solid performance by goalkeeper Wojciech Szczesny.
The match lived up to the hype. Arsenal gave Barcelona the match that no La Liga team has been able to do: one that ended with a loss.
© Copyright IBTimes 2023. All rights reserved.