Sequester Cuts 2013: The Latest Updates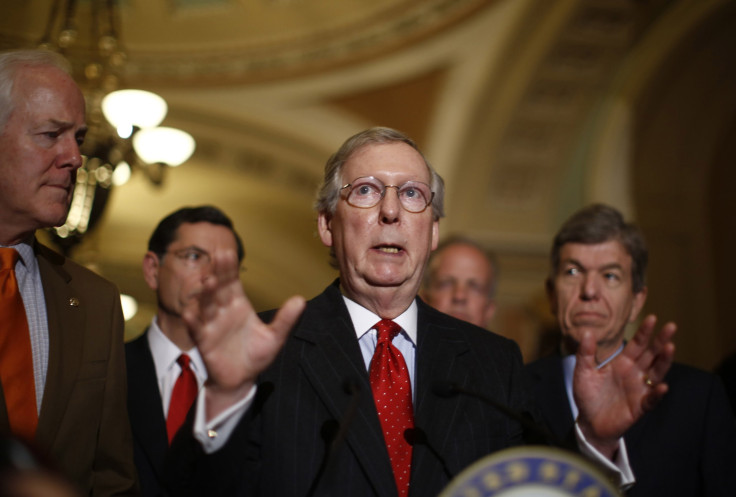 5:09 p.m. Credit rating agencies are reportedly saying the U.S. government will need to do more to reduce the federal budget deficit if it wants to avoid a downgrade of the nation's credit rating.
Although they sat the $85 billion in automatic cuts is a start, The Hill reports multiple agencies say more will be needed to prevent a downgrade from the countries current "AAA" rating.
3:30 p.m. The House Appropriations Committee introduced a $982 billion spending bill that would fund the federal government through the end of fiscal year 2013 on Sept. 30.
However, the bill -- intended to prevent a government shutdown -- assumes the $85 billion in sequestration cuts that went into effect on March 1 are here to stay.
According to an early report, the bill includes detailed appropriations for the Defense Department and Veteran Affairs, and shifts $10.4 billion toward the Pentagon for operations and maintenance expenses.
In addition, the funding would maintain border and nuclear security and ensure the Federal Bureau Investigation can retain staff at current levels.
In total, the legislation allocates $518 billion for defense, $2 billion more than President Barack Obama requested for this year.
2:30 p.m. President Obama on Monday said he has "deep concern" about the start of the sequester, but said his administration will work to ease the harsh effects of those budget cuts.
We are going to manage it as best we can, try to minimize the impacts on American families," Obama told reporters before a meeting with his Cabinet, adding that his administration will help federal agencies "make some very difficult decisions, understanding that there are going to be families and communities that are hurt, and that this will slow our growth."
Meanwhile, House Speaker John Boehner, R-Ohio, continues to insist Republicans will oppose any revenue increases as part of any new debt deal.
1:52 p.m. A group of nearly 200 economists have said the sequester is not an effective way to tackle the federal budget deficit, according to a new NBC news report.
More than 70 percent of those surveyed by the National Association for Business Economics, which met Monday, said the sequester deal is essentially "bad economics." Although 94 percent agreed the nation needs to tackle the deficit, most said the plan currently in effect is unwise. In particular, NBC reports a majority said lawmakers should put a tighter focus on reforming Medicare and Medicaid, "the two most important deficit targets by a mile."
1:20 p.m. How do voters feel about the sequester? Well, that depends on which poll you look at.
According to a Gallup poll published on March 1 – the day the budget cuts kicked in – almost half of Americans associate negative words with sequestration, while only 11 percent had positive associations.
"Bad" was the most frequently mentioned negative word, followed by "disaster," "God help us", and "trouble." The positive word most mentioned was "Good."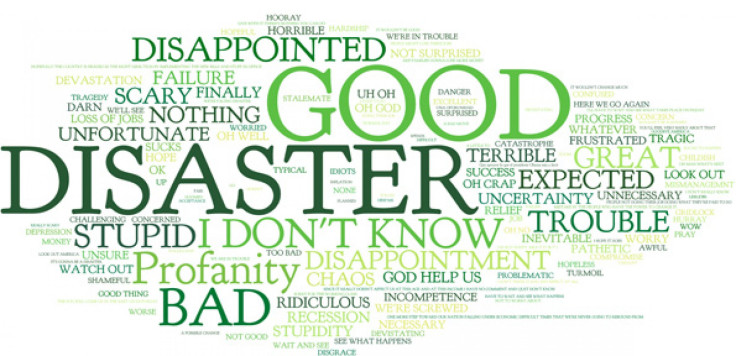 A recent Pew Research Center/Washington Post survey found similar results. In a poll of 1,000 voters, 62 percent said the sequester will have a mostly negative effect on the economy, compared to just 18 percent who said the result would be mostly positive.
Most voters said the automatic budget cuts would have the biggest impact on the economy (60 percent), followed by the military (55), the budget deficit (45) and the personal finances of every day Americans (30).Roughly the same number of Democrats, Republicans and independent voters shared those opinion, according to the survey.
A Fox News poll, on the other hand, had something different to say.
The survey, published Feb. 28, found 57 percent of respondents think the sequester is "the only way" to control the federal budget deficit, because lawmakers are unable to reign in spending themselves.
While 45 percent said the consequences of the $85 billion worth of budget cuts would be negative, slightly more reportedly said it would have a positive effect.
12:34 p.m. Homeland Security Secretary Janet Napolitano said a number of U.S. airports, including Los Angeles International and O'Hare International, are already experiencing delays as a result of cuts to the Federal Aviation Administration, the Associated Press reports. Napolitano on Monday said those delays will likely worsen, and could even double by the end of the week.
10:20 a.m. The sequester has taken effect, and, at least for now, there is no end to the debacle in sight. But House Speaker John Boehner, R-Ohio, on Sunday assured the American people that lawmakers' inability to reach a deficit reduction agreement will not lead to a full-on federal government shutdown.
"The president this morning agreed that we should not have any talk of a government shutdown," Boehner told NBC's "Meet the Press" in an interview that aired Sunday. "So I'm hopeful that the House and Senate will be able to work through this."
Boehner, who in the same interview claimed no one tried harder than him to avert the $85 billion in automatic spending cuts to defense and other programs that kicked in Friday, said the House will vote this week to keep the federal government operating through September.
In the event of a shutdown, hundreds of thousands of federal workers deemed "unessential" could be idle, disrupting government services such as national defense and air traffic control. Other nonessentials, such as national parks and museums, would be closed, visa and passport applications would be frozen, and there could be delays in approving Social Security applications and benefits for military veterans.
There have been 15 federal government shutdowns since fiscal year 1970. The most recent, and longest, lasted for 21 days between Dec. 16, 1996 to Jan. 6 1996, when then-House Speaker Newt Gingrich engineered a shutdown after President Bill Clinton vetoed a Republican-sponsored spending bill.
The shutdown was ultimately seen as a political misstep by Republicans and has been cited as a having a role in Clinton's successful reelection in 1996.
FOR FREE to continue reading
✔️ Unlock the full content of International Business Times UK for free
offer available for a limited time only
✔️ Easily manage your Newsletters subscriptions and save your favourite articles
✔️ No payment method required
Already have an account?
Log in
© Copyright IBTimes 2023. All rights reserved.