Shanghai New Year Stampede Update: Police Say Fake Money Not To Blame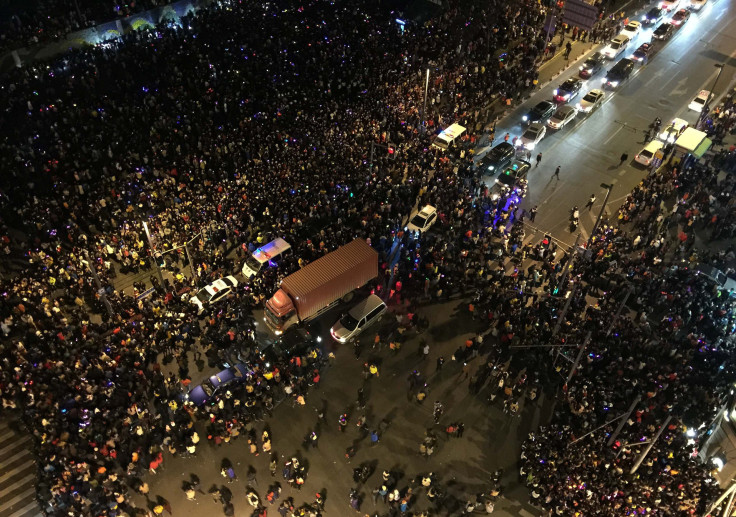 A mad dash for fake money that was thrown from the roof of a building overlooking Shanghai's iconic Bund riverfront promenade was not to blame for a New Year's Eve stampede that left 36 people dead and 40 others injured, Chinese officials said Thursday. The stampede marred a crowded New Year celebration in the cosmopolitan city, but authorities investigating the incident say that despite the fact that the dropping of coupons made to look like currency was initially blamed for the stampede, those reports are untrue, according to Reuters.
"This incident happened after the stampede," police said, referring to the distribution of the fake cash, in a brief statement, the Sydney Morning Herald reported from Shanghai.
A makeshift memorial has been set up at the site of the revelers' deaths in Chen Yi Square on the banks of the Hangpu River, and streams of people flocked there Thursday to pay their respects and leave flowers, candles and messages of grief.
Chinese President Xi Jinping demanded that Shanghai's city government find out what caused the stampede, according to Chinese state TV. He has also warned local governments across China to take steps to prevent a similar tragedy from taking place in the future.
The investigation into the incident is ongoing, and authorities have yet to say what exactly was the precipitating event that led to the deadly crush of people, the Sydney Morning Herald reported. With a population of more than 23.0 million people as of 2010 -- up from more than 16.7 million residents a decade earlier -- Shanghai is one of the fastest-growing and most crowded and populous cities in China. It serves as one of East Asia's key financial centers, a home for large populations of Western expats, and is the location of several of the world's tallest buildings.
© Copyright IBTimes 2023. All rights reserved.
FOLLOW MORE IBT NEWS ON THE BELOW CHANNELS