Shanghai Surpasses New York For Luxury Goods Buying, Despite Chinese Austerity Drive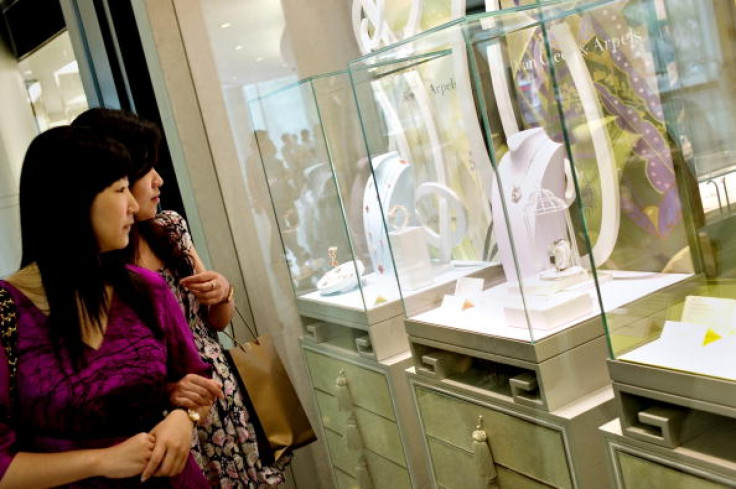 Move over, New York City! Shanghai has overtaken the Big Apple as the global center of wealthy consumers who purchase high-fashion and luxury labels, with the Chinese metropolis' most fashionable residents outspending their New York counterparts.
According to a study that Milan-based digital direct marketing firm ContactLab conducted over the past year, among luxury shoppers, Shanghai's shopaholics spent an average of $1,000 on their last purchase — double what the average New Yorker had spent. In addition, four out of five Shanghai residents said they purchased at least one luxury item over the past 12 months.
On top of that, 91 percent of luxury shoppers surveyed in Shanghai said they plan on spending a similar amount in the next six months, whereas only 77 percent of such New Yorkers said they would be splurging on high-end goods. Moreover, Shanghai's fashion-conscious plan to shell out, on average, 66 percent more on luxury items than New Yorkers plan to spend.
These numbers aren't so surprising, considering that Morgan Stanley estimated Chinese travelers will top the list of luxury spenders by 2015, thanks to their expanding middle class. But luxury sales still aren't what they used to be. The state-run newspaper Global Times cited a report from China's Ministry of Commerce that said in the first four days of the Spring Festival holiday, marked by the beginning of the Lunar New Year, consumer market sales for luxury goods took a hit. Sales of luxury items like expensive alcohol, rare seafood and leather goods, which are often exchanged as gifts to co-workers or friends during the holiday, fell sharply. In one pocket of malls in Fuzhou, capital of the eastern coastal province of Fujian, luxury alcoholic beverage sales fell by 70 percent compared to the year prior during the first four days of the holiday.
The slowdown in luxury purchasing is attributed largely to the central government's year-old austerity drive. At the beginning of his presidency, Xi Jinping cut back on unnecessary spending on luxury items and services that are typically the province of senior Chinese officials. With luxury spending now somewhat taboo at home, many Chinese have just resorted to spending their wealth while overseas. With more and more Chinese heading overseas for school, business or vacations, their money is still often spent on luxury items. In fact, in New York, many of the upscale stores that dot Fifth Avenue are adding Chinese-speaking people on sales floors.
Separately, the ContactLab survey unearthed some other interesting differences between luxury shoppers in Shanghai and New York. "Fashion buying in China is closely linked to the display of one's own spending capacity, while the New York consumers show greater affection for brands," according to ContactLab.
© Copyright IBTimes 2023. All rights reserved.