Shiite Mosque Attack: Kuwait Engulfed In Regional Sectarianism With Suicide Attack Against Minority Sect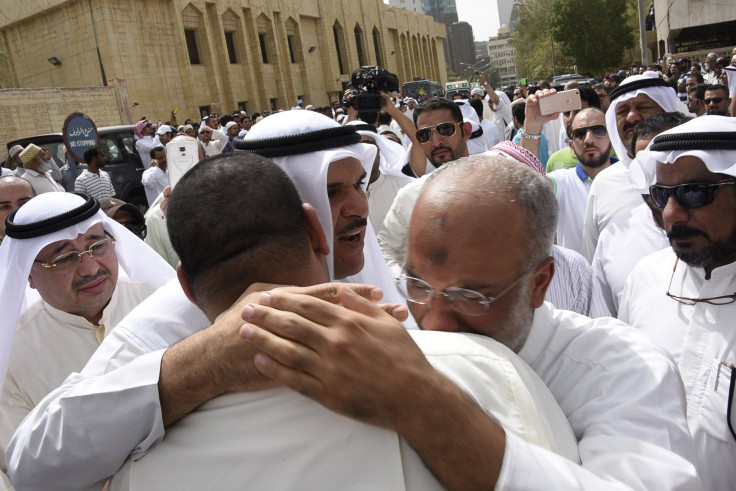 Friday's bombing of a Shiite mosque in Kuwait marks the latest in a series of attacks targeting the religious minority sect on the predominantly Sunni Muslim Arabian peninsula. While previous attacks have been leveled against the minority group in Gulf states where sectarian tensions between Sunnis and Shiites have surged, as they have in Saudi Arabia and Yemen, the attack on Kuwait City's Imam Sadiq Mosque is remarkable for taking place in a country that has been largely shielded from such tensions.
Perhaps the most striking sign of the difference in this dynamic within Kuwait was the response by the kingdom's ruler, Sheikh Sabah al-Ahmad al-Sabah, who made a personal visit to the damaged mosque shortly after the attack. State television footage and photos on social media showed the emir walking through a crowd of people in front of the mosque, one of the capital's largest Shiite houses of worship, and entering to survey the damage. Government ministers, including Prime Minister Sheikh Jaber al-Mubarak al-Sabah, also made appearances to visit the wounded.
Observers have described the immediate public response by the country's ruler as a sign of the Sunni leadership's solidarity with Kuwait's Shiite community as well as a significant statement on the emir's commitment to not allow sectarianism to boil over in the small Gulf state.
Following the attack, the government also moved to suspend the Al-Watan television station, known for broadcasting anti-Shiite messages, according to one report.
Shiites make up nearly one-third of Kuwait's native population of 1.3 million people, the majority of whom are Sunni Muslim. More than 2,000 people, primarily from the Shiite Ja'afari sect, were praying at the Imam Sadiq Mosque in Kuwait City's Al-Sawaber neighborhood when a suicide bomber entered the premises and blew himself up. The country's interior ministry announced that at least 25 people were killed and another 202 wounded in the attack, believed to have been carried out by the Islamic State group.
Open tensions between Sunnis and Shiites are not common in Kuwait, which has been largely insulated from the sectarianism that has ignited across the Gulf in the wake of Saudi Arabia's airstrikes against Shiite Houthi rebels in neighboring Yemen. Jihadist groups targeted two Saudi Shiite mosques in attacks last month, killing two dozen people. More than 130 people were also killed in coordinated suicide strikes on Shiite mosques in Yemen's capital Sana'a in March.
While Kuwaiti Shiites had avoided the specter of mass violence until Friday, the population nonetheless has faced widespread discrimination and individual instances of sectarian-based violence in recent years. Incidents of vandalism, violence and death threats against Shiite politicians spiked in the country following the 2011 uprising in nearby Bahrain, a Shiite-majority state with Sunni rulers.
More recently, there has been evidence of elevated anti-Shiite rhetoric, which forced one Kuwaiti member of parliament to resign this week following the use of a sectarian insult by a Sunni politician on the floor of parliament.
This fraught climate has raised concerns for many Kuwaitis who fear that escalating sectarianism among their neighbors will also engulf their country. "Ever since I heard about Qatif and the Shiite mosques there, I just had this feeling that we were next," said Bodour Behbehani, a Shiite graduate student in Kuwait City, to the New York Times, in reference to the Shiite mosque bombing in Saudi Arabia. "This is something that was planned. It was not just one guy who decided to put on a suicide belt and go in there."
© Copyright IBTimes 2023. All rights reserved.