Showman Zelensky Wows England's Ancient Seat Of Power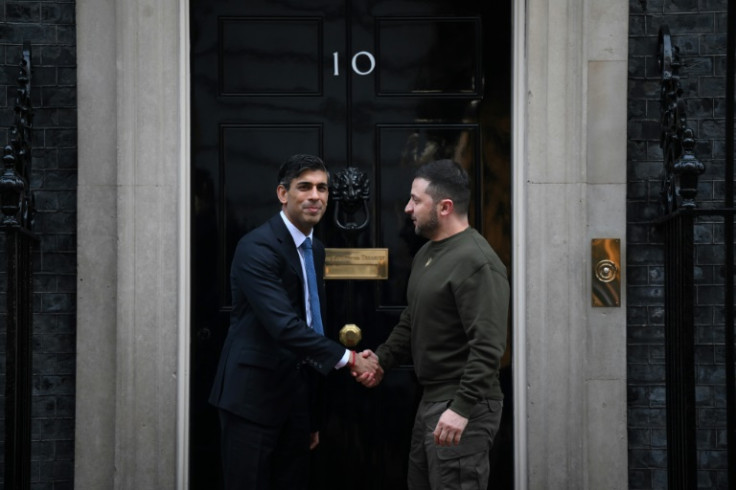 The former TV comedian Volodymyr Zelensky brought a decorative hat box to the millennium-old Westminster Hall.
It was there as a showman's prop, and contained a pointed message to UK parliamentarians and the West in general.
Inside sat a Ukrainian air force ace's helmet, and the president's message delivered in person to 2,000 British dignitaries was: give me fighter planes, and I'll finish the war.
Ukraine's leader pressed at British heart strings when he evoked "the so few" pilots defending his skies from Russia's invasion.
It was also "the few" of the Royal Air Force (RAF) that wartime prime minister Winston Churchill praised for saving Britain from Nazi invasion in the summer of 1940.
Behind Zelensky, bathed in wintry sunlight for this occasion, a huge stained glass window paid tribute to members and staff of parliament who lost their lives in World War II.
Churchill's evocative tribute to the RAF in turn was drawn from William Shakespeare's "Henry V" -- a patriotic tribute to another invasion, by England, of France.
When he addressed the British parliament last March, two weeks into the Russian assault, Zelensky also drew on Churchill and Shakespeare. But that was by video.
This time he was in London in person, for a surprise visit kept under wraps for security reasons. It was only his second overseas trip since the invasion began.
Zelensky recalled his last visit to the parliament, two years ago, when he was toasted with tea and scones.
Then, in peacetime, "I thanked you for delicious English tea". Now, he said: "I will be leaving the parliament today thanking all of you in advance for powerful English planes".
While he is far from fluent in English, his phrasing carried its own fluency as he appealed for "combat aircrafts for Ukraine, wings for freedom".
The applause from the British audience for the warplanes appeal was more muted than for other lines. There is deep ambivalence in London and other NATO capitals at the prospect of being drawn deeper into the war.
But Prime Minister Rishi Sunak's spokesman later said the defence secretary had been tasked with assessing the request.
There was nothing lukewarm about the powerful audience's welcome to Zelensky, dressed in his usual military fatigues, in contrast to the 18th century black-and-white court dress of his parliamentary escorts.
Not many foreign heads of state get invited to address a joint session of parliament in Westminster Hall. Zelensky followed in the rarefied steps of Charles de Gaulle, Nelson Mandela and Barack Obama.
He spoke a few steps away from where Queen Elizabeth II lay in state after her death in September.
It was also roughly the same spot, in 1649, where the first King Charles stood trial at the hands of his parliamentary accusers in the English Civil War. He lost his head.
Centuries earlier, Westminster Hall's construction was begun in 1097 to stamp the authority of England's new Norman rulers on their Anglo-Saxon subjects.
But Zelensky, calmly and with occasional notes of passion, dismantled the idea of regime violence and offensive war to force change in today's world.
He did not need to name his target, Russian President Vladimir Putin, but Zelensky did name-check the ousted British prime minister who helped rally the West to his cause: Boris Johnson.
He was there in the hall, as was 10 Downing Street's new incumbent Sunak, who has vowed to continue unstinting British support, albeit without Johnson's rhetorical flourishes.
As he left the historic hall, en route to a Buckingham Palace audience with King Charles III, Zelensky was warmly greeted by Sunak, Johnson and opposition Labour leader Keir Starmer.
Ukraine's president had an extended chat with Starmer, perhaps conscious that the Labour leader is on course to supplant Sunak in Britain's next general election, likely in 2024, if opinion polls are correct.
Ukraine's war is nothing less than a defence of democracy worldwide, Zelensky said in his speech, buoyed by Sunak's promise of British pilot training if not, yet, the advanced jets he craves.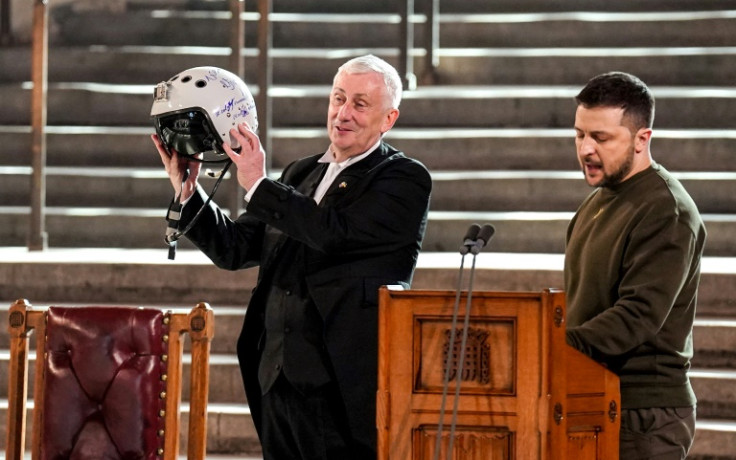 © Copyright AFP 2023. All rights reserved.