Silk-Based Bone Implants 'Melt Away' After Fracture Heals, May Have 'Huge Applications' For Surgeons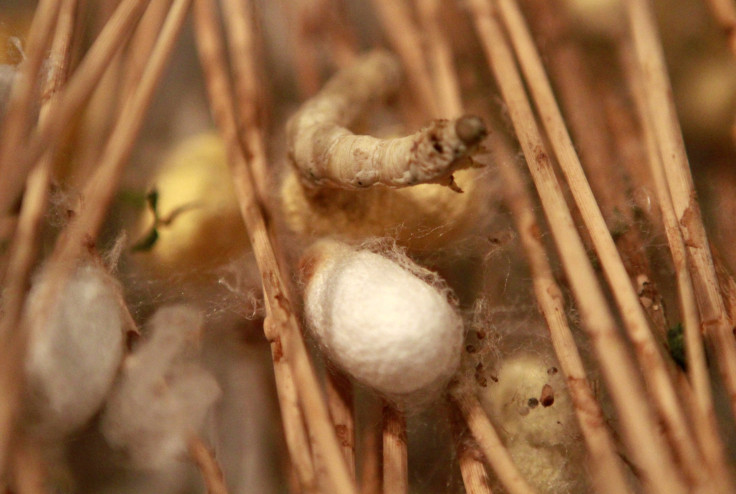 Could the silkworm be the next big surgical breakthrough? A research team from Tufts University School of Engineering and Beth Israel Deaconess Medical Center is developing silk-based implants for repairing broken bones. The small silk screws have a similar composition to bone, researchers say, and could replace traditionally metal bolts.
Silk is a natural protein fiber harvested from the cocoons of silkworm larvae. Long used as a clothing material, silk is one of the strongest natural fibers in nature.
Bone fractures often require screws and plates to keep the broken pieces together. The implants are usually made of metal and come with their own set of complications, like stiffness and increased risk of infection. Plus, they typically have to be surgically removed later. According to a new study published in the journal Nature Communications, silk-based implants don't require removal because the screws are absorbed by the body over time.
"Unlike metal, the composition of silk protein may be similar to bone composition," Samuel Lin, of the Division of Plastic and Reconstructive Surgery at Beth Israel and co-author of the study, said in a statement. "Silk materials are extremely robust. They maintain structural stability under very high temperatures and withstand other extreme conditions, and they can be readily sterilized."
Developers say silk implants may even have antibiotic properties.
"One of the other big advantages of silk is that it can stabilize and deliver bioactive components, so that plates and screws made of silk could actually deliver antibiotics to prevent infection, pharmaceuticals to enhance bone regrowth and other therapeutics to support healing," David Kaplan, Tufts University chair of biomedical engineering and a leader in the use of silk for biomedical applications, said in a statement.
The team tested the silk implants in six laboratory rats, inserting a total of 28 silk-based screws. Researchers say "no screws failed during the implantation."
"Having a resorbable, long-lasting plate and screw system has potentially huge applications," Lin say.
The team's initial aim is to use silk-based screws to treat facial injuries.
© Copyright IBTimes 2023. All rights reserved.