Slashing Attack In Guangzhou Railroad Station Injures Six, Heightens Fears Of Islamic Insurgency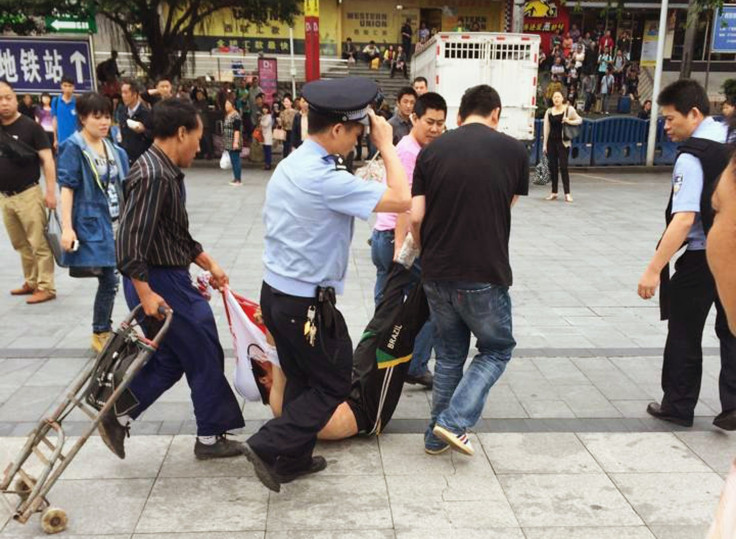 (Reuters) - At least two, and as many as four, assailants wielding long knives wounded six people in an attack on Tuesday at a railway station in China's southern city of Guangzhou, police and state media said, in the latest of a series of assaults to raise jitters around the country.
Police gave no reason for the attack, but China's nervousness about Islamic militancy has grown since a car burst into flames on the edge of Beijing's Tiananmen Square in October and 29 people were stabbed to death in March in the southwestern city of Kunming.
The government blamed militants from the restive far western region of Xinjiang for both those attacks. Resource-rich and strategically located Xinjiang, on the borders of central Asia, has for years been beset by violence blamed by the Chinese government on Islamist militants.
Guangzhou police "arrived quickly on the scene" on Tuesday and shot one of the attackers. The official Nanfang Daily said another suspect had been caught by police after fleeing the scene.
"After verbal warnings were ineffective, police fired, hitting one male suspect holding a knife, and subdued him," Guangzhou police said on an official microblog.
They did not identify the attackers.
Provincial television showed pictures of what it said was an apparently injured suspect being pressed to the ground by police and plainclothes security officials, as they removed a bloodied white t-shirt.
It was not possible to see the person's face.
The attackers carried half-meter (20-inch) knives, wore white clothes, including white hats, and launched their assault as passengers were leaving the station, city newspaper the Guangzhou Journal wrote on its microblog.
There were a total of four attackers, some other Chinese media microblogs said in their reports.
The official Guangzhou Daily, citing a store owner who witnessed the violence, said the suspects squatted on the ground next to his shop for about two hours, covering their baggage with clothing.
They suddenly let out a shout, pulled knives from their bags, and began attacking people, the daily said on its microblog. Police were on the scene within minutes and began firing warning shots, it added.
Photos circulated online in state media showed police cordoning off an empty plaza, with an ambulance parked nearby and bloodspots on the ground.
Speaking while on a visit to Hong Kong, U.S. Assistant Secretary of State for East Asian and Pacific Affairs Daniel Russel expressed "horror, outrage and sympathy" at the Guangzhou attack.
"We oppose terrorism in all forms, and in those instances where the available information or the information shared by the Chinese authorities pointed to terrorism by a group or individual, we have condemned it as terrorism," he said.
China last week reacted angrily to U.S. criticism of the level of cooperation from Beijing on fighting terrorism.
China blamed religious extremists for a bomb and knife attack last Wednesday at a train station in Urumqi, the regional capital of Xinjiang, that killed one bystander and wounded 79.
The government called the attackers "terrorists", a term it uses to describe Islamist militants and separatists in Xinjiang who have waged a sometimes violent campaign for an independent East Turkestan state.
Exiles and many rights groups say the real cause of the unrest in Xinjiang is China's heavy-handed policies, including curbs on Islam and the culture and language of the Muslim Uighur people.
Beijing is unhappy at the U.S. State Department's 2013 country reports on terrorism, published last month, which said China's cooperation on fighting terrorism "remained marginal" and that the Chinese provided scarce evidence to prove terrorist involvement in incidents in Xinjiang.
© Copyright IBTimes 2023. All rights reserved.