Soccer World Reacts With No Surprise To FIFA Indictment: 'What Took So Long?'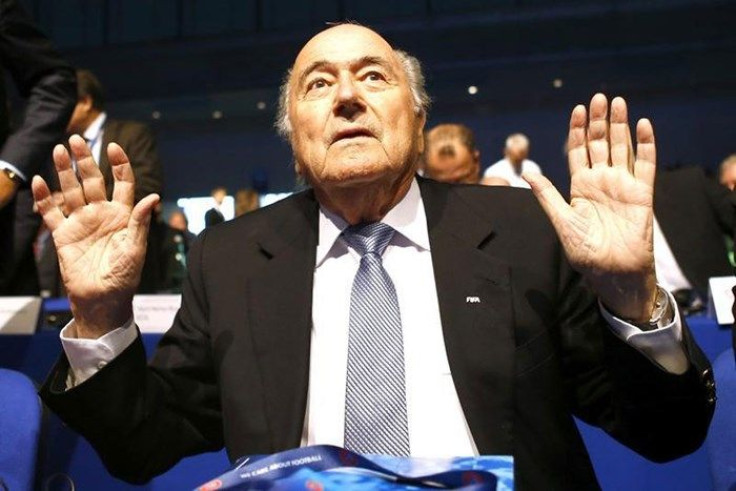 FIFA, the international soccer body at the center of an international corruption probe that resulted in the indictments on Wednesday of 14 people including some of its top officials, is synonymous with one thing: The World Cup, the most watched sports event in the world. The Cup is held every four years in a different nation, and its latest edition in 2014 drew a global audience of 1 billion people for the final between Argentina and Germany. The Swiss-based Fédération Internationale de Football Association (FIFA), as its full official name says in French, owns one of the most recognized brands in the world. And among those billion people who are familiar with its logo, many were not surprised on Wednesday that the organization was being probed for a massive corruption scandal.
Sepp Blatter, the 79-year old Swiss who has led FIFA since 1998, has long been suspected by soccer commentators and watchers of being embroiled in shady practices.
The biggest-selling paper in the current world champion nation, Germany, splashed the story at the top of its website, with live updates. "Six FIFA officers have confessed," said Bild Zeitung in all caps on its home page. "Is Blatter the boss of a criminal enterprise?" asked its sports editor, Walter Straten, in a video opinion.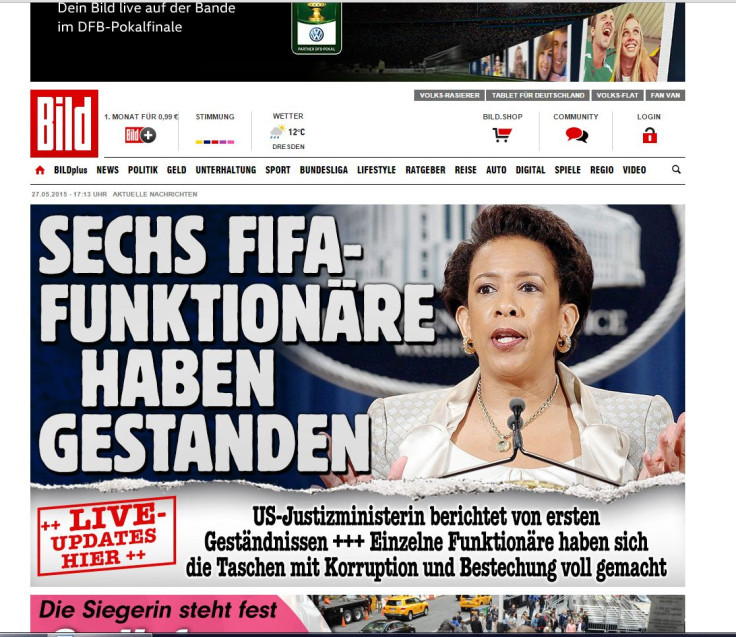 According to some of the top names in the game, the answer to that question is simple: He may well be.
Gary Lineker, who scored the most goals in the World Cup for an English player and is now a commentator, didn't mince words. The arrests, he tweeted, are a great thing for the sport.
"It's a shock and a shame for all football," commented Wolfgang Niersbach, the president of the German Football Federation. But the news came as no surprise for many in the world football community, which Blatter has dominated as FIFA chairman for four terms (he is not among the officials indicted and is up for reelection this week, which is why FIFA officials were all gathered in Switzerland for a vote set to begin Thursday.)
In fact, the man many hail as the greatest player ever called him a corrupt "dictator for life" -- even before the arrests.
On May 24, Argentinian Diego Maradona -- captain of the 1986 world champion team -- wrote in the Daily Telegraph that FIFA "has turned into a playground for the corrupt" and that "under Sepp Blatter, FIFA has become a disgrace and a painful embarrassment to those of us who care about football deeply."
Maradona was scathing in his assessment of the chairman, whose tenure at the helm may survive the scandal, thanks to the support of emerging soccer nations he has consistently championed, many in Africa. That support may not have come for free, Maradona alleged. (The probes announced Thursday by U.S. and Swiss authorities focus among other things on whether bribes were paid to influence the choice of South Africa as 2010 World Cup host, as well as Russia's for 2018 and Qatar's for 2022.)
"He has won support with years of unethical patronage, favours and handouts. There is a sick admiration for Blatter much like that accorded to an old Mafia boss who has somehow managed to stay out of jail," wrote the Argentinian star.
Soccer fans on social media, where the @BlatterHas2Go account has 2,300 followers, agreed.
"Corruption at FIFA? Wait for the breaking news that the Pope is Catholic," tweeted in reaction Ulrich Gelsen, a fan from Berlin, Germany.
The Spanish account @Futbolero, which has 63,000 followers, echoed that view: "Corruption at FIFA is a long-standing affair. I don't get why it took so long to nab them. We'll see if they have the guts to investigate everything"
Gianni Mura, the dean of Italian sports journalists, is one of the foremost Blatter critics among professional soccer watchers. Speaking in 2014, he compared the FIFA chairman to Italian politician Giulio Andreotti, a former prime minister who survived several indictments accusing him of collusion with the mafia and was even sentenced to 24 years in prison before an appeals court voided the verdict. "Blatter is the equivalent in world soccer of Andreotti," he said.
Among the national soccer federations that make up FIFA, reaction was just slightly more muted, with Brazil's CBF -- representing the country where the sport is arguably the most popular -- issuing a statement saying that it "wholly supports any and all investigation."
Even international soccer figures whose position requires tact and diplomacy went very far in their condemnation of Blatter.
Michel Platini, the French former star striker who is now head of the Union of European Football Associations, was among those who voiced criticism of Blatter before the arrests. He told the French sports daily L'Equipe on Monday that "as long as he remains in place (…) FIFA will face a deficit of credibility, image and therefore authority." Coming from a man who is considered the most powerful figure in European soccer and who supported Blatter's last reelection, those are the strongest words imaginable. Platini has not commented yet on the arrests.
Not all reaction, however, has been this vocal in opposition to Blatter. Irish journalist Peter Leonard, the Associated Press correspondent for Ukraine, quoted Russian TV as characterizing the indictments as a U.S. conspiracy against Blatter, guilty of giving Russia the 2018 World Cup and then supporting the event despite calls to punish Russia for its role in the Ukraine conflict.
© Copyright IBTimes 2023. All rights reserved.
FOLLOW MORE IBT NEWS ON THE BELOW CHANNELS