Sochi 2014 Countdown: With Lindsey Vonn Out, All Eyes Shift To Mikaela Shiffrin [Team USA Profile]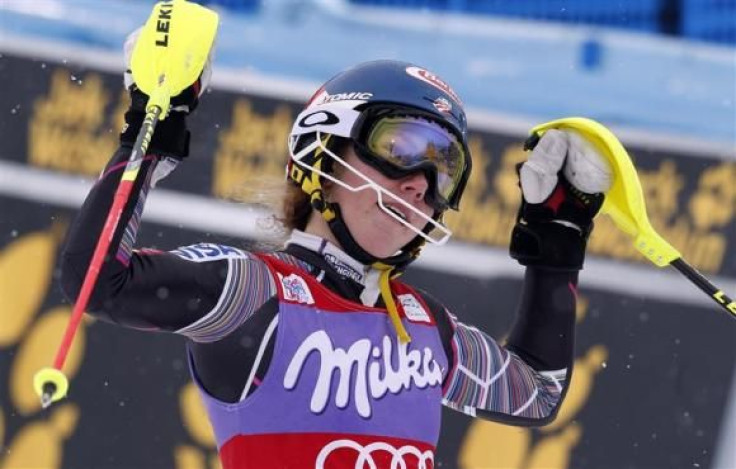 At this time last year, Mikaela Shiffrin didn't even want to think about the Sochi Olympics. Like many 17-year-olds, her focus was completing her final year of high school.
With the Winter Olympics just one month away, and a now a high school graduate, the Vail, Colorado native has her sights set on Olympic glory after winning the World Cup slalom in Bormio, Italy, last weekend.
Already considered a phenom, Shiffrin has the potential to be the favorite in slalom competitions for several years. It is rare for a skier to achieve such a high level of success as a teenager, making Shiffrin's early success perhaps an indication of long-term dominance. She is already the youngest American to win a World Cup title in any discipline, and currently sits atop the International Ski Federation's slalom leader boards.
At Bormio, Shiffrin demonstrated her ability to thrive under difficult circumstances. The conditions for the World Cup race were particularly challenging with snow falling on the top part of the course and rain at the bottom in the opening run. During the second run, it was snowing at both the top and bottom. Shiffrin led by 0.03 seconds after the opening run and ended up winning by 0.13 ahead of Sweden's Maria Pietilae-Holmner.
The hype surrounding Shiffrin's Olympic debut continues to grow, but her meteoric rise as one of the world's best skiers wasn't a surprise to anyone paying attention.
Shiffrin posted her first World Cup start as a 15-year-old and nearly scored her first points. When she was 16, she landed on a World Cup podium in December 2011, and followed that by winning the slalom at the 2013 World Championship in Schladming, Austria, in February. It was the first time she competed in the World Championships. In March, she won the slalom at the 2013 FIS Alpine Ski World Cup in Lenzerheide, Switzerland, with a dazzling second run.
"I'm very excited with how my season is going right now and I think I can do better, too," Shiffrin said after her win in Bormio.
"I was really psyched to win again. It's been a fight all season and I feel like, if I'm not perfectly ready, then the win goes to somebody else. So I was really trying to prepare myself and be ready to go today no matter what the conditions or the visibility."
Because of her early success, thus far, the 5-foot-7, 145-pound Shiffrin has been dubbed "the next Lindsey Vonn." Though they each achieved success at a young age, the two are vastly different skiers. Shiffrin is a technical-event skier, specializing in slalom and giant slalom, whereas Vonn is a speed skier, specializing in the downhill and super-G.
Shiffrin, the first American to win two World Cup races before turning 18, said it is an honor to be compared to the three-time Olympian, though she tries to ignore those comparisons.
"It's flattering, but in the end, I want to have my own success story," she told the New York Times in December. "I'm not in a hurry to win 50 World Cup races like Lindsey has. If I start trying to rush it, it won't happen. For a long time, I've believed that is I focus on the preparation, then the results will come."
Vonn, a four-time overall World Cup champion, injured her right knee in a worl championship super-G in February and sustained further injuries to it in recent months. She announced Tuesday that she is not fit to compete in Sochi.
"On a positive note this means there will be an additional spot so that one of my teammates can go for gold," she said in a statement released by the U.S. skiing team."
With Vonn out, America's medal hopes rest on Shiffrin and other prominent skiers such as Julia Mancuso, who earned a gold in Turin in 2006 in the giant slalom, and silvers in the downhill and combined competition in Vancouver in 2010.
However, Shiffrin winning gold or taking the podium at Sochi is far from a guarantee. Austria's Marlies Schild, one of Shiffrin's idols, also enters the Games as one of the favorites in the slalom after winning the silver in the event in Vancouver and bronze in Turin. Canada's Marie-Michele Gagnon and Sweden's Frida Hansdotter are also expected to challenge for spots on the podium.
In the giant slalom, Shiffrin's other main event, she is currently sixth in the International Ski Federation's leaderboards, but is considered a medal contender after improving greatly over the past year with top-threee finishes in World Cup races this season. Sweden's Jessica Lindell-Vikarby and Maria Pietilae-Holmner are the current favorites to win the event in Sochi.
No matter how Shiffrin performs in Sochi, her future remains bright, as she only turns 19 in March with her fame growing after each victory on the slopes. Her mother, Eileen, has reportedly had to turn down numerous media requests, as Mikaela has become the local celebrity in Vail. Dave Gavett, the headmaster and coach of Green Mountain Valley School, a top Vermont ski academy, described her to the Times as something more than just a superstar skier.
"A prodigy; she's Mozart," said Gavett.
Nick Forrester contributed to this report.
© Copyright IBTimes 2023. All rights reserved.