Sochi 2014: U.S. Women's Hockey Medal Hopes May Rest On Emerging Star Amanda Kessel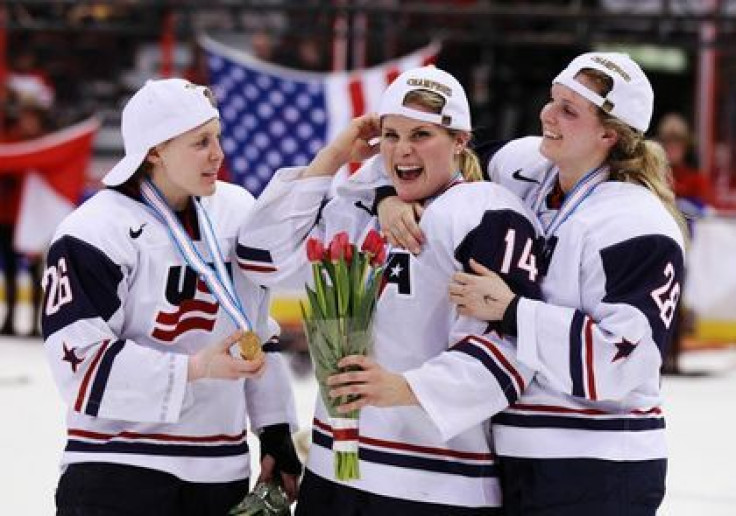 The gold-medal dreams of both the U.S. men's and women's hockey teams at the 2014 Winter Olympics in Sochi, Russia, might depend on one family – the Kessels.
Phil Kessel of the Toronto Maple Leafs is one of many NHL stars on the U.S. men's hockey team. But his lesser-known younger sister, Amanda Kessel, might be even a more crucial piece for the U.S. women's hockey team.
Amanda, 22, is considered one of the best women's hockey players in the world, and for good reason. Winner of the Patty Kazmaier Award for the top player in women's college hockey, she led the University of Minnesota to a national championship and a 41-0-0 record in 2013. She followed that up by scoring the game-winning goal for Team USA against Canada in the 2013 International Ice Hockey World Championship in Ottawa.
The siblings were named to their respective rosters at his year's Winter Classic, a game in which Phil and the Maple Leafs defeated the Detroit Red Wings at Michigan Stadium in Ann Arbor, Mich.
"It's a neat experience," Phil said after the game about him and sister both making the Olympics. "We'll see how it goes over there."
Phil is a success story of his own. The 26-year-old overcame testicular cancer in his rookie season with the Boston Bruins and later won the Bill Masterton Memorial Trophy for sportsmanship and perseverance. A seven-year veteran, Phil has been a dominate force in the NHL, scoring at least 30 goals every season since 2008-2009, and he already has 20 goals in 48 games thus far.
The Sochi Games will be Amanda's Olympic debut, while Phil was a member of the men's hockey team that won the silver medal at the Vancouver 2010 Olympics.
Amanda went to those Olympics as a fan, but had to leave before the gold medal game because she had high school classes to attend.
Growing up in Madison, Wisconsin, Amanda said she enjoyed an extremely competitive relationship with Phil and her other brother, Blake, who currently plays in the ECHL for the Orlando Solar Bears. To keep up with her brothers, she was forced to learn skills that are now paying off and it's why she's having success in the women's game. Nowadays, Amanda and Phil communicate to strengthen each other's game.
"Whenever we're in slumps or not playing well, we shoot texts back and forth," she told The Toronto Star. "He's just someone who, yeah, if something's not going well with me, he's been there and he's obviously had his fair share with coaches and media and whatnot not on his side. He's always someone good to go to."
Some of the competitive drive of the Kessel family undoubtedly stems from their parents. Phil Sr., who played quarterback at Northern Michigan University, was drafted by the Washington Redskins in 10th round in 1981. He later played for the Calgary Stampeders, as well as the Birmingham Stallions of the USFL. Kathy Kessel ran track in college.
Indeed, the Kessels are a family of athletes and competitors. In a March interview with The Globe and Mail, Amanda said that her and her brothers would compete so fiercely at board and video games that Kathy would ban them from playing together.
When it comes to hockey, the Kessel siblings seem to have styles that rub off on each other. Amanda is four years younger than Phil, but comparisons of their games still arise from hockey analysts everywhere, especially from Amanda's high school and college coaches.
"They're similar, but Amanda is more complete in the sense that she is better defensively," said Gordon Stafford, who coached Amanda at Shattuck-St. Mary's, a Minnesota boarding school located about 50 miles outside of Minneapolis. "There's no doubt that she's offensively wired, and she'll go through a zone much like Phil does, but she's just as comfortable being a forward killing a 5-on-3 as she is on the power play, she can do anything."
Minnesota Golden Gophers head coach Brad Frost has noticed that Amanda thinks to pass first, whereas Phil thinks to shoot first. But there are more similarities than differences between the brother and sister.
"I think they're similar in the way they skate," said Frost. "They can both absolutely fly and it doesn't look like they're putting tons of effort into their stride, even though they are because of how fast they're moving. You can tell they're definitely related by the way they play and skate."
Her high school years were marked by great team success. Playing for Stafford, the father of Buffalo Sabres right wing Drew Stafford, Amanda and U.S. women's hockey teammates Brianna Decker, as well as twins Jocelyne and Monique Lamoureux, led Shattuck St. Mary's to two national championships, in Amanda's sophomore and junior seasons.
"It was obvious from an early age that Amanda was a very gifted player," Stafford said. "She's just unbelievably fast and she shares that with her brother. But also her ability to handle the puck and make plays at a high speed in small areas. She's not a selfish player, she always wants to make plays and play with good players."
In Amanda's senior season, she led her team to the national championship game with an eight-point performance (three goals, five assists) in an 8-7 Shattuck St. Mary's prep school win in the national semi-finals before the team lost 1-0 in the national championship. She scored 102 points in 56 games that season.
"I've never seen any athlete's will carry a team to a win like she did for us in the national semi's that year," Stafford said. "She was just worn out in the national championship the next day, but if we had one other player step up, we would've probably won that."
But Stafford said that wouldn't be an issue for Amanda in Sochi, as he believes most of the U.S. players this year are in their prime. He expects experience will be the difference this time around against Canada, the three-time defending Olympic gold medalists.
"Both of these teams have played so much and these girls have played each other for years and years, there is a lot of animosity," Stafford said. "The U.S. knows their skating and their puck handling will be the difference. From Amanda, to the twins, to Hilary Knight, those are skilled, quick, hockey-savvy forwards, and I think that will be the difference."
The two countries meet in the preliminary round Feb. 12, but regardless of the outcome of that game, the Americans and Canadians are heavy favorites to meet again in the gold medal game Feb. 20.
"For Amanda, she just needs to focus on playing her game. She's one of the best, if not the best, players in the world and she knows what she needs to do to be successful and that's just continuing to be who she is as a player and a teammate," Frost said.
And if Amanda needs some advice in Sochi, Phil will be right there.
The U.S. women's hockey team begins the 2014 Winter Olympics against Finland on Feb. 8.
Greg Price and an IB Times staff reporter contributed to this report.
© Copyright IBTimes 2023. All rights reserved.