Social Media Reacts To Bo Xilai Trial Verdict: Bo's Political Future Is Done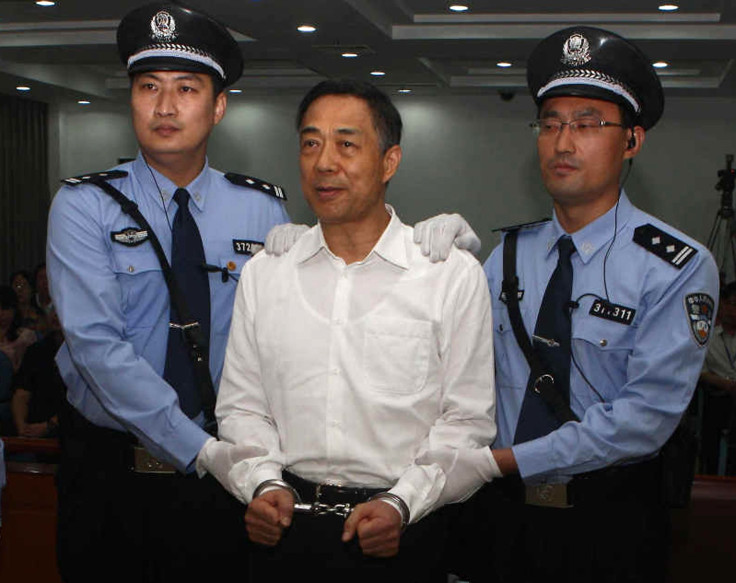 One month after the end of Bo Xilai's trial, the courts in the eastern city of Jinan have found the once-rising star in Chinese politics guilty on charges of bribery, abuse of power and embezzlement, sentencing him to life in prison. The harsh sentence, which was announced on Sunday, however, did not come as a surprise to most.
The reactions on Chinese social media and among China-watchers were pretty uniform. Many were expecting to see the court take a harsh stance on the high-profile Bo case, ensuring the politician would have no chance of staging a comeback down the line. According to a survey taken by Bill Bishop, curator of the Sinocism newsletter and Dealbook columnist, almost a third of readers expected the sentence to be "at least life in prison" ahead of the trial.
Some sources are claiming that Bo will likely file for an appeal to the sentencing, despite the fact that it is not likely to change. The sentencing was officially released on the Jinan Intermediate Court's official social media microblog profile, on Weibo, and was accompanied by a photo of Bo handcuffed, and being escorted by police. The photo was widely circulated on Weibo, being shared over 11,000 times as of Monday morning local time. Many saw the end of Bo's political career as the continuation of President Xi Jinping's crackdown on Party corruption. "Xi put a fork in Bo Xilai," Bishop wrote on Twitter. "He's not coming back."
On Weibo, most of the public reaction was support for the sentence, with many agreeing that the conviction was just. "Justice was served fairly today, his career is rightfully finished," one blogger wrote. "Equality under the law, officials are no exception," another wrote. In the same vein, others saw the life sentence as confirmation of Xi's serious position on corruption. "This is an example of our Party's determination to fight corruption," a blogger wrote, "Xi must continue to be unrelenting. "The dignity and authority of the law cannot be trampled," another added.
However, it's no secret that Bo still has his share of fervent supporters, many of whom also took to the Internet to express contempt for the verdict. "This trial was hardly fair," one blogger protested. "How was media-controlled updates considered an open trial?" Throughout the drawn-out affair, which initially surfaced in the beginning of 2012, many Changing locals have stood by the politician that overhauled the mega city's economy and reduced organized crime. "You all will never know how good and kind Bo Xilai was to Chongqing!" another netizen posted on Weibo, according to Foreign Policy. "The people of Chongqing thank you [Bo]!" another said.
© Copyright IBTimes 2023. All rights reserved.