Somalia Hotel Attack: Al-Shabab Militants Claim To Have Killed 20 Government Officials in Mogadishu Assault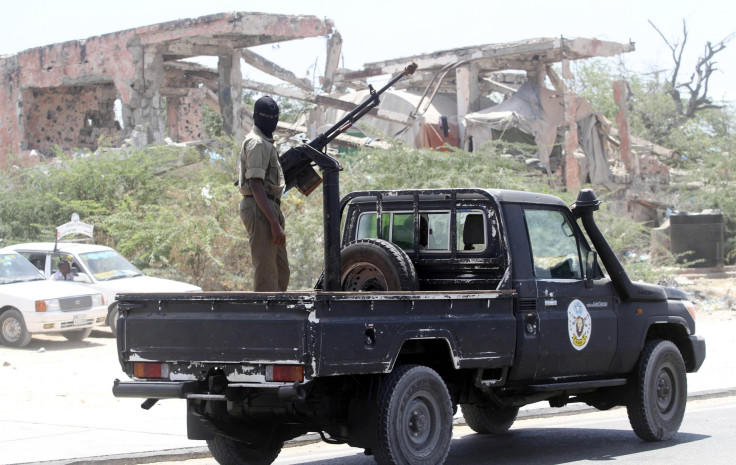 At least 20 senior Somali officials were killed Friday in an attack on a luxury hotel in Somalia's capital Mogadishu, a spokesman for the al-Shabab militant group told Al Jazeera. The deadly assault on the Central Hotel, which also reportedly left Somalia's deputy prime minister wounded, is the second attack in less than a month on a Mogadishu hotel by the Islamist militant insurgency.
"We have killed more than 20 senior officials working for the apostate government. They gathered thinking they were safe from the Mujahedeen," al-Shabab military operations spokesman Abdiaziz abu Muscab told Al Jazeera. The hotel was hit by two car bombs after which attackers stormed the building and unleashed heavy gunfire. Police sources have confirmed that at least 11 people were killed in the attack, including one police officer.
Deputy Prime Minister Mohamed Omar Arte was rushed to a hospital following the attack, according to a Somali police official quoted by the Associated Press. Arte was one of many high-ranking government officials staying at the hotel at the time of the attack, the police official said.
Friday's attack comes less than a month after a Jan. 22 suicide bombing on another Mogadishu hotel, which left three Somali nationals dead. A delegation of around 70 Turkish officials were staying at the hotel in anticipation of a visit by Turkish President Recep Tayyip Erdoğan but were unharmed in the assault, the AP reported.
Al-Shabab, which is linked to al Qaeda, has continued to battle Somalia's United Nations-backed government despite being driven out of the country's major towns. The jihadist group has carried out nearly 550 terrorist attacks, killing more than 1,600 and wounding more than 2,100 since first emerging in 2007, according to the Eurasia Review. The African Union has a peacekeeping force of more than 20,000 troops in the country to help Somalia's embattled government fight the militant group.
© Copyright IBTimes 2023. All rights reserved.