Sotheby's To Hold Its First Major Auction In China's Mainland Amid A Government Crackdown On Luxury Spending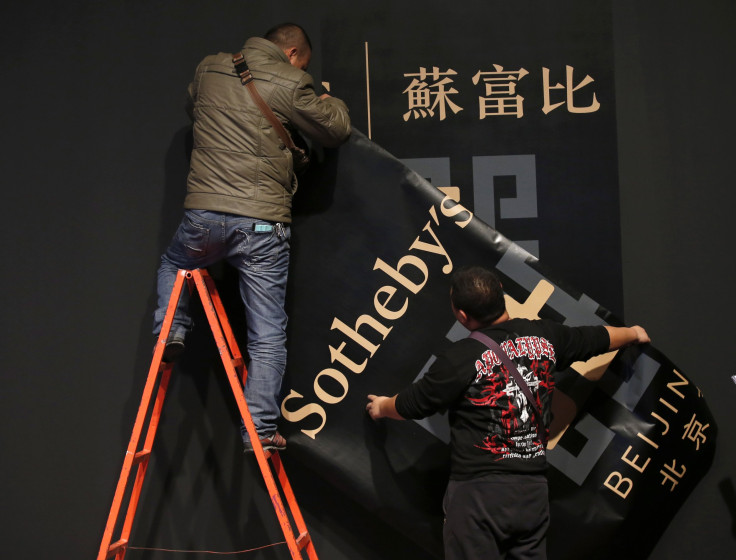 Sotheby's (NYSE:BID) will hold its first commercial auction on the Chinese mainland on Dec.1, where it will offer modern and contemporary works of western and Chinese art worth millions of dollars, in a bid to gain a foothold in one of the fastest growing art and antique markets in the world. The event will be held in Beijing in association with its local joint-venture partner, state-run Beijing Gehua Art Company.
With rising income levels translating into greater spending power, China's affluent art collectors are pouring money into high-value art and antiques, driving growth in the domestic art market, which was out of reach for international players for more than two decades. Now, the near-exponential growth in the nation's art market in recent times has drawn Sotheby's and Christie's -- the two biggest names in art auctions -- to China this year.
"The Beijing Art Week is basically our first major move into China," Kevin Ching, CEO of Sotheby's Asia, told Reuters. "But what we're doing is not just an auction."
New York-based Sotheby's will offer art, jewelry and furniture works worth $212 million as part of Beijing Art Week. The event will feature works by Picasso, Rembrandt, Zao Wou-Ki, along with some of China's leading artists, and Zeng Fanzhi, who is reportedly the most expensive living Asian artist.
Zeng's work, "The Last Supper," fetched more than HK$ 180 million (US$ 23.1 million), at an event in Paris earlier this month, setting a new world auction record for any piece of modern and contemporary Chinese art, according to Sotheby's website.
Sotheby's is expecting Zao's 1958 oil-on-canvas work "Abstraction" to witness fierce bidding and the artwork is expected to fetch anywhere between 35 million to 45 million yuan ($5.74 million to $7.39 million).
"The provenance of this painting is impeccable," Pascal de Sarthe, a Hong Kong-based dealer of works by Zao, told Bloomberg News. "Its quality, size, date and his first picture being auctioned by Sotheby's in China makes a recipe for another record breaking."
Sotheby's is also offering "Portrait of a Man with Arms Akimbo," a $50 million Rembrandt in one of the selling exhibitions.
Christie's, Sotheby's rival from across the Atlantic, held its first auction in China in September in Shanghai, and sold $25 million worth of watches, wine, jewelry and art, after the company received an independent license to operate on the Chinese mainland earlier this year, when the government relaxed its norms for overseas auction houses and allowed them to sell in certain trading zones.
The two art-auction majors, which jointly account for two-thirds of the global art trade, have arrived in China at an interesting time when the nation's government has ordered a crackdown on luxury spending and gifting, to curb corruption and waste of public funds. The government's drive, which specifically targets the purchase and gifting of high-value art, antiques and luxury products by the ruling party's officials and top bureaucrats, have reportedly hurt the market for such goods.
China overtook the U.S. as the world's largest art market in 2011, clocking a 30 percent annual growth rate and capturing a 42 percent share of the global art market, according to a report from the European Fine Art Foundation. The country witnessed a significant slowdown, although estimates of the deceleration vary widely, in its annual art auction sales in 2012, mainly due to the global economic slowdown.
In addition, overseas auction houses are at a disadvantage when compared to Chinese firms, which reportedly dominate 89 percent of the high-value auction market, because only domestic firms are allowed to sell Chinese cultural relics dated before 1911 or 1949 depending on the category, which form the bulk of the art trade in China.
"We are patient," Steven Murphy, Christie's chief executive, told Financial Times, in September. "We are hoping it will open up at some point," adding that "Christie's will be in China for hundreds of years."
© Copyright IBTimes 2023. All rights reserved.
FOLLOW MORE IBT NEWS ON THE BELOW CHANNELS